Top Klang Attractions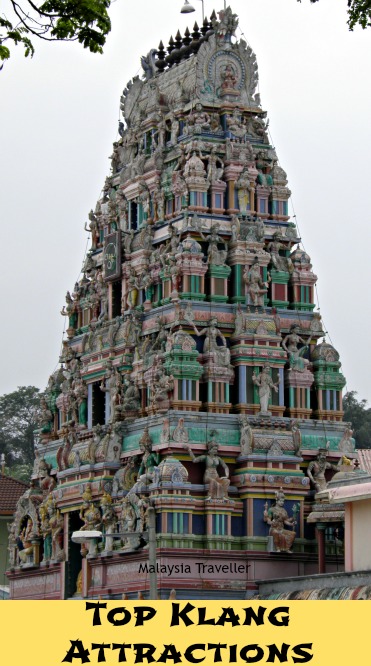 Welcome to my Top Klang Attractions page. 
First impressions of Klang are not entirely favourable. Klang is not the most beautiful town in Malaysia but it is has character and a certain charm. In parts it is shabby and run down and, being located close to the country's major port, it is surrounded by sprawling industrial estates and its approach roads are clogged with heavy container trucks. But it is a historic city, among the oldest in Malaysia, and it is a Royal city with a palace, mosque and other buildings associated with the Selangor Sultanate. The Municipal Council has done a good job at preserving some of its important heritage sites. These are included on my list but every time I go to Klang I find more places of interest and this list of attractions keeps on getting longer.

At the foot of this page is a map showing exactly where all these Top Klang Attractions are located.

1. Klang Railway Station
The railway line from Kuala Lumpur to Klang was one of the first to be built in the country, There has been a railway station at this site on Jalan Besar since 1890, although the current building is much newer. This station is of a traditional design. It may not be around for much longer. There are discussions underway to relocate the station to a new site 400 metres away on Jalan Raya Barat which is where the proposed Light Rail Transit (LRT3) route will stop.

---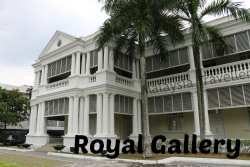 The Galeri Diraja Sultan Abdul Aziz is one of the best museums In Malaysia. It highlights the rich heritage of the Selangor Sultanate and contains an excellent collection of artefacts and gifts, together with replicas of the Selangor crown jewels.The classic building itself dates from 1909 and was designed by British architect AB Hubback for use as a colonial government office. Entrance to the museum is free.

---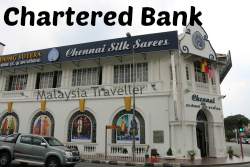 3. Former Chartered Bank Building
This interesting building with Dutch style gables was built in 1874. It was a branch of Chartered Bank, the first bank in Klang. The upper and lower verandahs have been glassed in but other than that the building remains in fine condition externally. It is now occupied by Indian sari shops.

---
4.Former Islamic Religion Department Building
This historic building was constructed in 1912. It was originally a rest house for the Sultan of Selangor. The Japanese commandeered it during World War II. After the War it was used as a guest house and then converted into offices for various government departments, most recently the Pejabat Agama Islam Daerah Klang. The many changes in ownership and usage have taken their toll on the building which is scarred with ugly extensions and poor maintenance. Now vacant, it is believed to be pending restoration and conservation.

---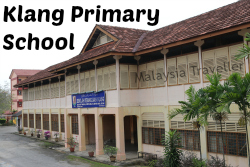 5. Klang Primary School
This classic piece of Anglo-Malay architecture bears the date 1939 above the door. It was designed with louvred shutters on the upper floor to provide much needed ventilation. The shutters are all closed now so perhaps they have air-conditioning these days. The school is still operating though much expanded with more modern buildings in the same compound.

---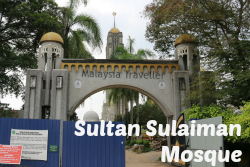 6. Sultan Sulaiman Mosque
This Royal Mosque was designed by British architect Leofric Kesteven and completed in September 1932. The design is thought to combine Islamic architecture with art-deco and western cathedral influences and uses stained glass in the dome and some of the windows. The mosque is currently closed for conservation work. 

---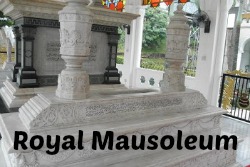 7. Royal Mausoleum
The Mausoluem is located next the Sultan Sulaiman Mosque. It contains the graves of Selangor Sultans and family members. It too is currently closed for renovation work.

---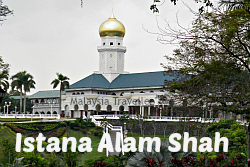 8. Istana Alam Shah
Klang was the former Royal capital of Selangor and is home to Istana Alam Shah, one of the official palaces of the Sultan of Selangor. It was built in 1960, replacing the earlier Makhota Puri place which occupied the same site. One of the outbuildings at Istana Alam Shah bears the sign Royal Automobile Gallery and would be a fascinating place to visit if it were ever opened to the public in the future.

---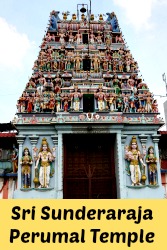 9. Sri Sunderaraja Perumal Temple
This temple, thought to be 120 years old, is the largest Vaishnavite temple in Malaysia for devotees of Lord Vishnu. It is known as the 'Thirupathi of South East Asia', after the famous Vaishnavite temple in India. Like many Hindu temples in Malaysia, it is currently undergoing expansion and renovation work.

---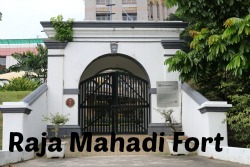 10. Raja Mahadi Fort
This gateway is all that remains of Raja Mahadi Fort, a defensive hilltop position which once overlooked the Klang River and guarded the city from enemy ships. The inscription above the gate bears the date A.H. 1293 under the Islamic calendar, equivalent to 1876 -1877. The Klang Municipal Council Hall now occupies most of the hilltop.

---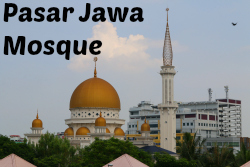 11. Pasar Jawa Mosque
This mosque is more correctly named Masjid Bandar Diraja Klang (Royal City Klang Mosque). It was completed in 2009. The elegant filigree design of the minaret is something special.

---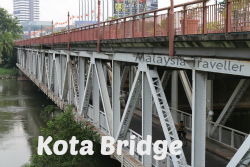 12. Kota Bridge
This double decker bridge was opened in 1957 with a top layer for vehicles and the lower for bicycles and pedestrians. The top deck is no longer used following the opening of a new road bridge adjacent to it, but the lower level is still used by motorbikes, bicycles and pedestrians. 

---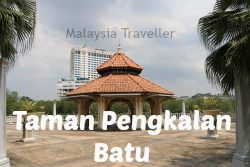 13. Taman Pengkalan Batu
This is basically a riverside park with a number of gazebos, a fishing deck and a kiddies playground. I'm not sure I would want to eat any fish caught in the Klang River which, for decades, has been a dumping ground for all sorts of toxic pollutants. Efforts are underway to clean up the river, especially the stretch running through KL, but it will take time to see results.

---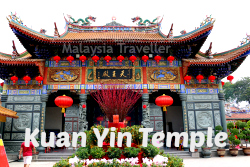 14. Kuan Yin Temple
This must be one of the grandest and most ornate Chinese temples in Malaysia. It was founded in 1892 with many additions since then. Attached to it is the Kai Hong Koo temple, the only temple in Malaysia dedicated to Justice Bao, a notable judge during the Sung Dynasty.

---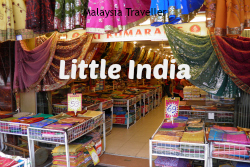 15. Little India District
The influence of Malaysia's Indian community is perhaps more pronounced in Klang than in other Malaysian cities. The Little India district, centred on Jalan Tengku Kelana, is a bustling, vibrant area filled with the sounds, sights and smells reminiscent of India. A good place to eat and shop.

---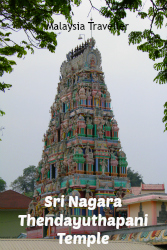 16. Sri Nagara Thendayuthapani Temple
Started by the Nattukkottai Chettiar community about 150 years ago, it is said to be the oldest and richest Hindu temple in Klang. Its 20 metre gopuram (entrance tower) is intricately decorated with 94 statues.

---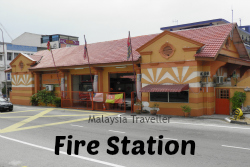 17. Fire Station
This is one of the few Victorian era fire stations in Malaysia still in use today. It dates back to the 1890s. Since this photo was taken it has been given a smart new paint job in red and white. 

---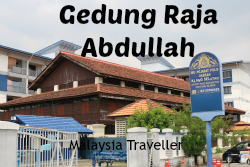 This historic building is over 150 years old. Being located close to the river it would have been used as a godown (I wonder if the word godown originates for the Malay term gedung, meaning warehouse, or could it be the other way around?). It was converted into a tin museum for a time but it has been closed and unutilised for many years. It will be needing another restoration if it does not find a permanent use soon.
---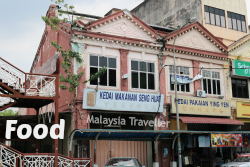 19. Famous Bak Kut Teh Restaurant
Klang is famous for its food and one popular dish is Bak Kut Teh ,a kind of meat bone soup with herbs and spices. This particular establishment was closed when I visited in February 2016 but I'm not sure if that is permanent or just because of Chinese New Year. There are other Bak Kut Teh places in Klang if you like that sort of food.

---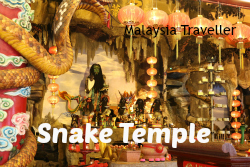 20. Thian Hock Keong Snake Temple
This interesting temple is decorated with numerous sculptures of snakes, coiled around columns, adorning the roof and even wrapped around the altar. I believe it is a Taoist temple and it looks fairly recent although I could be wrong. There are a few real snakes inside the temple but thankfully they are safely caged, unlike the snake temple in Penang where they allowed to slither loose.

---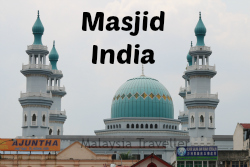 21. Masjid India
The original Masjid India was built around 1910 to cater for the religious needs of the Indian Muslim community who lived in and around Klang. Since demolished and rebuilt a number of times the current building can accommodate 3,000 worshippers. There is a mausoleum of one of the mosque's founders within the grounds.

---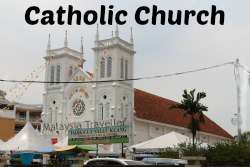 22. Our Lady of Lourdes, Catholic Church
This attractive church was declared open in 1928 and was recently restored. It is built in Gothic style, modelled on a pilgrimage church in Lourdes, France. Two glass panels are on display inside the church which used to be in the Sime Darby Medical Centre until apparitions resembling the Virgin Mary and Jesus were spotted in the glass in 2012.

---
23. Convent School
This school dates from about the same period as Our Lady of Lourdes church which is located next door. Its elegant design makes it one of the top Klang attractions

---
24. Kris Monument
The Kris Monument (Tugu Keris) is a giant aluminium statue of a kris dagger and was erected in 1985 to mark the Silver Jubilee of the late Sultan of Selangor, Almarhum Sultan Salahuddin Abdul Aziz Shah.

---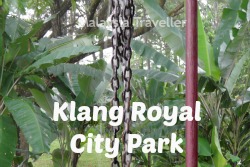 25. Klang Royal City Park
This park, also called Klang Royal Gardens is a pleasant green area near the town centre and facing the Istana. It has many mature banyan trees and shady areas for picnics and relaxing. 

---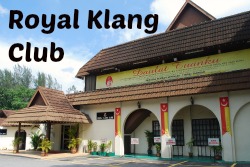 26. Royal Klang Club
The Klang Club was founded in 1901 and was the social and sporting hub for the mainly British colonial community. Nowadays it is a members-only club catering for Klang's Malaysian elite. It attained Royal status in 1999 when the Sultan of Selangor became the club's patron. 

This completes my list of Top Klang Attractions but if you feel there any that I have overlooked please let me know.
You can also take a look at my Klang Walking Tour page to see how to cover some of these Top Klang Attractions on foot.
Nearby
Port Klang
Port Klang is a separate town about 9km from Klang. It was originally called Port Swettenham and has now developed into Malaysia's largest port.

You can find some vintage photos of the old Port Swettenham railway station and harbour on my Great Malaysian Railway Journeys website.
---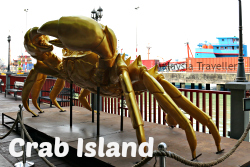 The ferry jetty for Crab Island (Pulau Ketam) is located in Port Klang, adjacent to Port Klang railway station. Crab Island is a great place for a day trip or longer and is famed for its delicious seafood restaurants. Find more details here.

---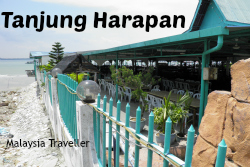 Tucked away amid industrial estates and port facilities is Tanjung Harapan, a seafront promenade with seafood restaurants and a replica Bugis schooner. You can read more details on my blog.
---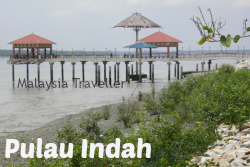 Pulau Indah is an island in transition - a combination of container port, industrial estate, mangrove coast and sleepy kampungs. Read about my visit here. 

---
How to Get to the Top Klang Attractions
I have marked the exact location of all the above Top Klang attractions on this map (click on the View Larger Map symbol in the top right corner to expand):
---
Share this page: