FGS Dong Zen Temple, Jenjarom
The FGS Dong Zen Temple (FGS stands for Fo Guang Shan) is a large Buddhist religious, cultural and educational complex in the small town of Jenjarom in the Kuala Langat district of Selangor state.
Its buildings are fairly modern but it has a pleasant atmosphere and is well worth a visit if you are passing that area.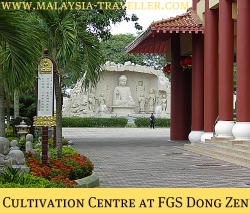 Fo Guang Shan is the largest Buddhist order in Taiwan having been established by Master Hsing Yun in 1967. Since then branches have opened all over the world and it aims to promote Buddhism through its educational programmes and good deeds.
Every Chinese New Year the temple puts on a Lantern & Flora Festival and the whole place is transformed into a glittering wonderland of red lanterns, digital lights, illuminated gardens and colourful displays for kids and adults.
But even during the daytime and throughout the year there are attractions to see here.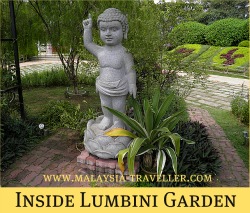 The temple complex includes:
- Dining, lecture and meditation halls.
- Zen Garden.
- 18 statues of Arhats and 33 statues of Avalokitesvara Bodhisattva which, though I am no expert, I believe are stages to progress though on the road to Buddhahood.
- Souvenir Corner.
- Main Shrine with a large seated Buddha statue.
- Lumbini Gardens with orchid displays, fish ponds and models of famous Buddhist sacred places in India.
- An Art Gallery with artefacts exhibition, a calligraphy hall and a Relics Shrine.
- Fo Guang Shan Education Exhibition.
- Kiddyland.
- A Tea House.
- A wishing pool and more.
For more photos take a look at my blog.
How to Get To FGS Dong Zen Temple
From Klang, take Highway 5 south signposted towards Banting. A few kilometres after Teluk Panglima Garang you will reach Jenjarom. Turn right under the archway into Jenjarom town (village?) centre. Keep going straight and you cannot miss the temple on your right. There is plenty of free parking.
Chinese New Year Lantern & Flora Festival 2023
This annual event usually starts around the eve of Chinese New Year and continues for 17 - 18 days.
This Year of the Rabbit, the lantern festival runs from Thursday 19 January 2023  until Sunday 5 February 2023.
You can monitor their Facebook Page for updates regarding this year's events.
It is open from 10am to 10pm.
Admission is free.
A food court area has been erected to cater for the large crowds who attend this event.
---
See details of many more Chinese Temples in Malaysia here.
---
Share this page: