Telaga Tujuh Serendah
Telaga Tujuh Serendah, also known as Perigi Tujuh, translates as Seven Wells and is a little known  part of Malaysia's heritage.
What it is, is a small dam with seven sluices which are fed by water through seven sink holes or spillways. These spillways act like plug holes in a bath and allow the water collecting in the upstream lake to drain gently (or not so gently during a downpour).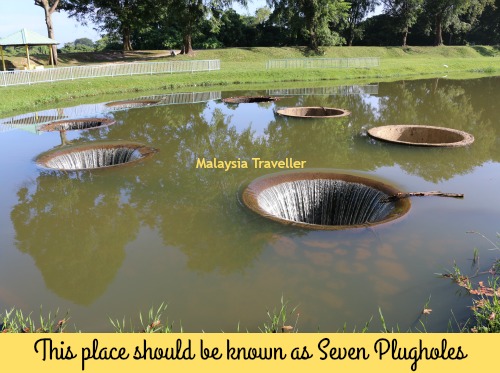 While use of sink holes may be rare, or even unique, in Malaysia it is not uncommon in dam design elsewhere in the world. This method helps control the rate of flow into a downstream area without putting the dam under too much stress. Remember there used to be a dam in nearby Kuala Kubu which gave way with tragic consequences in 1883 so perhaps this design was influenced by that catastrophe.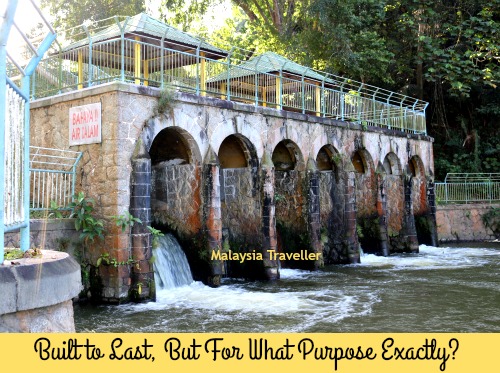 The web is lacking reliable information on the age of this dam. One blog estimates that it was constructed after WWII but the stone work looks older to me, a sturdy piece of British engineering possibly 100 years old or more. 
There is also some doubt about the purpose of the dam. It looks too small to have generated power. It could have been designed for flood prevention as the river flows directly into Serendah's built up area after passing through the dam. (Serendah means low lying and therefore potentially prone to flooding). 
Alternatively it could have been built to control the water levels in the tin mining excavations which were abundant in the surrounding area, as you can see in the aerial view map of Perigi Tujuh below.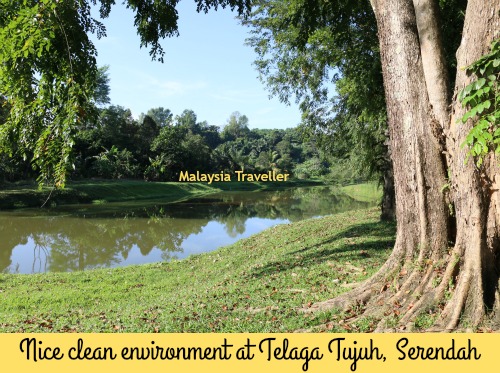 When I visited this spot back in January 2013 I could not even see the wells as they were completely overgrown with vegetation. Since then the area has been spruced up and the wells have been restored to their former glory. They are surrounded by safety fencing which is required as they could be extremely hazardous to children or anyone unwise enough to venture into the water.
On top of the dam are a couple of gazebos, making it a good place for a relaxing picnic.

Opening Hours and Admission Fee
This is an open area with unrestricted access.
There is no entrance fee and nobody to collect it. 

You can park on the roadside here.

There are no toilets or other facilities, other than the picnic gazebos.

How to get to Telaga Tujuh Serendah
I have marked the exact location of Telaga Tujuh Serendah on this map. (Click on the 'View Larger Map' symbol in the top right corner to expand the map).
If you are driving from KL on Federal Route 1, once in Serendah, turn right at the traffic lights into Jalan Dato Harun. Go straight until you can't go straight anymore then turn left and you're almost there. 

Or you could take the train to Serendah station from where it is a 20 minute walk.

GPS Co-ordinates:

3.36341, 101.61267

3°21'48.3"N 101°36'45.6"E
Nearby
While in the vicinity you could also visit Serendah Waterfall. You can find details on my blog.
---
Share this page: