Kerling Hot Spring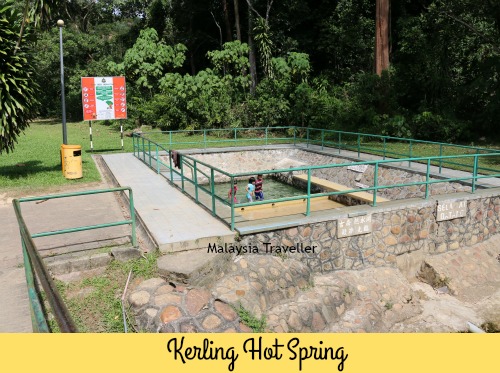 Kerling Hot Spring is a naturally hot spring (kolam air panas) located near the small town of Kerling in northern Selangor.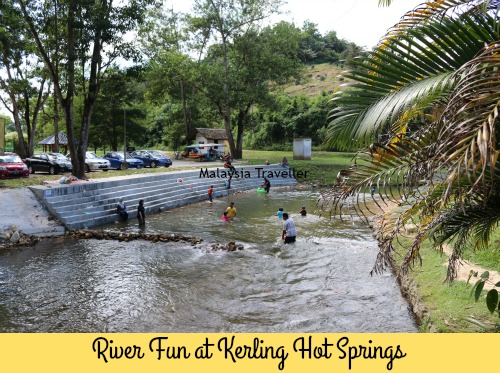 This place is popular with locals especially during school holidays and public holidays. On the day I visited, most people were more interested in bathing in the river which runs alongside the spring, rather than the hot spring itself. The river is shallow but fast moving and clean. It looked a safe place to swim but obviously care needs to be taken during the rainy season or heavy downpours.
The river bank is reinforced with a set of concrete steps to make it easier to get in and out of the river and to provide a grandstand for spectators to watch.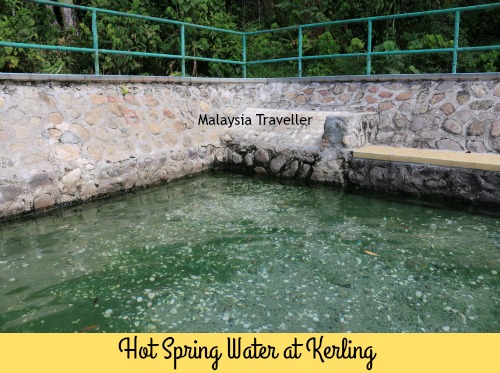 The hot spring itself is enclosed in a rectangular pool with stone and concrete walls and surrounded by safety barriers. The spring water was hot but bearable.
Other facilities here include:

. toilets
. car park (free)
. snack stall
. picnic gazebos
. children's playground
. landscaped gardens
Rules (According to the Hulu Selangor District Council by-laws)

No Dogs
No Hawkers
No Cycling / Motorbiking
No Littering
No Burning Trash
No Misbehaving / Hanky Panky
No Damaging Plants
No Vandalism
No Picking Plants
Opening Hours & Admission Charge
Opening hours are not restricted but the hot spring is scheduled to be maintained from 8.30am to 9.30 am everyday and again from 2.30 - 3.30pm on Saturdays and Sundays.
Entrance is free.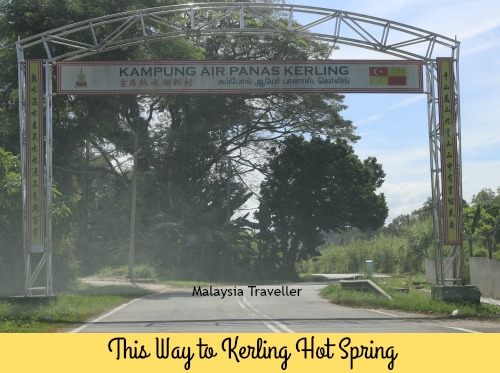 How to Get to Kerling Hot Spring
I have marked the exact location on this map: (click on the View Larger Map symbol in the top right corner to expand).
GPS Coordinates: 

3.60996, 101.60879
3°36'35.9"N 101°36'31.6"E
From Federal Route 1, look out for the signs to Kampung Air Panas once you reach Kerling. The road passes through Kg. Air Panas and then on a narrow road for a further 1km. The route is signposted all the way.

---
Share this page: