Malaysia Agriculture Park

Malaysia Agriculture Park
(Taman Botani Negara Shah Alam)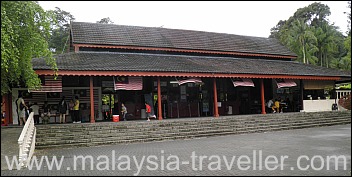 Introduction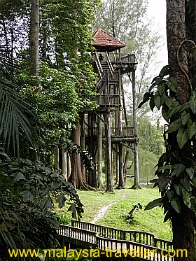 I like Malaysia Agriculture Park (now known officially as Taman Botani Negara Shah Alam). I suppose you could describe it as a plant-themed leisure park on the northern edge of Shah Alam, Selangor.
Much of the park's hard landscaping (bridges, lookout towers, pathways, gazebos and so on) is looking a bit run down and dilapidated. The park opened 25 years ago and time and the climate have taken their toll. This is not an international standard resort and it is not intended to be. Most of the visitors are locals, especially students and families.
But I still like it. The jungle vegetation, the trees and gardens are self-renewing and remain pristine. The air is clean. The only sounds are insects, laughing children and monkeys thrashing about in the treetops. And the park is huge - its 817 hectares (that's over 2000 acres) contain 422 different species of plants and trees acting as a conservation centre and laboratory for Malaysian plant life.
Confused about the name?
The park goes by many names. When it opened in 1986 it was known as Bukit Cerakah but usually referred to as Bukit Cahaya Seri Alam. Later the name was changed to Malaysia Agriculture Park (Taman Pertanian Malaysia in Bahasa). In 2011 it was renamed again as Taman Botani Negara Shah Alam which translates as National Botanical Garden Shah Alam.
Now that the new name is becoming more widely known I should probably stop calling it Malaysia Agriculture Park.
Attractions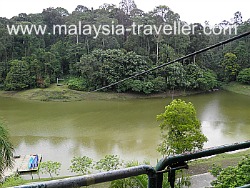 What are the attractions of Malaysia Agriculture Park? There are many.
Skytrex Adventure Park
The company which runs this Facility describes it as an 'eco recreational cum educational activity'. If you are the sort of person who likes climbing rope ladders, swinging from trees, riding on aerial ropeways and balancing on poles high above the ground, this is the place for you.
I didn't try it myself (too scared?) but it looked like people were enjoying it.
They offer three levels of excitement:
Little Adventure - includes 15 challenges taking 30-60 minutes and costing RM35 (all ages).
Big Thrill - 23 challenges taking 90-120 minutes and costing RM45.
Extreme - 21 challenges lasting 90-120 minutes and costing RM50.
Height and weight restrictions apply.
At weekends and public holidays you can just turn up and take part (first intake 8.30am, last intake 3pm).
On weekdays you would need to book in advance and have a minimum group size of 25 people to make it worth their while.
For more details you can refer to Skytrex's website.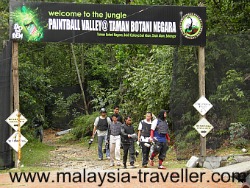 Paintball Valley
There seemed to be quite a big crowd at Paintball Valley and they have a cosy looking outdoor restaurant/sitting area. The forest conditions must be good for paintball simulations of jungle warfare.
These guys seem to be too busy having fun to maintain a website but I learned that the minimum price for a session is RM80 which includes lunch and drinks and 200 'splats' going up to RM350 for 2000 'splats'.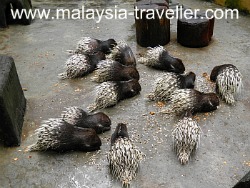 Animal Park
The sign at the entrance to this area says "Nature's Beings In Gentle Custody" which is a nice way of describing a zoo. It is supposed to cover 72 hectares and contain parrots, eagles, pigeons, turkeys, chickens, guinea fowl, mascoby duck, timorensis deer, civets, tortoises, terrapins, peacocks, porcupines and horses. I only saw a few of these creatures though I certainly did not cover 72 hectares. There are plenty of pleasant picnic spots here.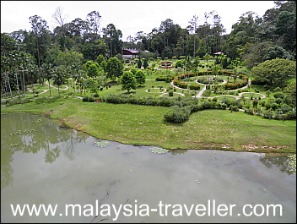 Four Seasons Temperature House
This is one of the park's most popular attractions as it provides cool-weather-starved Malaysians the opportunity to experience seasonal changes of temperature. It looks like an air-conditioned warehouse from the outside which changes the temperatures inside according to the time of year:
Dec - Feb winter
Mar - May spring
Jun - Aug summer
Sep - Nov autumn.
I went on 12th November 2011 and the place was closed as they were painting snowmen and preparing for the winter season (reopened 15 November 2011).
There is a separate charge for the Four Seasons Temperature House - RM3 for adults (age 12+) and RM1 for kids (ages 4-11).
I imagine the winter session is the most crowded as people can try temperatures of -2/-7 for a change although this attraction may have been superseded somewhat by the amazingly popular Snowalk at i-City (also in Shah Alam).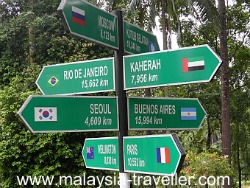 Spice and Beverage Garden
This is a 16 hectare area where you can see many famous tropical trees, plants and spices growing such as tea, coffee, lime, pomelo, lemon, cocoa, carambola, starfruit, black pepper, nutmeg, lemon grass, tamarind, chilli and cinnamon.
Arboretum
A 40 hectare section containing over 45 different species of local trees and shrubs.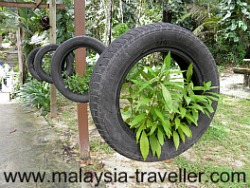 Fishing
Fishing for red tilapia and other fish is possible at Sungai Baru Dam and Sungai Air Kuning Dam and Pool C. There is a charge of RM5 per rod, payable at the main Park entrance.
There is supposed to be a mysterious 323m long tunnel built long ago under a hill at Sungai Air Kuning Dam. I will have to explore that area on my next visit to the Park.
Hiking
If you still have energy left, try hiking up Bukit Sapu Tangan, a 200m high hill from where you can enjoy a fine view over Shah Alam and the surrounding countryside. You can see some photos on my Thrifty Traveller blog.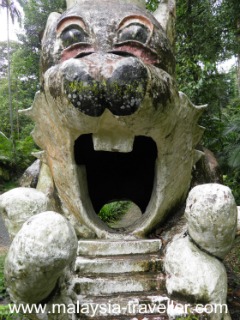 Other Attractions
These include a Cactus Garden and aTropical Fruit Garden. Kayaking is possible at Pool C. Kayak Rental: Group - RM 100 (1 session=3 hours) 10 kayaks provided per session. Individual – RM 5 (1 hour) per kayak.
Defunct Attractions
I noticed that a few of the attractions had become overgrown or appear to be abandoned. These included the orchid garden, a flying fox across a lake, rabbit farm and an amphitheatre. The paddy field near the entrance was also looking rather overgrown perhaps because there was some construction work going on nearby.
Accommodation
With Malaysia Agriculture Park being so big you might well wish to spend more than one day there and fortunately there are some interesting accommodation options available inside the park.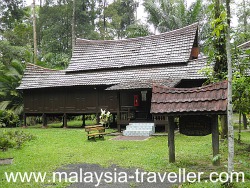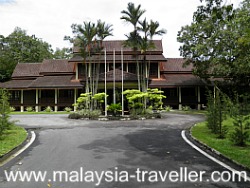 Kampung Idaman (Idyllic Village)
Here you have an opportunity to stay in one of ten wooden houses built according to traditional architectural practices typical to each state in Peninsular Malaysia. So there is a Perlis house, a Kedah house and houses from Penang, Perak, Negeri Sembilan, Melaka, Johor, Terengganu, Pahang and Kelantan.
They look spacious enough to accommodate large families but I imagine the facilities are extremely basic (more like indoor camping).
They are cheap too:
RM80 per day (weekdays)
RM100 per day (weekends).
Kampung Budaya
This is a similar facility in another corner of the park with traditional style chalets and air conditioned rooms available.
Camping
There are a number of camping sites within the park starting at RM5 for a tent site to RM20 for an A-frame hut.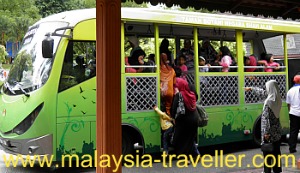 Getting Around Malaysia Agriculture Park
There is a free bus service which ferries people around the main attractions in the Park. There is a bus stop next to the Park Entrance. During my visit (a weekend) the buses were very crowded.
Bicycles can be rented from a shop near the entrance. For adults they cost RM5 for the first hour and RM1 for each subsequent hour. For children the cost is RM3 for the first hour and RM1 per hour thereafter. With long distances and plenty of hills, cycling can be quite tiring especially for young kids.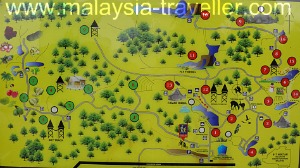 Walking round Malaysia Agriculture Park is enjoyable. You are bound to see long tailed macaques playing alongside the roads. Remember though that the Park is big. I have been there twice - the first time I explored the western half of the Park by bike. The second time I explored the Eastern part on foot. I walked for about 5 hours but still could not cover all the main attractions in that area.
There are plenty of snack shops where you can buy simple meals, ice creams, drinks etc.
Opening Hours and Admission Charges

Open Tuesday - Sunday from 8.30am to 4.30pm
Closed on Mondays unless Monday is a Public Holiday
Adult ticket (12 – 54 years): RM 3
Children ticket (6 – 11 years):RM 1
Senior citizens (55 years and above):RM 1
Visitors aged 6 years and below, orphans and the Disabled: Free Entry.
How To Get To Malaysia Agriculture Park
Address:
Taman Botani Negara Shah Alam (Malaysia Agriculture Park)
40000 Shah Alam
Tel: 03-55106922
03-55107048 (for bookings)
Fax: 03-55100922
Driving (or Taxi) is the best way. From the map below it appears that there might be access to Malaysia Agriculture Park from the E1 Expressway but there isn't. You must drive into Shah Alam and take the Persiaran Kayangan to Seksyen 8 then turn right onto Jalan Liku 8/1 which goes over the E1 Expressway and up to the Park Entrance.
There is a large car park in front of the entrance gate. A sign says that car parking costs RM3 but but there was nobody to collect the money during my visit.
---
Malaysia Agriculture Park
Share this page: