Tadom Hill Resort
Tadom Hill Resorts shows what can be achieved with a little imagination. This place was once a just an ugly hole left over from sand mining and some partially excavated limestone hills surrounded by palm oil plantations near Dengkil in Selangor. The owners have transformed it into an attractive eco-friendly resort next to a clean lake and provide a range of fun activities for day visitors and resort guests.
Nearly all the structures in the resort are made from bamboo, giving a relaxed beach style feel to the place even though it is far from the sea.

'Tadom' is an orang asli word and many of the employees come from the local orang asli community.
Here is a short video to give you a flavour of what's on offer.
---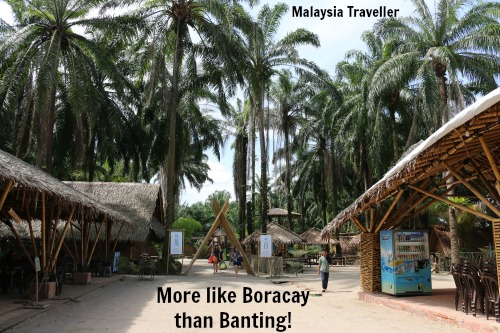 Activities
Complimentary Activities for Day Pass Holders and In-House Guests:
Bamboo Diving Platform. Jump in the lake from 5 metres.
Tarzan Swing.
Bamboo Water Swing.
Bamboo Raft.
Floating Bamboo Lounging Chair.
Outdoor Fun Games. Limbo, giant Jenga, giant checkers, volleyball, ping pong, badminton, basketball, tug of war etc.
Al the above activities are included in the Day Pass rate or in the accommodation price for overnight guests.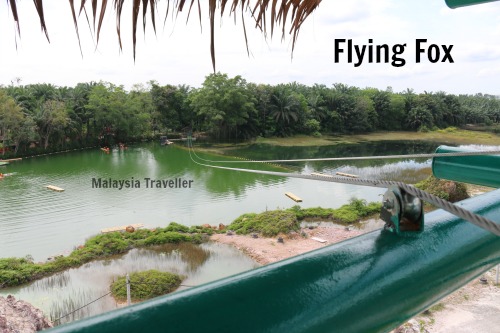 Flying Fox. This must be one of the longest zip lines in Malaysia, starting from a hilltop across the lake and crossing the water back to the resort. Extra charge applies - see below.
Flying Fox   
Weekday
Holiday
Students
In-House Guests
Weekday
Holiday
Day Pass Rates 2017
Free for Children 2 and below and for Senior Citizens aged 60 and above.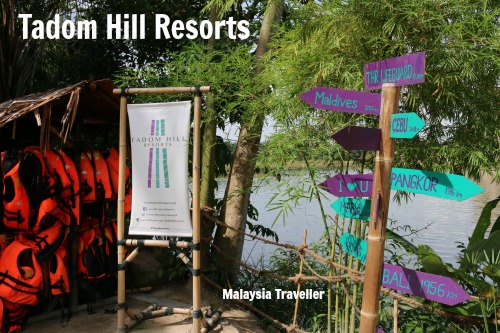 Amenities
Various amenities are available for rent such as gazebo, grill, locker, mat, bean bag. BBQ food platters and charcoal can be purchased.
Life jackets for adults and children are provided and are compulsory for all water-related activities.

There is a restaurant and drink vending machines. Outside food not allowed.
There is sufficient free parking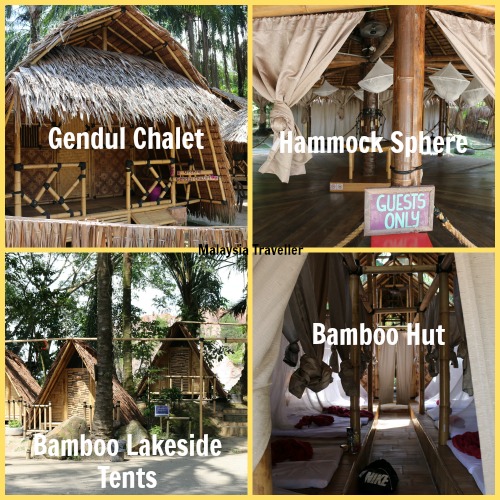 Accommodation
There are seven types of cosy accommodation available ranging from shared dormitory style bamboo huts to the more luxurious bamboo Gendul chalets.
Here are the room rates for 2017, inclusive of GST and breakfast (check Tadom Hill Resorts' official website for future updates in accommodation rates):
| | | | | |
| --- | --- | --- | --- | --- |
| RM | Weekday | Weekend | Peak Season | Super Peak |
| Bamboo Hut - sleeps 12 (sharing per person) | 75 | 85 | 95 | 105 |
| Hammock Spheres - sleeps 10 (sharing per person) | 65 | 75 | 85 | 95 |
| Bamboo Garden Tent - sleeps 2 (per tent) | 130 | 150 | 170 | 190 |
| Bamboo Lakeside Tent sleeps 2 (per tent) | 150 | 170 | 190 | 210 |
| Gendul Chalets - sleeps 2 (extra mattress possible) | 240 | 260 | 280 | 300 |
| Eco Tent - sleeps 2 (per tent) | 90 | 100 | 110 | 120 |
| Astana Ninik - sleeps 2 (extra mattress possible) | 200 | 220 | 240 | 260 |
Operating Hours
Open Daily
Reception Open 9am - 10pm

Day Pass Holders: 9.30am - 6.45pm

Flying Fox: 10am - 12pm, 2pm - 6pm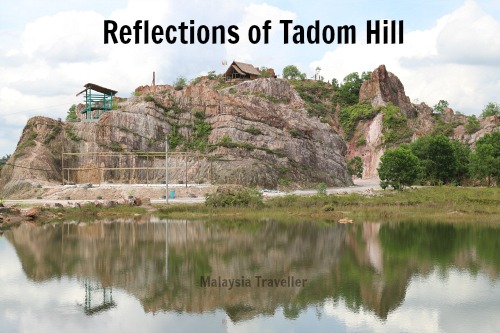 Verdict
This is a nice place and something different. Suitable for company team building events, or small groups of friends looking for a relaxing break from the city.  A day trip or maximum one night stay would be enough. Bring mosquito repellent if you are staying overnight.

 How to Get to Tadom Hill Resort
I have marked the exact location on this map, together with the access points where you need to turn off the highway;

GPS Co-ordinates:
2°48'36.2"N 101°37'41.5"E
2.810050, 101.628190
Address:
Bukit Tadom, Kampung Labohan Dagang, 42700 Banting, Selangor Darul Ehsan, Malaysia

012-5225728

012-5225908
012-5225883 
(Hotline Hours: 9.00am – 10.00pm)
info@tadomhillresorts.com
Nearby
Paya Indah Wetlands is a short drive away from Tadom Hill Resort if you want to combine both places in one trip.

---
Share this page: