Bagan Lalang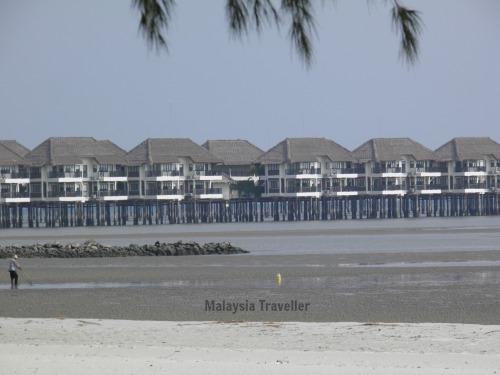 Bagan Lalang Beach is probably the best beach along the southwest coastline of Selangor state and one of the closest beaches to Kuala Lumpur, being located only about 25 minutes drive from Kuala Lumpur International Airport and the Sepang International Circuit (F1 circuit).
Having said it is the best beach however does not mean that it has perfect white sand and crystal clear blue water. Being located on the shores of the Straits of Malacca, one of the world's busiest shipping lanes, means that it is not free from rubbish. Furthermore this whole stretch of coastline is lined with mangrove trees and the many rivers which flow into the sea here bring vegetation and natural sediments which get washed up on the beach.
As a result the beaches tend to have a muddy appearance and the sea is usually cloudy. Still this is all natural and I found Bagan Lalang Beach to be quite clean during my visit. It was covered in tiny crabs. The tide was out and anyone wishing to swim would have had to walk a long way over squelchy sand to reach the sea, sending thousands of tiny crabs scurrying for cover.

It was a weekday and almost deserted. One guy was enjoying sand kiting (if that is the right word - his wheeled vehicle was being dragged over the sand powered by a kite).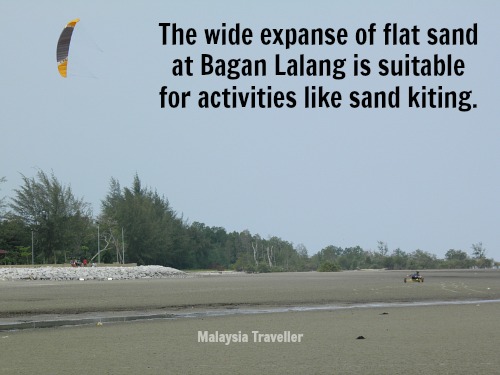 This place must get very crowded at weekends judging by the size of the huge carpark which has been built set back from the beach. There are a lot of restaurants lining the beach together with a few stalls, shops, toilets etc.

Accommodation at Bagan Lalang
In a prime position in the centre of Bagan Lalang beach is the impressive AVANI Sepang Goldcoast Resort. This imaginatively designed hotel comprises luxurious sea villas which are built on stilts extending out almost 1 km into the sea in the shape of a palm tree made up of 8 fronds and a central trunk. This is Malaysia's answer to Dubai's famous Palm Islands, though on a much smaller scale.
Interested in staying in the AVANI Sepang Goldcoast Resort? Check out Agoda's website for discounted room rates. 
This is how Agoda describes the hotel:
Surrounded by the sheltered waters of west coast Peninsular Malaysia, AVANI Sepang Goldcoast Resort offers a secluded tropical hideaway that blends easy accessibility with a feeling of getting away from it all. Set along Sepang's 22 kilometre shore, the property has a mainland beachfront setting with lush gardens and a palm structure built on stilts which extends over warm shallow waters. The overwater palm features 315 contemporary Polynesian-inspired guest rooms and villas, all with a sea view. 
A property designed for every age and interest, we offer an action packed daily programme, including beach and garden activities. Some activities for the family include bicycle and mangrove tours around the local area, which takes one back to nature. To simply unwind, one can sunbathe and take refreshing dips in the resort's swimming pool. Taking relaxation to a whole new level, AVANI SPA pampers guests with a choice of results-driven treatments for total wellbeing.
---
Share this page: