Malaysia Tourism Centre (MaTiC)
Jalan Ampang, Kuala Lumpur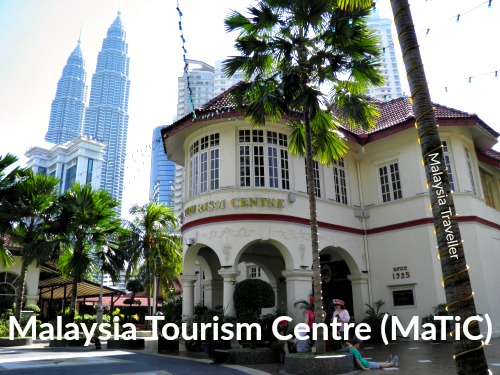 The Malaysia Tourism Centre, or MaTiC, in Jalan Ampang, Kuala Lumpur is a heritage building and landmark and a good place for newly arrived visitors to obtain tourist information on Malaysia (though obviously not as good as this website)!
The Building
It is hard to imagine now but this attractive colonial era building was once surrounded by a six acre rambutan orchard.  The elegant mansion started out life in 1935 as a plush home for a wealthy mining and plantation magnate, Eu Tong Sen. 
During the Second World War the building served as a military office, firstly for the British, then the Japanese, and, after the War, for the British again. 

After Independence the building was refurbished and used as a conference venue and offices for various government departments. The first meeting of Malaya's House of Representatives was held on 12th September 1959 in the building's conference hall named Dewan Tunku Abdul Rahman. Since then the hall has been the venue of a number of other significant ceremonies and events.

In 1988, after further renovation and extension, the building became a tourist information centre, evolving into today's MaTiC, Malaysia's one-stop tourist complex.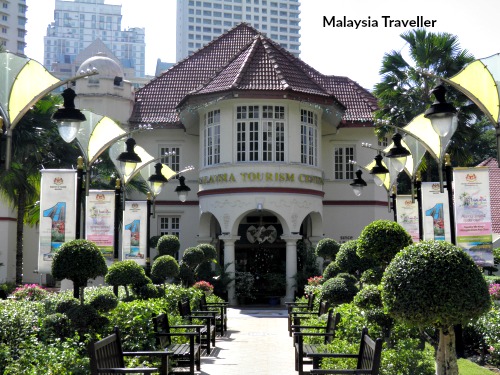 Tourist Information
Similar to this website, MaTiC provides tourist information, in brochure and leaflet form, on Malaysian topics such as Architecture, Beaches & Islands, Cultural, Gastronomy, Historical and Religion. You can find out what events are taking place in various parts of the country during your visit.

Facilities
In addition to the tourist information counters you can also find a 24 hour tourist police office in case you find yourself in difficulties such as lost passport or you are unlucky enough to be the victim of a crime.
Other services include:

Free internet zone
A travel agent counter
A money changer
A very nice café
A free cultural show at 3pm every day except Sundays.
A souvenir shop
A chocolate boutique
A restaurant
A counter and bus stop for the KL Hop-On Hop-Off Bus (not to be confused with the Go-KL City Bus, which is free and which also stops at MaTiC).
With all these facilities you can see that MaTiC is a destination in its own right.
Opening Hours
Open daily from 8 am to 10 pm.
How to Get to Malaysia Tourism Centre (MaTiC)
I have marked the exact location of Malaysia Tourism Centre on this map:

Address:
Pusat Pelancongan Malaysia (MATIC)
109, Jalan Ampang,
50450, Kuala Lumpur,
MALAYSIA.
GPS: 3.156729, 101.707179

Tel: 03 9235 4800 / 4900

 Fax: 03 2162 1149
 info@matic.gov.my
Nearby
While you are here take a peek at the Pakistan High Commission building across the street. This type of classic colonial bungalow is becoming very rare especially in down town KL.
---
Share this page: