Kuala Lumpur Orchid Garden

Kuala Lumpur
Orchid Garden & Hibiscus Garden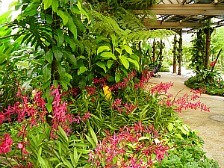 Kuala Lumpur Orchid Garden, together with the adjoining Hibiscus Garden, is a relaxing place to enjoy exotic tropical blooms amid lush, landscaped gardens.
The Orchid Garden is located opposite the KL Bird Park within the scenic KL Lake Gardens, a few minutes drive from the hectic heart of the city.
You can wander around this one hectare park and admire thousands of multicoloured orchid plants of many different species.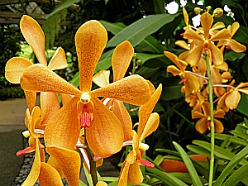 There are two basic types of orchid.Terrestrial orchids grow at ground level and are rooted in the soil while Epiphyticorchids take root on trees and rocks above ground level and feed on dead plant matter and the moisture which collects in the nooks and crannies of their hosts. This latter sort is more comfortable in tropical climates like Malaysia whereas the former can survive in temperate regions.
Both types of orchid can be found at the Kuala Lumpur Orchid Garden and there are a few shops where you can buy potted orchids, cut plants or orchids in bottles at reasonable prices.
I am always impressed how these shops seem to have their orchids flowering at the same time. The ones in my garden come into flower intermittently. There is obviously a lot of science and skill involved in growing orchids.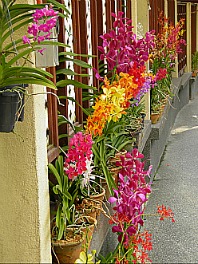 Did You Know?
In the 16th century a Swiss physician, Philippus Paracelsus, popularised an ancient theory, the Doctrine of Signatures, wherein nature provides us with clues about a plant's medicinal value by mimicking the shape of human body parts which would benefit from the medicine. Thus, eating the tubers of certain orchids is considered an aphrodisiac for males because the roots of some terrestrial orchids resemble testicles. The ancient Greeks apparently referred to testicles as 'orchis' which is where the word orchid originates.
Orchids are also widely used in Traditional Chinese Medicine and in Ayurvedic treatments.
The Hibiscus Garden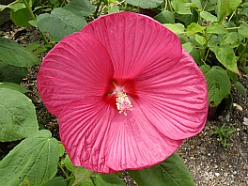 Walking through the Kuala Lumpur Orchid Garden will lead you the Hibiscus Garden where Malaysia's national flower, the Hibiscus or Bunga Raya is showcased.
Dozens of different hibiscus species, with a wide variety of shapes and colours, are grown here. I love the hibiscus, which grows easily in my garden and is almost constantly in flower. However, it is prone to attacks from mealy bugs who obviously find the hibiscus good to eat.
The Hibiscus Garden contains a building with a gallery and information centre but the last few times I have visited it has been closed.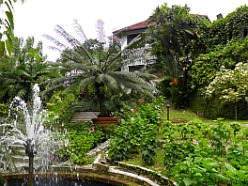 Opening Hours
Open Daily from 9am - 6pm.
Admission Charges
Monday - Friday: FREE!
Weekends and Public Holidays: RM1 (includes both the Orchid Garden and the Hibiscus Garden).
How to Get to Kuala Lumpur Orchid Garden
You can find the location on my map of Kuala Lumpur Lake Gardens The Orchid Garden is just across the road from the KL Bird Park. If you are driving and like to rely on SatNav the GPS address is: Bird Park. GPS coordinates: N3 08.581 E101 41.294
If you prefer to navigate the old-fashioned way:
From Jalan Bangsar, head straight towards KTM Railway Station round-a-bout, turn left towards Masjid Negara.
From Jalan Mahameru, turn left into Jalan Parlimen. At traffic light, turn right towards the Kuala Lumpur Lake Gardens.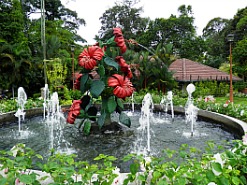 There is no parking at the Orchid Garden but free parking is available outside the Bird Park across the street. It can get full up at peak times and public holidays so arrive early.
By public transport
Rapid KL Bus No. B115 from Kotaraya to Jalan Parlimen.
KL Hop-On-Hop-Off Double Decker Tour Bus Service, disembark at Station No. 14 in front of KL Bird Park Main Entrance. Buses available at every 30 to 45 minutes interval.
By KTM Commuter Train, disembark at the Old Railway Kuala Lumpur Station located near the National Mosque.
Public taxis – A taxi ticket counter is available at the Bird Park for your return journey.
---
Kuala Lumpur Orchid Garden
Share this page: