Old KL Railway Station
& Nearby Buildings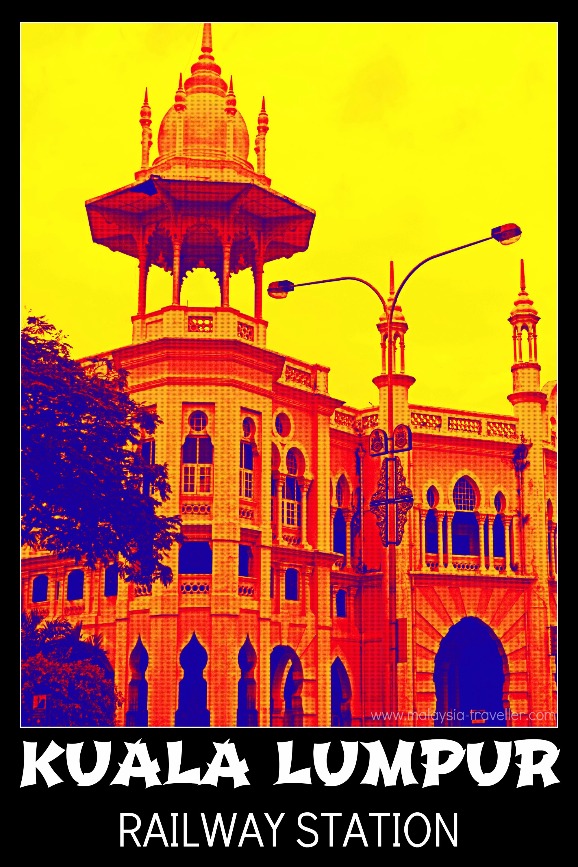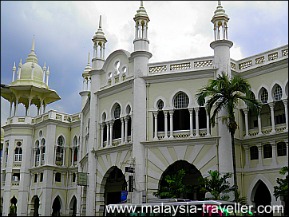 History of KL Railway Station
The Old KL Railway Station is one of Kuala Lumpur's most famous landmarks. Until the Petronas Twin Towers was built, the railway station, together with the Sultan Abdul Samad building, was among the most photographed symbols of the city.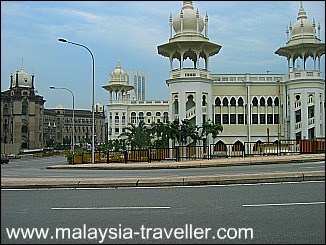 The station was completed in 1910 and designed by that most prolific and talented of British colonial architects, Arthur Benison Hubback. Working at the Public Works Department, he was responsible for many other iconic buildings in Malaysia such as the stately Ipoh Railway Station and the Royal Gallery in Klang. The KL Railway Station was built with Mughal features such as the elegant chhatris (dome-capped pavilions of Indian origin) along its roof line.
The station served as the city's main rail hub until the modern KL Sentral station took over in 2001.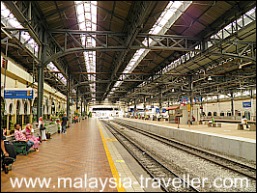 The old station is still used for KTM Komuter services. Some of its platforms were too low for KTM Komuter trains and a more modern extension with a separate entrance was built in the 1980s.
You can find some interesting old photos of KL station on my Great Malaysian Railway Journeys website.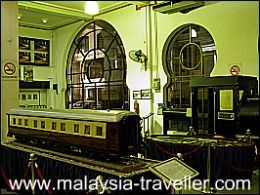 KTM Mini Museum
The station is a gazetted heritage building and a mini railway museum has been added to fill some of the underutilised concourse space. The museum, which is free admission, displays some relics from bygone days of Malaysian (& Malayan) railway history such as train tickets, uniforms, lamps, crockery, toast racks, maps, posters and signal equipment. There is even an elephant bone from a mother elephant that suicidally charged and derailed a train, apparently in retaliation for the death of her calf in an earlier train collision.
Update: When I revisited in September 2017, the museum was permanently closed and the space is now occupied by a clinic. The station counter staff could not tell me what happened to the exhibits. Hopefully they will turn up in another museum in due course.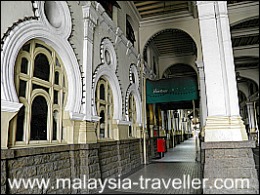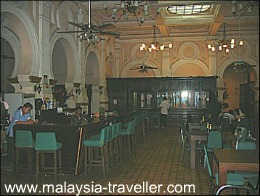 Heritage Station Hotel
(Closed Down)
The station building used to house the Heritage Station Hotel which closed down in 2010. Old photos suggest that it may once have been a fine place to stay but by the time I visited in 2009 it was already down on its luck with accommodation reduced to backpacker standard. I had a quick Guinness in the gloomy bar cum restaurant which you could tell used to be quite a grand room.
Since the hotel is part of a heritage building it is a candidate for a serious makeover and let us hope that it can find a new life to restore its former glory.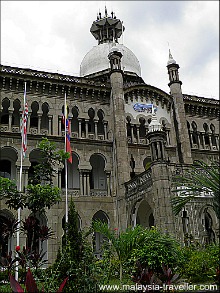 Railway Administration Building
Opposite the KL railway station is another Mughal-inspired masterpiece by Mr. Hubback. It was completed in 1917 as an administration building for the railway company and it still serves that purpose. Its north wing was seriously damaged by bombing in WWII and again by fire in 1968.
If you smile nicely you might be able to enter the ground floor level and walk along its wide colonnaded verandahs.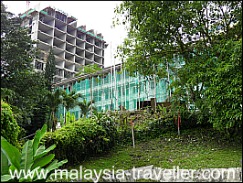 Majestic Hotel
Just along from the Railway Administration Building is another heritage building, the former Majestic Hotel which is currently being renovated and expanded. Built on the site of the German Consul General's house during WWI, the Majestic was completed in 1935 in luxury art-deco style. It witnessed many important events in the nation's history before it closed down in 1984, following which it housed the National Art Gallery for a time. Now it is being restored as a luxury classic hotel with a modern 15 storey extension by YTL, a company which has done a good job in restoring other famous hotels such as the Majestic in Melaka and the Cameron Highlands Resort. Perhaps YTL would like to do the "Raffles Treatment" on KL Railway Station and the Railway Administration Building as well!
Update as at February 2013: Restoration of the Majestic is now complete and the hotel is open for business. You can read about the hotel here.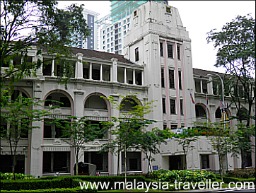 Sulaiman Building
The final grand building on this stretch of Jalan Sultan Hishamuddin (formerly Victory Avenue) is the Sulaiman Building which was built in 1933 and named after the then Ruler of Selangor. In its history this classic structure was, among others, home to the Income Tax and Registration Departments and later served as the Federal Territory Shariah Court.  In 2011 it was earmarked to become the new headquarters for KLRCA (Kuala Lumpur Regional Centre For Arbitration). After an extensive refurbishment from 2011 to 2014 the building's original facade was restored but with state of the art facilities inside.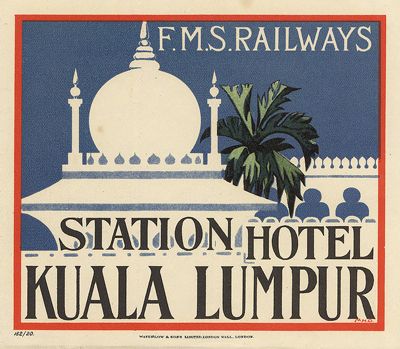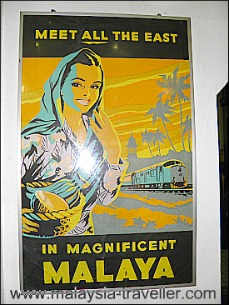 ---
Share this page: