National Museum
Muzium Negara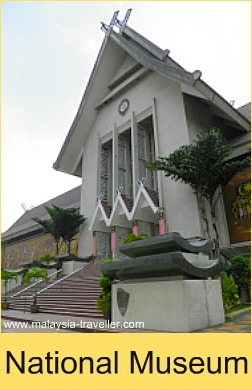 As you would expect, the National Museum is one of the top museums in Malaysia.
Opened in 1963, the museum is housed in a striking building incorporating traditional Malay and Minangkabau architectural features. Two giant murals of Italian glass mosaic line the front facade of the museum and portray highlights from Malay history and culture.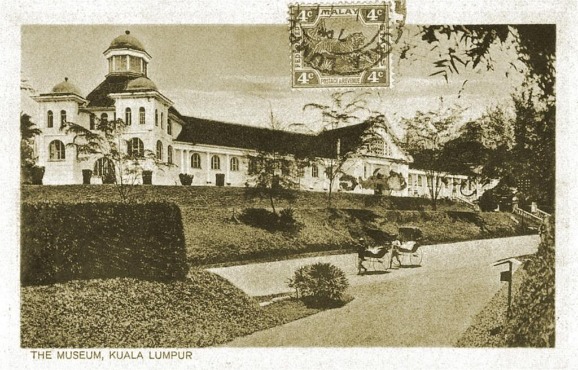 The old Selangor Museum
The museum is located close to the KL Lake Gardens and KL Sentral and was built on the site of the old Selangor Museum which was partially destroyed (by mistake) in an allied bombing raid during WWII.
The museum had a major upgrade in 2008 and today it tells the story of Malaysia's rich historical and cultural heritage. 

The exhibits are arranged in 4 galleries covering 2 floors.
The galleries are:
Prehistory Gallery
This gallery displays the results of historical research and archaeological excavations. Exhibits include Palaeolithic-era stone tools from 200,000 years ago, Neolithic pottery, a replica of Perak Man skeleton (reckoned to be 10-11,000 years old), a bronze Son Dong bell found near Muar, Johor which originated from Vietnam in 150AD, and a seated Bodhisattva statue thought to be around a thousand years old.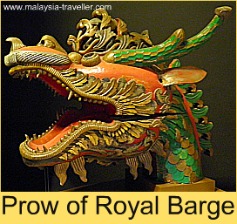 The Malay Kingdoms Gallery
This gallery traces the development of early settlements, the emergence of Malay kingdoms and sultanates, the coming of Islam and importance of Malacca as a trading centre.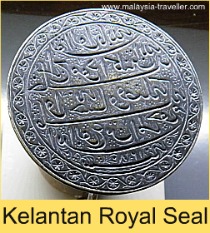 The Colonial Era Gallery
This gallery covers the colonial era starting in 1511 with the Portuguese, followed by the Dutch and then the British and their exploitation of raw materials with the spice trade, tin mining, rubber and so on.
The gallery also records the Japanese occupation during World War Two.
Being a bit of an old colonial myself, I found this gallery to be the most interesting. The large scale model of a tin dredge is one of the highlights.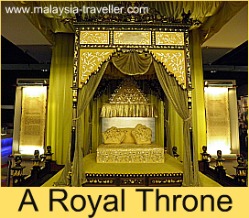 Malaysia Today Gallery
Bringing us right up to date, the exhibits in this gallery include items from the Malayan Emergency, the struggle for independence, the formation of Malaysia, the political system and the economic development of Malaysia.
Outdoor Exhibitions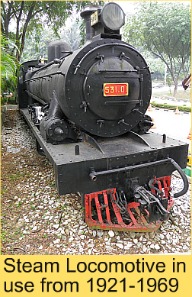 In the grounds of the museum there are a number of exhibits worth inspecting.
There are examples of transportation over the decades - a bullock cart, a gharry from Melaka, a trishaw, an Austin Seven, an old Dennis fire engine, the first Proton Saga (the first made-in-Malaysia car), and an early carriage from the Penang Hill cable car which was used from 1923-1977.
There are also three locomotives:
- a steam locomotive made in England by Kitson & Co. which was in use from 1921 until 1969 on the East Coast line in Kelantan
- a steam tank engine (like Thomas!) made in England by W.G. Bagnall Ltd in 1927 which was used for dock shunting in Singapore and Port Swettenham (Klang) until 1964.
- a Class 22 Diesel locomotive made by English Electric Co. and introduced to Malaysia in 1971 and used until 2002.
Also in the grounds of the museum is a traditional Malay building made of cengal wood which dates from 1884 and used to stand in the compound of the then Sultan of Terengganu until it was relocated to the museum in 1974.
Verdict
Worth visiting. International standard in terms of presentation but it will not take you long to see everything, say 1 to 2 hours.
Opening Hours
Open Daily 9:00 am - 6:00 pm
Closed on the first day of Eid Al Fitr and the first day of Eid Al Adha
Admission Charges
MyKad Holders (Malaysians)
Adult: RM2
Seniors and Disabled Persons: RM1
Children Under 12: Free
Secondary School Student wearing Uniform: Free
Foreigners
Adult: RM5
Children aged 6-12 years RM2
Children below 6 years old: Free
Location of National Museum
National Museum
Department of Museums Malaysia
Jalan Damansara
50566, Kuala Lumpur.
Email - info@jmm.gov.my
Phone: (+603) 2282 1111 Fax: (+603) 2267 1011 

Click here to see the National Museum's Official Website.
Driving
You can find a map on my Kuala Lumpur Lake Gardens page. Parking is available - RM2 per car and RM1 for motorbikes.
By Bus
RapidKL bus No.115 (KL City Shuttle RM2 per day).
For KL Hop-on Hop-off bus, Muzium Negara is located at bus stop no 12.
By KTM Commuter and Rapid Kelana Jaya Line
Get off at KL Sentral station. The museum is 500 meters away. Follow the pedestrian signboards.
Walking
You can walk to the museum as part of my Kuala Lumpur Lake Gardens trail.
Nearby Hotels
The Carcosa Seri Negara is a luxurious all-suite heritage hotel housed in the former residence of Britain's senior representative during colonial times. It is located within distance of the National Museum.
Other hotels in the vicinity include the Hilton Kuala Lumpur and Le Meridien Kuala Lumpur which are located next to KL Sentral, a short walk from the museum.
---
Share this page: