Bintang Walk 
Bintang Walk is the name given to a section of Jalan Bukit Bintang and some of the surrounding side roads. It is touted as one of the main shopping and entertainment districts of Kuala Lumpur. It has a mixed character, smart and elegant at one end, scruffy and seedy at the other. This is all part of its appeal and the area is surely one of the top KL attractions. Watch this video to get a flavour of the atmosphere.
The word 'Walk' hints at a gentle pedestrianised route but the reality is very different as Jalan Bukit Bintang is a congested traffic-filled urban street though it does have wide pavements (sidewalks) on either side. It's an easy flat route, less than 1 km from end to end.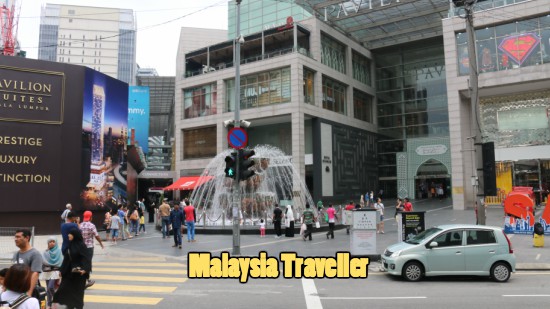 Bintang Walk starts near Pavilion KL, one of the glitziest malls in town.
The route starts where Jalan Bukit Bintang merges with Jalan Raja Chulan, alongside some of KL's glitziest hotels, the Westin, JW Marriott and the Ritz Carlton. These hotels face Pavilion Kuala Lumpur with most people would agree is KL's top shopping mall, although there is a lot of competition in this shopping-mad city. Not only is the Pavilion a great place to shop and have fun but it is also a trendy nightlife area with a number of popular bars and restaurants.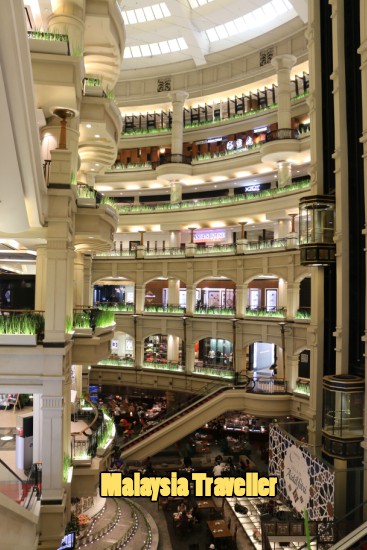 Starhill Gallery. (Bukit Bintang is Malay for Star Hill).
Across the street is Starhill Gallery, a luxury retail mall packed with designer brands selling pricey stuff for the super rich. It's a nice place for window shopping though and the food outlets are attractive and reasonable.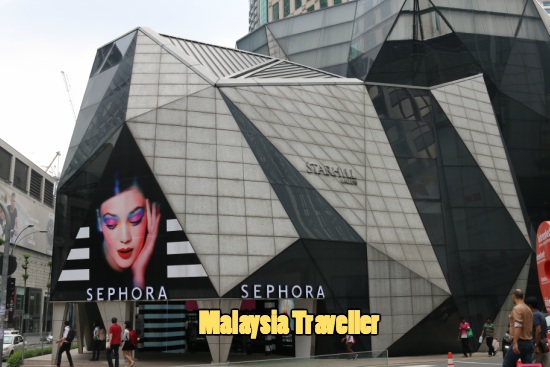 Annexed to Starhill is an unusual crystal shaped building containing beauty products retailer Sephora's flagship store.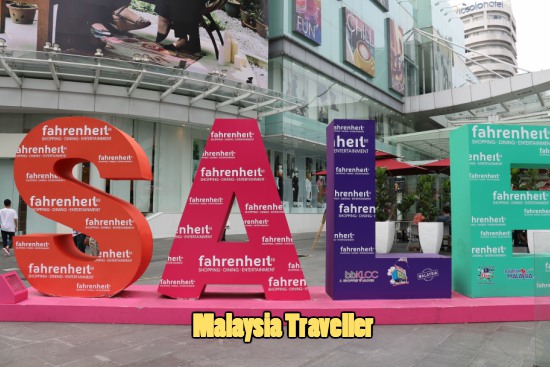 Fahrenheit 88 is so-called because it is the average temperature in Malaysia - 31ºC.
Nearby is Fahrenheit 88, another popular mall, catering more towards the younger crowd, although all malls in Malaysia target the young segment.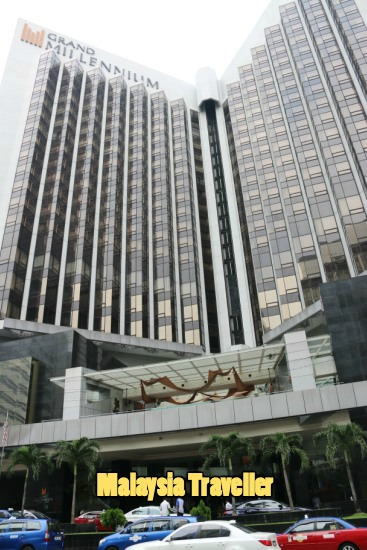 Opposite is another hotel, the 4 star Grand Millennium Hotel, which, back in the 1980's, was the Regent Hotel KL.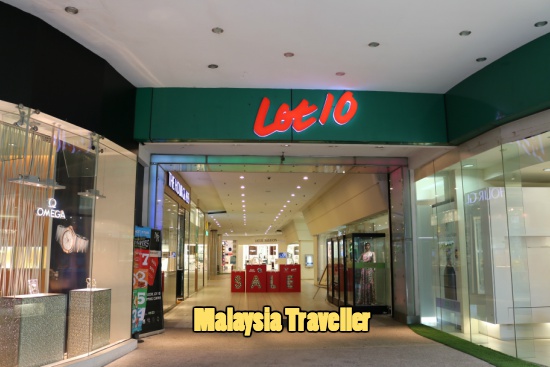 Before Lot 10 was built it was for a time an open air car park which sold great fried lala (clams) at night.
Continuing west, Jalan Bukit Bintang intersects with Jalan Sultan Ismail, one of the town's busiest thoroughfares. On the corner is a Lot 10, a bright green shopping complex with anchor tenants such as H&M and Zara. Of more interest to me is the food court on the lower ground floor called Lot 10 Hutong which describes itself as a gourmet heritage village with 33 mostly Chinese eateries which have been operating for generations.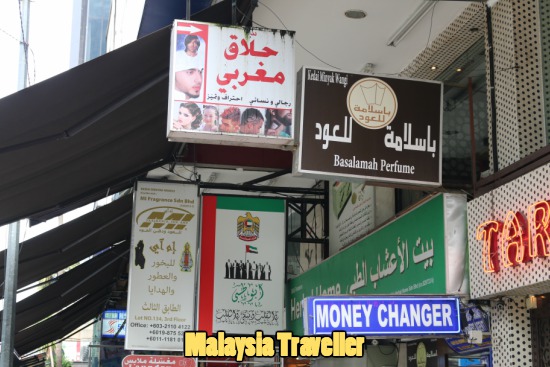 Get a Maghrabi haircut here.
As Jalan Bukit Bintang crosses Jalan Sultan Ismail and underneath the monorail tracks, Bintang Walk's character changes from chic and glamorous to something more scruffy and down market.
Kuala Lumpur is a popular destination for Middle Eastern tourists, particularly in the summer months as they seek to escape the scorching temperatures in the Arabian Gulf. This strip of Bukit Bintang is one area where they like to congregate, knowing that they can obtain halal food and perhaps find Arabic speaking shop staff and taxi drivers. A lot of Arabs have set up businesses here too.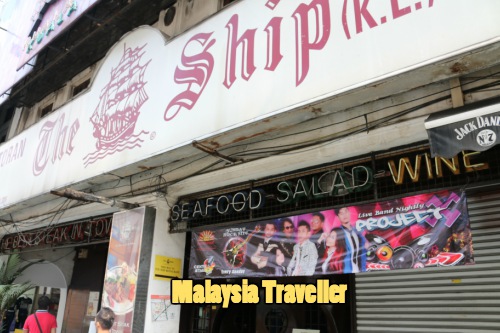 Western visitors are catered for too. The Ship restaurant has been around for over 30 years ( I remember going to it in the early 1980's) and claims to serve the best steak in town in its nautical themed outlets.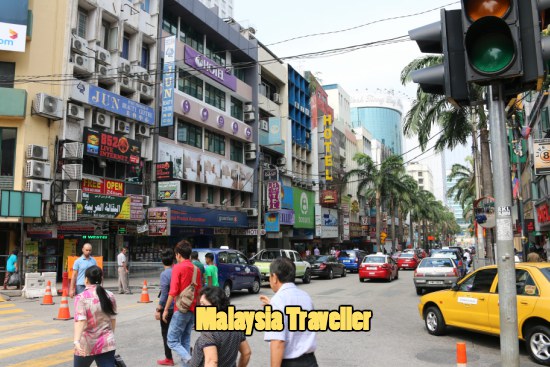 Palm trees help to make this part of Bintang Walk more attractive.
Numerous 'foot massage' parlours operate along this stretch of Bukit Bintang and send out their female employees on to the street to tempt custom from passing tourists. While nothing like Bangkok, it is not really what people expect to see in conservative Malaysia.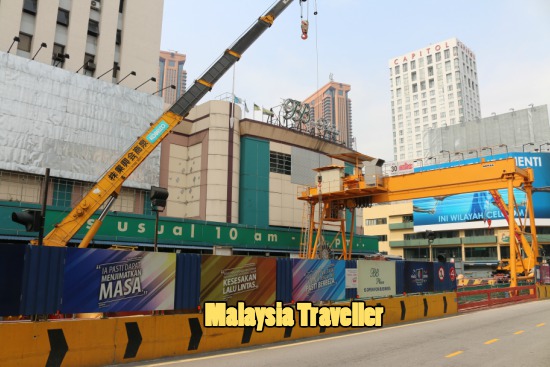 The sign says BB Plaza is still open for business despite the construction activity.
Across the street from The Ship is BB Plaza, a rather tired shopping mall which is connected to another shopping centre, Sungei Wang Plaza. These lower end malls are places to search for bargains amid their rabbit warren corridors. You might find fake goods too. The street in front of BB Plaza is currently the site of major construction work for the new MRT underground railway line and station. It will be worth the inconvenience when it opens.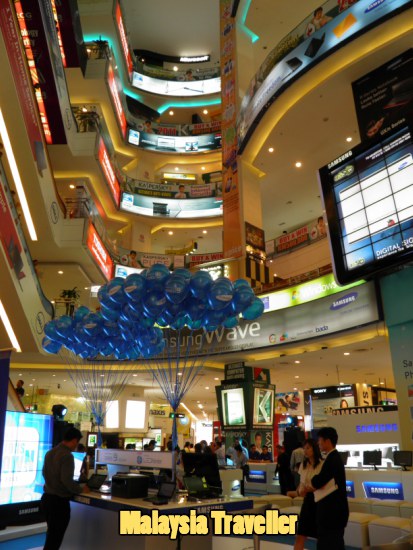 Tourists looking for mobiles, laptops and IT accessories often come here.
Down a side street is Low Yat Plaza, a multi storey IT mall, Malaysia's largest and busiest. It was also the site of a near-riot which broke out earlier this year (July 2015). Thankfully cooler heads prevented events from getting out of control.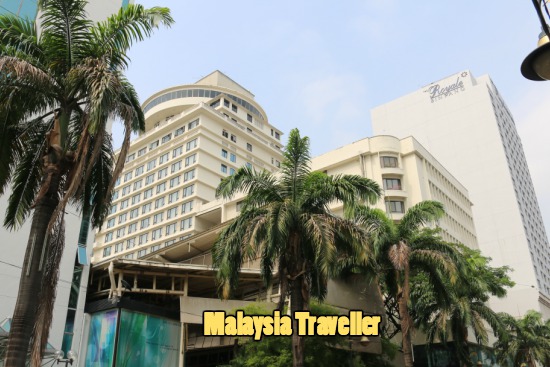 BB Park with Federal Hotel behind.
BB Park is a small oasis of open air restaurants and bars which gets busy in the evenings. Next door is the Federal Hotel, one of KL's earliest international hotels built to coincide with Independence in 1957.  It has the country's first revolving restaurant. It has been updated a number of times since of course. I remember staying there in 1992 and from the room we overlooked the Cathay Cinema, since demolished.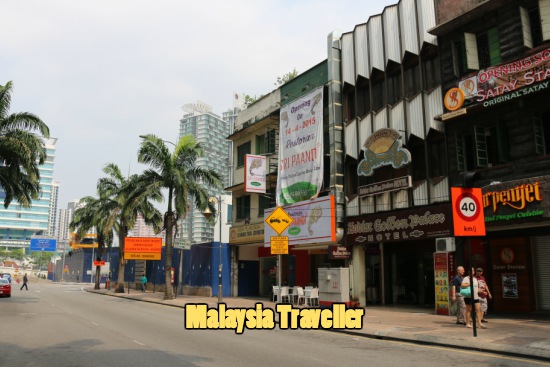 The Cathay Cinema once stood here.
Jalan Bukit Bintang finally peters out to join Jalan Pudu. Here too construction work for the MRT is going on.
At right angles to Jalan Bukit Bintang is Changkat Bukit Bintang. This lively street is lined with smart but casual restaurants offering a wide range of international cuisines. Bars, live music and a fashionable young crowd bring the place to life in the evenings.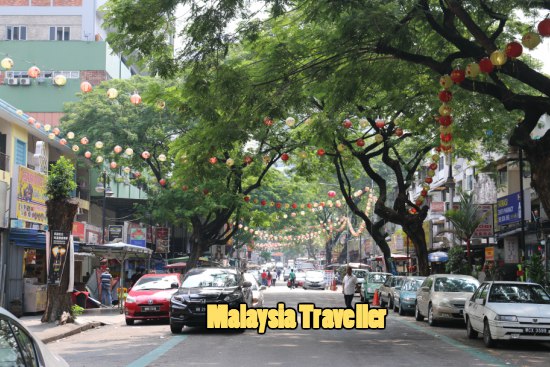 Jalan Alor in the daytime. At night tables, chairs and food stalls are set up along here.
Running parallel to Jalan Bukit Bintang is a road called Jalan Alor which is transformed into a food street at night as hawkers fire up their woks and serve all the local favourite dishes to hungry diners at makeshift tables by the roadside.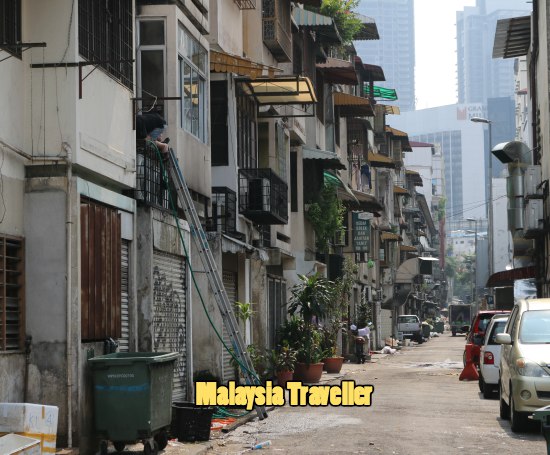 Alley way between Alor Street and Bukit Bintang.
How to Get to Bintang Walk
See this map for directions:
By Monorail: Bukit Bintang station is the most convenient.
By Train: When the MRT is finished life will be much easier as there will be a station at Bukit Bintang.
By Bus: Take the Free Go-KL City Bus (green route and purple route). It stops in front of the Starhill Gallery and outside HSBC Bukit Bintang branch.
---
Share this page: