Chinatown Walking Tour
Welcome to the Chinatown Walking Tour.
Chinatown is the name given to the original commercial heart of Old Kuala Lumpur. The area surrounds Petaling Street which is a busy street market and one of the most popular tourist destinations for any visitor to Kuala Lumpur.
Your tour begins at Maharajalela Monorail Station which might be a convenient if you are arriving by public transport.
Right next to the station you will see the colourfully decorated Guan Yin Temple dedicated to Guan Yin, the Goddess of Compassion. This temple was built in 1880 in ornate style. People prayer here in the hope of acquiring the Buddhist quality of compassion.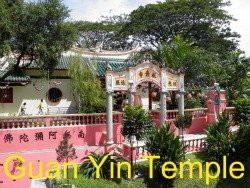 Across the busy street, seemingly surrounded by motorways, you will see the KL & Selangor Chinese Assembly Hall. This whitewashed, domed building was completed in 1923 and is mainly used for meetings and functions. In 2005 it was recognised as a National Heritage site.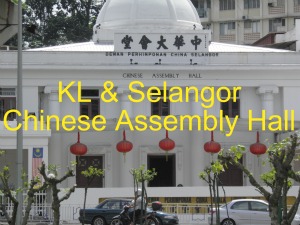 Next up on your Chinatown Walking Tour is a handsome low green building, the Chan See Shue Yuen Clan Association temple. A clan association is a kind of club for people with the same surname which in this case is 'Chan' and includes 'Tan' and 'Chen' whose names are written using the same Chinese characters. That makes it a very big clan!
The association would have helped new immigrants to settle, find work and so on. This temple was built between 1897 and 1906. All the materials and craftsmen were imported from southern China which is where this clan originates.
As a result the temple is similar in architectural style to ones which you might find in Guangdong province, China.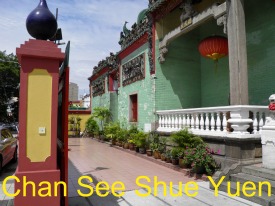 Proceeding along Jalan Petaling you will see a traditional-looking shophouse to your left opposite the police station. This shophouse, complete with bamboo chick blinds and a saloon-style half door, is home to the Old China Cafe, a cosy restaurant serving tasty Peranakan food.
The cafe oozes character and is decorated with antiques, old photos and paintings.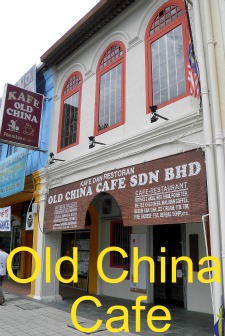 Further up, Petaling Street becomes pedestrianised and lined on both sides with stalls selling souvenirs, bags, shoes, T shirts, pens, watches, fake DVDs, and imitation/pirated branded goods. Selling fake products is of course illegal in Malaysia but these vendors still seem to find ways to remain in business.
Open till late in the evening it is very popular with foreign tourists. You will need to practice your bargaining skills to avoid being overcharged. Compare prices (all stalls are selling the same sort of stuff) and it is possible to get some very good bargains. But if you pay RM50 for a 'Rolex' watch don't expect it to work for very long!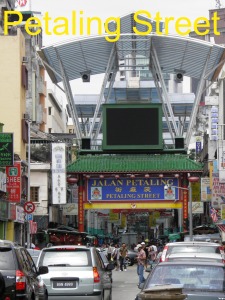 You will need to make a detour away from Petaling Street if you want to see Guan Di Temple (see Chinatown Walking Tour map).
Earlier you paid your respects to the Goddess of Compassion at Guan Yin temple. Now it is time to admire the statue of the Taoist God of War (Guan Di) which is believed by its devotees to have special powers. It is said that well-wishers who touch the statue will receive its protection and have their wishes granted provided they have a pure mind (having a pure mind is, of course, the hard part!)
The coiled incense spirals hanging from the roof and the general antiquity of the building lends a special atmosphere to this temple.
Be sure to leave a small donation towards the temple's upkeep and to ensure that you do not get on the wrong side of Guan Di!
Nearby is a Hindu temple, Sri Maha Mariamman Temple and if you are still in the mood for visiting temples it is worth the effort.
Said to be the oldest functioning Hindu temple in Malaysia, a temple has stood on this site since 1873 though the current building was remodelled substantially in 1968.
Elaborate wall friezes tell tales from Hindu scriptures. The finely decorated entrance gate (gopuram) is constructed in typical Tamil style and measures 23 meters high.
If you wish to enter you have to leave your shoes outside and you might wish to employ the locker service to ensure they are still there when you get out. (I usually do not have to bother due to the shabby state of my footwear!).
From here it is a short stroll to Kasturi Walk, the newly pedestrianised and covered Jalan Hang Kasturi featuring various kiosks aimed at the tourist market.

The next door Central Market is the last stop on the Chinatown Walking Tour and for many people it would be the highlight.
The sign on the entrance says 'Since 1888' but the current building dates from 1933 and is designed in the Art-Deco style that was popular at that time.
In those days the building served as a wet market but today it is probably the biggest and best place in Kuala Lumpur to shop for handicrafts, gifts and souvenir items. It is air-conditioned too which will be a relief after your long sweaty walk!
On the upper level you can find various eating outlets including Precious Old China(the same company as the Old China Cafe and serving similar delicious Nyonya cuisine) and Ginger Restaurant (serving Thai/Malaysian cuisine).
Before finishing up at Central Market make sure you visit the Annexe ,across an alleyway at the far end of Central Market, where you can find a number of art galleries showcasing various local and regional artists. In particular you should drop in at Art House Gallery Museum of Ethnic Arts and see their unrivalled collection of tribal arts from Borneo and beyond.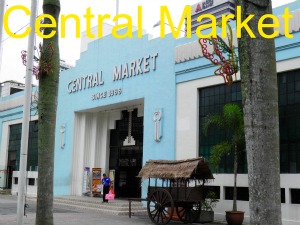 If you have any energy left after completing this Chinatown Walking Tour you can continue walking from Central Market and follow the guidance in my next city trail, the KL Heritage Trail.
Accommodation Near Chinatown Walking Tour
Looking for somewhere to stay in Kuala Lumpur? Take a look at Agoda's website for a wide range of hotels to suit all budgets at discounted rates.
---
Share this page: