Pantai Cahaya Bulan
Moonlight Beach
I decided to do a side trip to Pantai Cahaya Bulan after finishing my Kota Bharu walking tour. I knew from my map that this beach (translated as Moonlight Beach) is the closest beach to Kota Bharu but it was too far to walk.
When I was approached by a friendly tricycle driver I asked him whether he could take me there. He spoke no English and my knowledge of Malay is sadly lacking but a friendly woman translated for us. He said yes he would gladly take me to Pantai Cahaya Bulan (PCB) but that it was seven miles away (11km) and he would charge me RM30.
Now I knew from a guidebook that it only costs RM20 by taxi and that a bus fare is just RM1 but he seemed a nice old chap and I was in no hurry so I agreed.
We set off (him pedalling and me in the passenger seat) in the blistering heat and after a while I was feeling quite guilty about asking him to take me such a long distance. He told me he was 75 years old and it was clearly hard work for him but fortunately the route was very flat.
We passed a few villages along the way - Kampung Banggol, Kampung Kijang and Peng Chepa. There were shops selling batik material, songket (the traditional male Malay headwear) and guava juice stalls.
Someone had told me that the people in Kelantan are different from elsewhere in Malaysia and not very friendly. This was not my experience at all. The people were most welcoming and I received plenty of waves, smiles and "hello uncle" greetings along the way. Of course the school children may have been amused to see this middle aged foreigner sitting in a trishaw pedalled by an elderly local gentleman.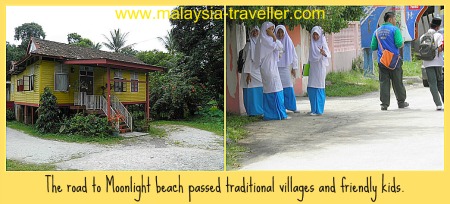 Eventually after about 45 minutes we arrived at the beach and the driver had a rest and a glass of sugar cane juice.
It had been my intention to pay off the driver here, have a quick swim and return to Kota Bharu by taxi. However it soon became clear that there were no taxis around, there was nobody on the beach and most of the restaurants on the beachfront were closed up. It was a Tuesday afternoon - no doubt the place becomes busy at weekends and school holidays.
The 1.5km long beach itself was OK. The sand quality was fine and the water seemed clean although not picture postcard blue. The trees (palms and casuarinas) were set back some distance and there was no shade on the beach itself. This coastline is prone to sand erosion and a rough sea wall of boulders has been put in place to help protect the beach.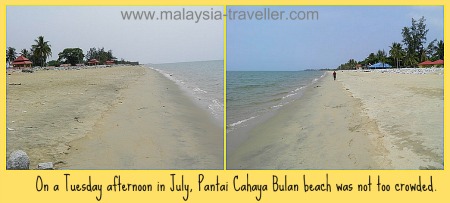 The sea seemed calm enough but there can be dangerous currents in the monsoon season (Nov-Dec). There was no life guard on duty.
The restaurants and food stalls that were open were selling mostly fried seafood on sticks.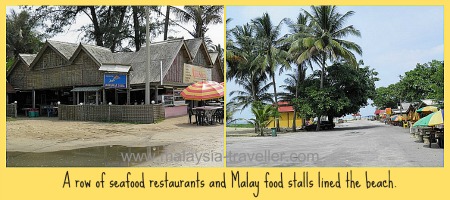 Since my tricycle driver, Saleh, seemed keen on taking me back to Kota Bharu I agreed to go with him for an additional RM30. I offered to do the pedalling and let him be the passenger but he declined (probably not legal). He was faster on the way back and looked delighted when he received his RM60 plus a substantial tip. It was quite an expensive trip but it is one of those cases where the journey is more memorable than the destination.
Overall I would say that if you want to get a beach to yourself and you do not mind the lack of shade, Pantai Cahaya Bulan is a good place to come. I did not see it in the moonlight when perhaps it looks magical but, based on the daylight view, in my opinion there are better beaches elsewhere in Malaysia.
How to get to Pantai Cahaya Bulan
As previously mentioned, buses (#10) and taxis are the normal ways to get to Pantai Cahaya Bulan. The drive is about 20 minutes. If you are driving yourself take route D1 all the way from Kota Bharu. The beach is marked on my interactive map on the Beaches & Islands page. Do not be confused by inaccurate maps which often show the Beach of Passionate Love as being in a separate place from Moonlight Beach whereas I believe they are one and the same beach. Beach of Passionate Love, or Pantai Cinta Berahi, used to be the old name for this beach but it was changed by the conservative government running Kelantan to something less suggestive.
For other Top Kelantan Attractions click here.

Accommodation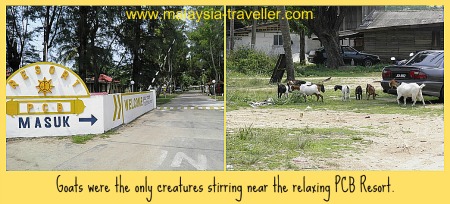 I noticed a hotel called PCB Resort right next to the beach offering 3 star chalet accommodation. It looked a sleepy and relaxing place.

---
Share this page: