Pulau Indah
What to make of Pulau Indah? Before the Selat Lumut bridge connecting Pulau Indah to Port Klang was completed in 1994, it was a sleepy rural island with fishing villages, mangrove swamps and some orang asli inhabitants.
Then came the development of West Port, one of the three major shipping terminals making up Port Klang, Malaysia's biggest and busiest port.
Today the island has a split personality; the northern side is developed with industrial estates, commercial developments, a Free Zone and a container terminal while the southern side retains some tranquil villages and is developing its mangrove coast as an eco-tourism attraction. A new highway bridge on the south side over to Carey Island and beyond to Putrajaya/KL has further accelerated the rapid transformation of the island.
I drove around the island recently and this is what I found.
Boustead Cruise Centre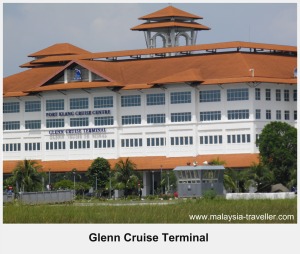 Since renamed Boustead Cruise Centre
My map showed the Star Cruise Terminal as the first point of interest after reaching the island. It was renamed the Glenn Cruise Terminal or Port Klang Cruise Centre but is now called Boustead Cruise Centre after a change in ownership. It looked impressive but the security guard would not let me in without a cruise ticket. Fair enough!
The neighbourhood near the cruise terminal is named Bandar Armada where there were rows and rows of deserted shophouse blocks which looked as though they had never been occupied. Perhaps someone over-estimated the demand for commercial property in this area. Some of the abandoned shops were being used as swiftlet farms and I could hear the loud recordings of birdsongs which were being played to encourage swiftlets to nest here. (The nests of the swiftlets are valued as the main ingredient for birds' nest soup.)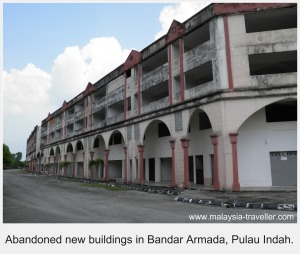 Port Klang Free Zone (PKFZ)
Continuing along the busy truck-filled road on the north side I arrived at the bustlingWest Port where the tall terminal control tower building was surrounded by giant cranes and stacks of containers. The road ended at the Port Klang Free Zone (PKFZ)an impressive development of modern office buildings, a conference centre and hotel originally designed with involvement from Dubai's Jebel Ali Free Zone Authority. The Free Zone is modelled on Jebel Ali's highly successful example, even down to using the letters LOB (Leased Office Building) which I remember seeing in Jebel Ali.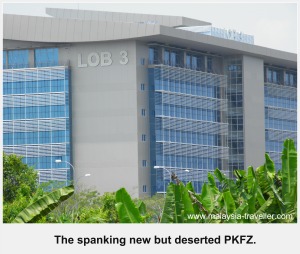 Unlike Dubai's Free Zone however this facility was not booming. In fact it was completely deserted. The PKFZ had become mired in controversy due to alleged financial irregularities (nothing to do with JAFZA). I hope they sort it out soon as it looks like an excellent facility.
Eco-tourism on Pulau Indah
Moving over to the southern side of the island, Pier One Laguna Park, also signposted as De Bund, is a residential development alongside a stretch of mangrove coastline which has been made more accessible and touristy with a mile-long promenade, jetties, kiddies playgrounds, futsal pitches, picnic areas, a restaurant and toilets.
From the pier, despite the no-fishing signs, a number of anglers were trying their luck in the murky and slightly smelly waters of the Selat Lumut, the wide estuary dividing Pulau Indah from Carey Island.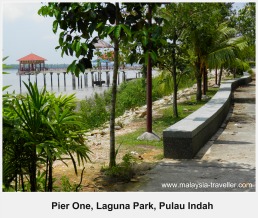 Not far away was a sleepy Orang Asli village whose residents clearly still depended on fishing judging by the boats parked in their driveways. Across the street were a few scruffy huts built on stilts above the tidal inlets.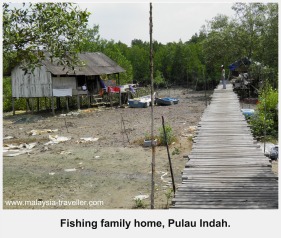 Further along were more traditional rural Malay kampungs and, next to the river, ramshackle jetties where couples had set up tents from where they could keep an eye on their fishing rods.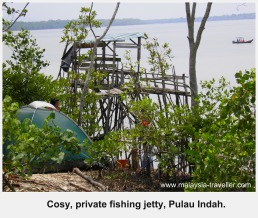 Pulau Indah means beautiful island and in many areas it still lives up to its name. The challenge will be to retain its charm and character in the face of increasing industrialisation.
---
Share this page: