5 Best Places to Snorkel In Malaysia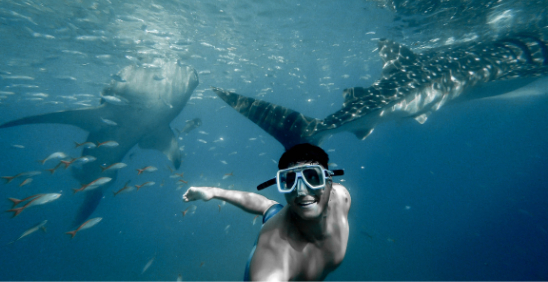 Source: unsplash.com/@The Bored Apeventurer
If you wish to experience life underwater, Malaysia is the perfect place to explore this summer. Surrounded by crystal clear waters and white sandy beaches, the country's tropical islands are popular among snorkeling enthusiasts who love to dive into beautiful reefs. If you're planning to visit Malaysia, here are the best places where you can snorkel and explore the beautiful world underwater.
Sipadan Island
Sipadan Island, located on the Celebes Sea, is one of the gorgeous islands in Malaysia. Sipadan Island rises 600 meters above the seabed and is formed by living corals growing on top of a volcanic seamount. The scenic paradise is known for its world-class diversity of marine life. The water body is home to beautiful living corals and marine creatures such as hawksbills, green turtles, barracudas, and big-eye trevallies.
Make sure to check out the beautiful Turtle Tomb in the waters, which is formed by an underwater limestone cave, and you can swim with turtle friends and parrotfishes. If you plan to stay here for more than a day, you can choose to stay at a dive resort for extra convenience. Also, remember to bring your Biore UV Perfect Milk sunscreen to protect yourself from the sun.
Redang Island
Situated in the Kuala Nerus District of Terengganu, Redang Island is famous for its white beaches and clear waters. The island is home to a marine sanctuary park, where you'll find many diving spots for shallow-water swimming and snorkeling activities.
The waters are home to the resident triggerfish, sergeant majors, parrotfish, stingray, and even blacktip sharks. The diverse marine life here will give you an underwater adventure that you'll never forget. If you enjoy swimming among the marine animals, remember to bring your action camera and capture the magical moment.
All resorts in Redang Island offer snorkeling trips for travelers. Tour operators will guide you through exploring the island and assist you in your snorkeling adventures. Some of the best beaches for snorkeling here are The Pasir Chagar Hutang, Pasir Panjang, and Tanjung Mak Catik.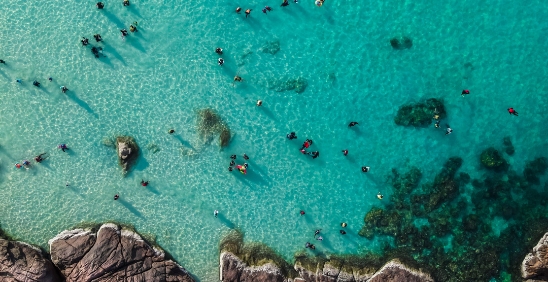 Source: unsplash.com/@Nazarizal Mohammad
Tioman Island
Just 56km off the Pahang coast lies the beautiful Tioman Island. Surrounded by its soft-textured white beaches and clear blue waters, Tioman Island is a paradise that no snorkeling lovers should miss. This island used to be a monsoon shelter for pirates, fishers, merchant ships, and naval ships back in the day. And today, this idyllic nature reserve has become a stunning attraction for anyone who prefers a laid-back environment surrounded by mountains and clear waters.
The waters here are home to some stunning corals and a variety of marine life. While snorkeling here, you can find many sea creatures such as huge map puffers, giant moray eels, lionfish, bump head parrotfish, and sweetlips.
Since Tioman Island is surrounded by shallow reefs, a boat ride is not needed, so you can step into the ocean from the beach and explore the magnificent view of corals and sea creatures. Some of the famous beaches with the best diving spots are Monkey Beach, Paya Beach, and Juara Beach.
Langkawi Island
You can't say you have visited Langkawi Island if you haven't snorkeled here. Surrounded by turquoise waters of the Andaman Sea, Langkawi Island is one of the best locations for snorkeling in Malaysia. Out of all the beaches on Langkawi, Datai Bay Beach and Tanjung Rhu Beach are the two places you should visit for the most beautiful snorkeling opportunities.
The waters are famous for spotting black-tipped baby sharks, butterflyfish, pink anemonefish, and rare rabbitfish. Also, you'll have the chance to swim with larger marine species such as giant groupers, moray eels, and snappers.
Datai Bay Beach is a private beach, so if you're planning to snorkel here, we recommend staying at the Andaman Resort and the Datai Resort for the best relaxing experience. Also, if you want to explore other activities besides snorkeling, make sure to take boat rides to Pulau Payer Marine Park and Pulau Dangli Beach to make the most out of your vacation.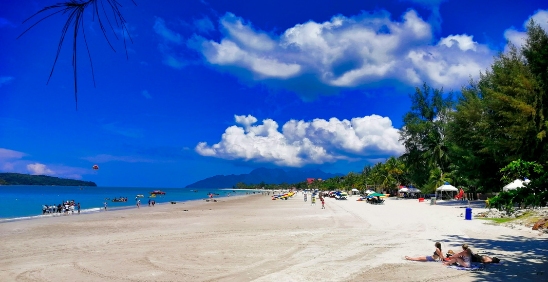 Source: unsplash.com/@Jay Tun
Perhentian Islands
Perhentian Islands are made up of two islands – Perhentian Kecil and Perhentian Besar. The islands are located about 20km from the Northeast coast of Malaysia and are known for their soft sands and turquoise waters. While exploring marine life here, you'll catch yourself seeing titan triggerfish, needlefish, four-dotted stingrays, clownfish, yellow boxfish, and schools of parrotfish.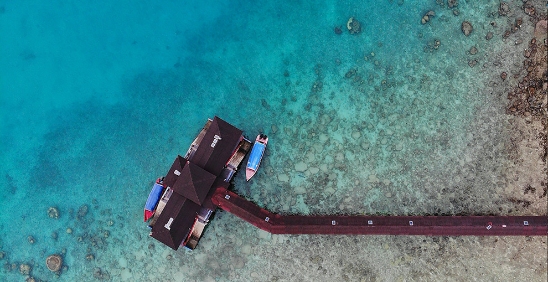 Source: unsplash.com/@Omar Elsharawy
Perhentian Islands are also one of the few recommended islands to learn diving. We suggest taking the PADI Open Water Diver course at Anti-Gravity Divers Dive School if you're a beginner. You'll be guided by professional instructors and will get to explore the beautiful world of marine life as well as natural corals.

Conclusion
You don't have to spend money on expensive tours to be able to admire crystal clear waters and sandy beaches. The truth is, snorkeling in some of the best spots in Malaysia will give you the best experience you'll ever have. If you're planning for a relaxing island getaway, definitely check out the places above. So, pack your bags and get ready to go!

---
Share this page: