Carey Island (Pulau Carey)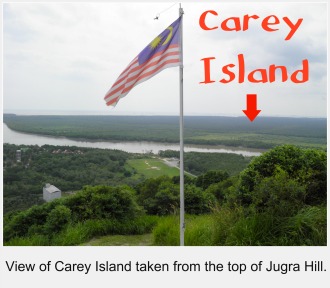 Carey Island is a large flat island off the west coast of Peninsula Malaysia in the Kuala Langat district of Selangor state.
It is huge, about 32,000 acres or roughly a fifth of the size of Singapore. Although technically an island, it does not really feel like one since it is only separated from the 'mainland' by the Langat River which is not that wide in places.
Oil Palm Plantations
Carey Island is named after a successful British coffee and rubber planter called Valentine Carey who cleared much of the natural vegetation for agricultural uses just over 100 years ago.
Today it could be called Sime Darby Island because that company's oil palm subsidiaries dominate the landscape.
Neat plantations of oil palm trees stretch for miles supplying the raw materials for the palm oil refineries and bio-diesel plants found on the island.
The oil palm industry is sometimes criticised by environmental groups on the grounds that it is displacing rain forests and harming wildlife. That would be true if virgin jungle were being destroyed to plant oil palms but that is not the case on Carey Island which was cleared long ago by Mr. Valentine and his successors.
The productive life of an oil palm plantation is about 30 years which gives birds and mammals stability for a much longer period than for other crops.
Sime Darby, which is the world's largest palm oil producer, has pioneered environmentally friendly practices in their plantations such as reduced use of herbicides, using barn owls to control the rat population and planting the fringes of plantations with natural vegetation to allow beneficial insects to thrive.
On Carey Island, Sime Darby has replanted some endangered trees and plants and is working to regenerate mangrove growth along the island's shores.
By the way, Sime Darby is not paying me to write all this stuff!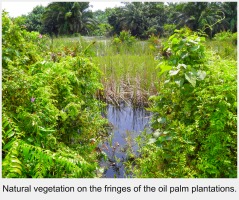 Mah Meri Wooden Carvings
From the tourist's point of view the main attraction on Pulau Carey is the aboriginal community, the Mah Meri, one of 18 Orang Asli tribes living in Malaysia (orang aslimeans original people).
This community of around 1400 people is famous for its unique wooden statues and masks carved from a rare red swamp hardwood called Nyireh Batu which belongs to the mahogany family.
There are said to be around 25 craftsmen and they can produce over 100 different designs, each with its own significance and purpose in their culture. The best place to see them is Kampung Sungei Bumbun where there are a couple of stalls and a newly built craft centre which has never been open on my two visits.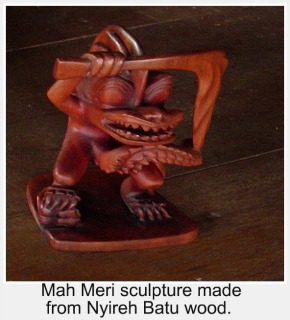 You can buy these carvings or request them to make one for you. They are not cheap but they take weeks to make and the wood is becoming increasingly rare.
If you do not have the time to visit Pulau Carey yourself but would like to buy a carving you can also find them at Kompleks Kraf Kuala Lumpur (Handicraft Complex) on Jalan Conlay. They are cheaper if you go direct to the source however.
Seafood
Most Malaysians going to Carey Island are only interested in the food, namely scrumptious seafood. Most popular seem to be a couple of seafood restaurants on the banks of the Langat River immediately before crossing the bridge onto Carey Island. Kan Guan Seafood Restaurant for example serves dishes like meehoon with lala (clams), stir fried crabs with ginger, deep fried prawns, crispy squid, sweet potato leaves with garlic, seafood fried rice and so on. You can even bring a fishing rod along and try your luck while waiting for your meal.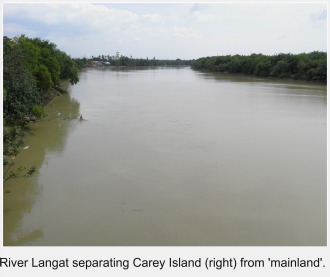 Beach
There is actually a beach on Pulau Carey. It is not the best in the world - it is strewn with abandoned tyres and other rubbish since it is facing the busy sea-lanes of the Straits of Malacca. I doubt that the water is suitable for swimming but there is a patch of white sand, there are fresh sea breezes and plenty of shellfish to find on the mudflats.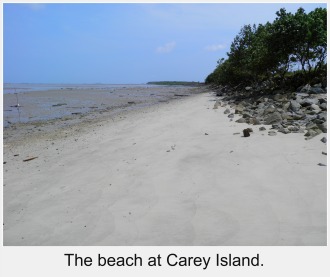 How to Get to Carey Island
I have marked Pulau Carey on the interactive map on the main Beaches & Islands page which should help you find your bearings. If you are coming from Kuala Lumpur, take the E5 expressway headed towards Pulau Indah. Before you reach Port Klang, exit when you see a sign for highway 5 towards Banting. When you reach Telok Panglima Garang follow the signposts to Pulau Carey. The seafood restaurants are next to the bridge crossing the river onto the island. Once on the island keep going straight. The beach is as far as you can go on this road. If you want to see the carvings, you will see a sign for the orang asli village (Sungei Bumbun) on your left.
There is a new expressway, the South Klang Valley Expressway has sped up travel time.
While you are in the vicinity you might want to visit the Fo Guang Shan Dong Zen Temple, an interesting Chinese Buddhist temple complex at nearby Jenjarom, 10 minutes drive south from Telok Panglima Garang.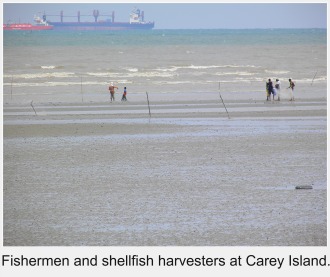 ---
Share this page: