Tranquerah, Malacca
Jalan Tengkera
Few tourists to Melaka have ever heard of Tranquerah, let alone visited it.
Some 17 million tourists are expected to visit Melaka in 2018, mostly from China, Singapore, Indonesia, Taiwan and Hong Kong. The vast majority of them come in coach tours and are guided to all the hot tourist spots in the core UNESCO World Heritage zone of Dutch Square, Jonker Street and St Paul's Hill. Most of them do not make the effort, or are not given the opportunity, to explore the less well-known parts of this historic city.
History of Tranquerah
Tranquerah, or Jalan Tengkera, is one such area. The name is of Portuguese origin and means 'palisades'. This district, just beyond the walls of the old Malacca city, was under Portuguese control and defended by means of wooden ramparts or palisades at a time when the city was under frequent attack by Malay, Acehnese and Javanese  trying to throw out the Portuguese colonisers. The suburb was inhabited mainly by mixed race Portuguese-Eurasians known as the Kristang community. 

The suburb, which bordered the sea, was further developed during the Dutch and British colonial periods and, since Independence, land reclamation works have pushed the shoreline back so that Jalan Tengkera is today quite a long distance from the sea. Over the years other communities have settled here and many of the Kristangs moved away so that the present population is more typical of the usual Malaysian mix and this is reflected in the architecture and diverse places of worship found on this street.

Here are some of the sights that can be found if you walk along Jalan Tengkera today: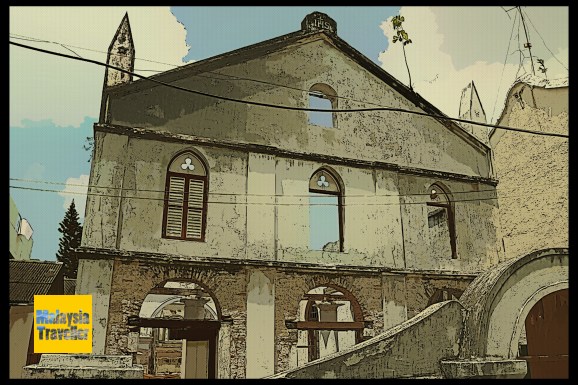 Sacred Heart Chapel is an abandoned Roman Catholic chapel built between 1875 and 1877.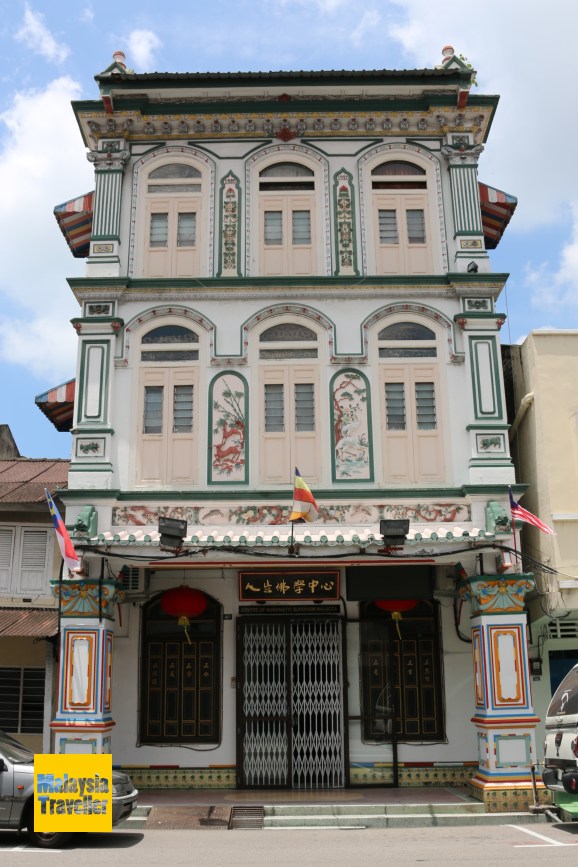 There are a few ornately decorated shop houses such as this fine example, presumably built by wealthy Chinese businessmen.

Some are in better condition than others. This one is still intact and with careful restoration could be brought back to its former glory.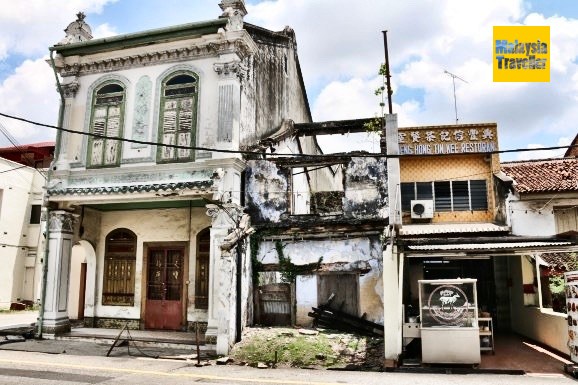 Other are too far gone but still worthy of sympathetic rebuilding in order to maintain the character and appearance of the street.

Taking a short detour down Jalan Gajah Berang you pass this ornate Hindu temple, Kuil Sri Subramaniam Thuropathai Amman Alaya Paripalana Sabai.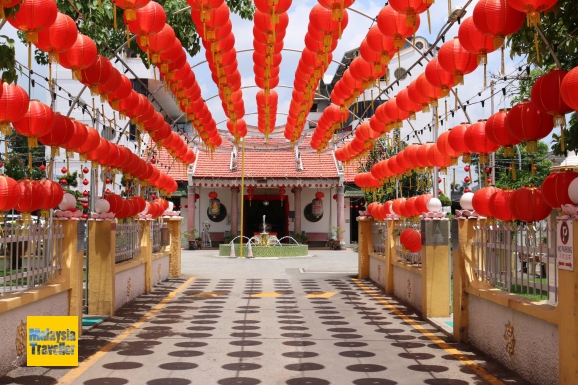 Almost next door is a Theravada Buddhist temple, Seck Kia Eenh. In its grounds is a sacred Bodhi tree and a pagoda or Cetiya completed in 1988 and enshrining relics of the Buddha.
Jalan Gajah Berang continues to Kampung Chitty and the Chetti Museum.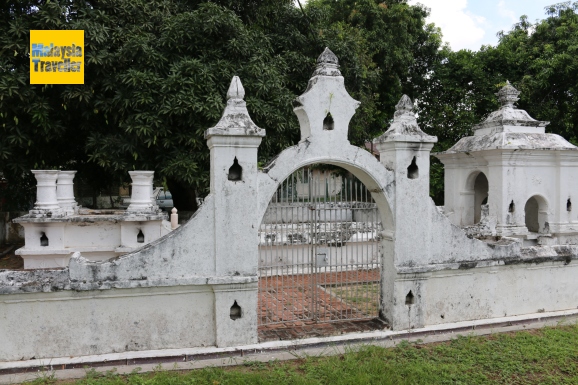 Returning to Jalan Tengkera, you will pass close to Datuk Manila's Tomb, the grave site of a holy Filipino scholar whose saintly behaviour won the admiration of Melaka's Moslems.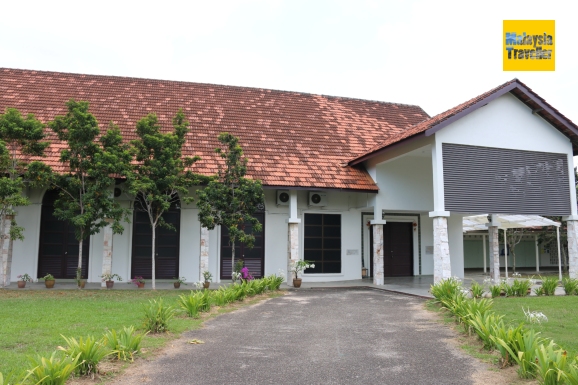 A short distance away is the Wesley Methodist Church and attached school, illustrating again how Malaysia's many religions live harmoniously side-by-side in Melaka.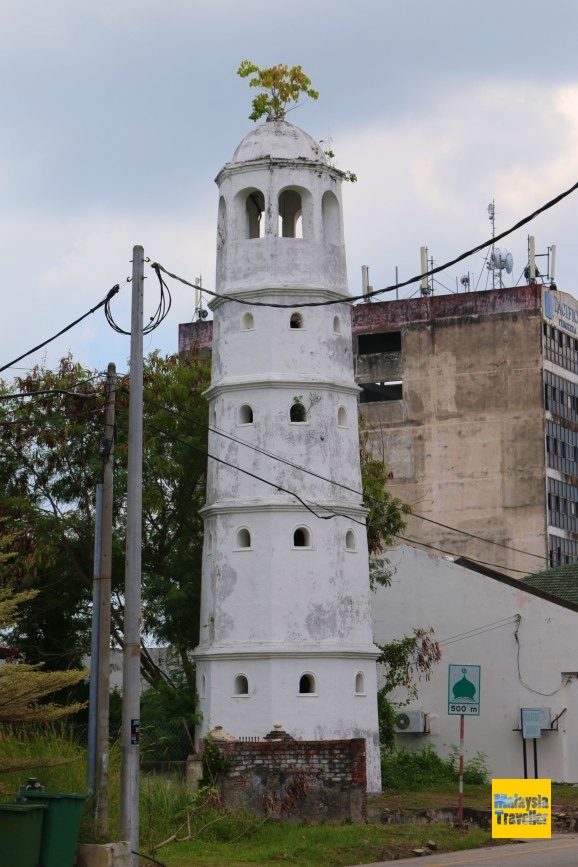 Across the street stands Menara Lama Surau Tengkera, a minaret, and all that remains of Melaka's oldest surviving mosque.

Down a side street is Jalan Pantai which, as the name suggests, once ran along the beach front and there are some nice old houses whose sea view has now gone following successive land reclamation projects.

There are some scruffy parts to Tranquera too such as this high-rise project gone wrong, contrasting with the quaint traditional Melaka house next door.

It is good to see that craftsmen still know how to make traditional architecture such as this wooden house, complete with the stone/concrete staircase that is characteristic of many old kampung houses in Melaka state.

Painted over signage reveals that this building used to be the 'Oriental Theatre (fully air-conditioned)'.  When it opened in 1974 it might have screened The Towering Inferno or perhaps a Malaysian movie.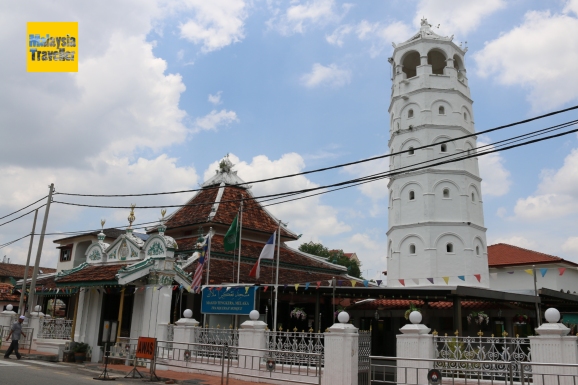 Probably the most picturesque building on this street is Masjid Tranquerah, one of the oldest and most beautiful mosques in Malaysia.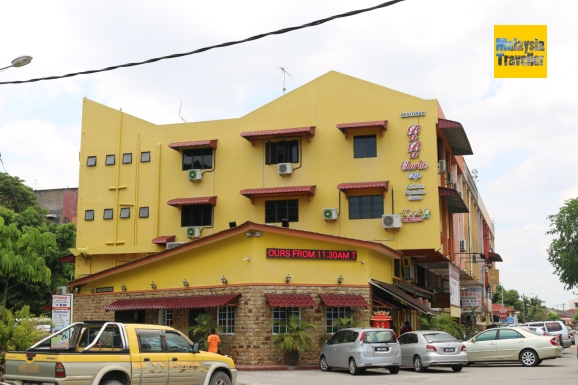 If you get hungry after all this walking you could stop off at Baba Charlie Cafe for some tasty nyonya cuisine. I thought it was good but reviews among Malaysia's fanatical food bloggers are mixed. 

Map of Tranquerah
Jalan Tengkera is really a continuation of Jalan Tun Tan Cheng Lock (Heeren Street) so if you keep walking past the Baba and Nyonya Heritage Museum and the Straits Chinese Jewellery Museum you eventually emerge onto Jalan Tengkera.
Here is a map showing most of the places mentioned above:

---
Share this page: