Chitty Village


Jalan Gajah Berang, Melaka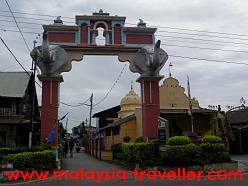 History
The Chitty Village in Jalan Gajah Berang, Melaka is home to a small community of Hindu Peranakans - descendants from Tamil traders who settled in Melaka over 500 years ago.
Chitty (or Chetti) means 'trader' in Tamil and as long ago as the 15th Century traders from southern India were visiting the shores of the Malay Peninsular to trade spices and other merchandise.
They came for extended trips as bachelors or without their wives and they married local women in Melaka - Malays, Chinese, Javanese and Batak.
Photos: Simple but colourful houses at Chitty Village
They adapted to local customs, became Malay speaking and incorporated some Malay dishes into their diet but they clung on to their Hindu religion. Over the generations they evolved into a unique hybrid community which is now known as the Chitty's or Hindu Peranakans.
They started out as traders but during the Malaccan Sultanate they faced increasing competition from Indian Muslim traders so they turned their hand to agriculture.
At this time they relocated from the Kampung Kling area to their present location, Jalan Gajah Berang, Tengkera, which in those days would have been agricultural land on the edge of Melaka.
Some speculate that the name Gajah Berang is a corruption of Kanchipuram, a town in Tamil Nadu near Chennai from where many of the Chitty's may have originated.
The Chitty's were not accustomed to farming and over time they abandoned agriculture and sought work as unskilled labour, clerks, teachers or technicians which is how most of them are employed to this day.
Those with better education migrated from Melaka to KL, Penang and Singapore for better paid salaried positions. It is estimated that there are around 50,000 Chitty's in the whole of Malaysia and another 5,000 in Singapore.
Photos:        (L)Angalaa Parameswari Kovil, Hindu Temple                   (R) The Chetti Museum
Chitty Village Today
Today there remain some 20 or 30 Chitty families in the village living simple lives in harmony with their non-Chitty neighbours, mostly Chinese.
They are not as affluent or influential as the Hindu money-lending community, the Chettiars, with whom the Chitty's are often confused.
There are 3 Hindu temples in the village including the 190 year old Sri Maha Mariamman Temple where they steadfastly celebrate religious ceremonies such as Deepavali, Bhogi, Pongal and the main festival, Amman Thirunal (Datuk Cacar), which is held in May each year. 
Photos: Ornate facade of the Sri Maha Mariamman Temple
Facially the Chitty's are a melange of Malay and Indian features, some with the fairer skin of the Chinese. The women dress in kebaya with sarongs similar to the Baba and Nyonya costumes.
The Chitty's speak Bahasa and English and no longer speak Tamil but use Sanskrit in their religious ceremonies. They maintain Hindu names.
Their food too is a hybrid with dishes like Nasi Lemak among their staples but with elements of Indian spices and Nyonya influences. They eat fish and meat (but not pork or beef) and they are vegetarian on Fridays and in the lead up to some religious festivals.
Although they are devout Hindus they observe ancestor worship, a practice copied from the Chinese.
The Chitty's are a true blend of Malaysian cultures and no community better lives up to Malaysia's tourism slogan 'Malaysia Truly Asia'!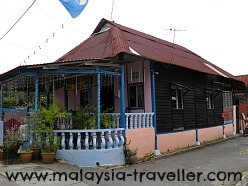 Visiting the Village
The village has been given protection as a heritage area since June 2000, similar to that given to the Portuguese Settlement and Kampung Morten.
It attracts a modest flow of visitors but there is not a huge amount to see and it is difficult to spend any money there as there are no shops or restaurants.
If an enterprising Chitty were to open a small gift shop and restaurant in one of their quaint houses serving traditional Chitty dishes it might do well. It would also give visitors an opportunity to interact with the village's residents.
Chetti Museum
The Chetti Museum is located next the village's entrance archway. It displays various artefacts, handicrafts and old photographs. 
It is open from 9am - 5pm but is closed on Mondays and Tuesdays.
Admission costs RM2 for adults and RM0.50 for children.
Location of Chitty Village
The location and address of Chitty Village can be found on this map:
---
Share this page: