Sacred Heart Chapel Melaka

Sacred Heart Chapel Melaka
Jalan Tengkera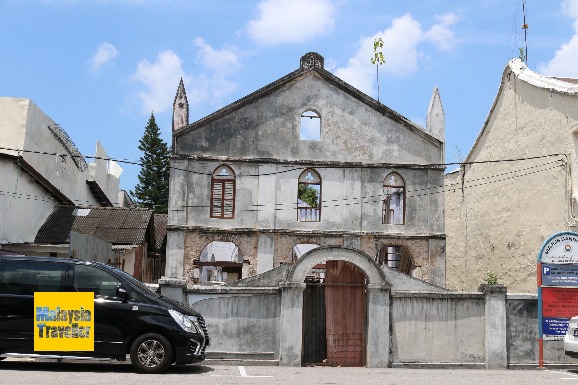 Sacred Heart Chapel Melaka is an abandoned Roman Catholic chapel in the Tranquerah district of Melaka. It has been disused for some decades and is in poor condition. With the roof gone, it is open to the elements and Malaysia's destructive climate is taking its toll.

History
This chapel was built between 1875 and 1877 during the British colonial period. It was built to serve the Portuguese/Eurasian (or Kristang) community who lived in the Tranquerah district of Malacca as well as Chinese and Indian Roman Catholics in the neighbourhood.
A 99 year lease was granted on the land which expired in 1960. The lease was extended for a further 10 years but the chapel has not been used as a place of worship since.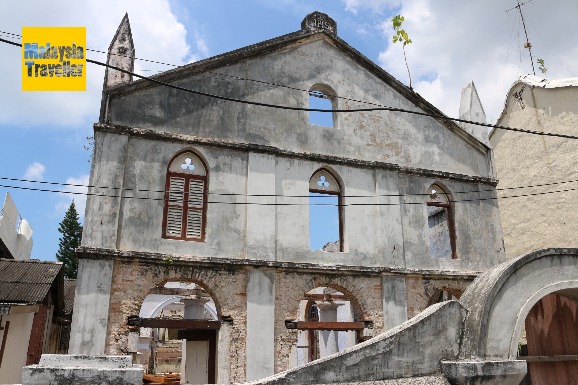 Today
The building has fallen into disrepair and is now in poor shape. The roof has gone, allowing the heavy rains to damage the interior and enabling vegetation to sprout. The brickwork has been exposed in places.
There seems to have been some limited restoration work but without a roof it appears to be a losing battle.

Despite this, various architectural features of the original building can still be recognised. These include the pointed arch openings with louvred casement windows. Above the windows are trefoil  designs (a three leaved clover symbolising the Holy Trinity).

The roofline and the altar table bear the Catholic Church's IHS monogram denoting the abbreviation of the Greek spelling for Jesus.

The chapel is a fairly modest structure of limited architectural merit and not particularly old by Malacca's standards. But it is located within Melaka's UNESCO World Heritage designated buffer zone meaning that there is an obligation to protect historic buildings such as this so it would be a shame to let it fall into ruin.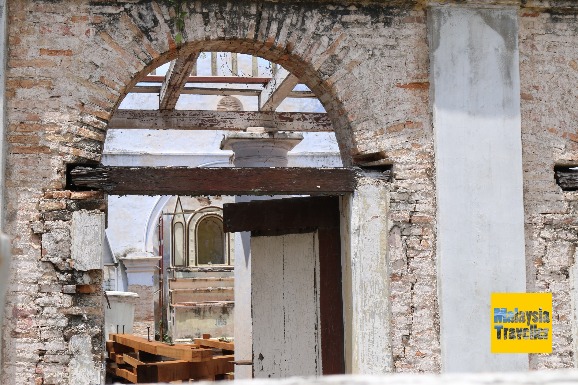 Future
The building was apparently sold a few years ago and the new owners were proposing to conserve and restore the building for use as an event space or a wedding chapel or restaurant or art gallery. When I visited in May 2018 there were some new looking timber pieces on the floor of the chapel but no sign of any restoration activity. Hopefully the plans have not stalled.

How to Get to Sacred Heart Chapel Melaka
I have marked the exact location on this map:

GPS Coordinates:
2°11'58.7"N 102°14'27.8"E
2.199635, 102.241067
Address:
Lot 25 Jalan Tengkera

75200 Melaka
Malaysia

 Nearby
Seck Kia Eenh Temple
Kuil Sri Subramaniam Thuropathai Amman
---
Sacred Heart Chapel Melaka
Share this page: