Masjid Tranquerah
Melaka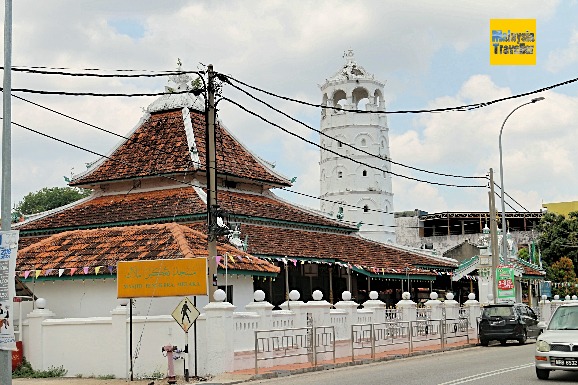 Masjid Tranquerah (or Masjid Tengkera or Tranquerah Mosque) is one of the oldest and most beautiful mosques in Malaysia. It is located on Malacca's historic Jalan Tengkera. 
The current building dates from 1780, having replaced an earlier one just across the street which was built in 1728 and of which only the minaret still remains (Menara Lama Surau Tengkera).

It is the oldest mosque in Melaka and served as the State Mosque until the much larger Al Azim mosque was completed in 1990. It was renovated in 1890 and 1910.

Design
The mosque has an elegant design with architectural influences from Malaysia, Sumatra and China. The main prayer hall is topped with a three tiered pyramidal roof (bumbung tiga lapis) supported by four solid wooden pillars said to have been made from Borneo ironwood timber. The pyramid roof design provides worshippers with protection from direct sunlight and the overhangs keep out the rain. The tiering allows the building to breathe and provides ventilation and an element of cooling, while allowing in diffused daylight.

The traditional Malay style plaster roof crown has a floral design, topped with a small Islamic moon and star symbol. The lime mortar roof ridges add strength to the roof and help prevent leaks. Their decorative design borrows from traditional Chinese construction methods.
The minaret is Chinese-pagoda style and, like Menara Lama across the street, it is octagonal in shape and five stories high, perhaps representing the five tenets of Islam.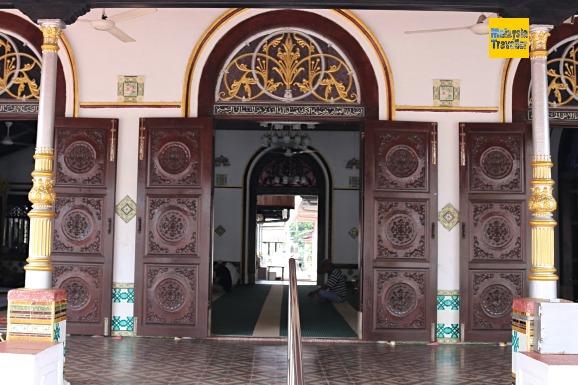 From the prayer hall, carved wooden doors open onto a shady verandah and the ablution area. The whole compound is surrounded with an ornate cast iron fence and the main VIP entrance gate is highly decorative.

The Qibla wall features vintage ceramic tiles and Chinese style lattice windows. The minbar is elaborately decorated in gold carving.

Tomb of Sultan Hussein
Makam Sultan Husin
Adjacent to the mosque is a graveyard. The tomb of Sultan Hussein Shah can be found here. Sultan Hussein, when still known as Tungku Long, was heir to the Sultan of Johore in 1819, a time when the island of Singapore was a dependency of Johore. An uncle, the Rajah Muda of Rhio, had a rival claim to become Sultan and Tungku Long agreed to allow Sir Stamford Raffles to take possession of Singapore for the British East India Company in exchange for British protection from his uncle and a sum of five thousand Spanish dollars a year.  Sultan Hussein moved to Malacca in 1834 where he died a year later and was buried here. Perhaps Singaporeans should pay a visit to his tomb since, without him, Singapore may never have developed the way it has.

 How to Get to Masjid Tranquerah
The exact location of Masjid Tranquerah is marked on this map:
Address:
Masjid Tengkera

Jalan Tengkera
Melaka, 75250
Malaysia

GPS Coordinates: 
2.204182, 102.232018
---
Share this page: