Islamic Civilization Park

Islamic Civilization Park
Taman Tamadun Islam

One of Terengganu's most popular attractions is the Islamic Civilization Park (Taman Tamadun Islam) featuring scaled-down replicas of 22 famous monuments from the Islamic world.
It was opened in 2008 on an island in the Terengganu River just 1.2km from the Terengganu State Museum on the outskirts of Kuala Terengganu city.
The park claims to provide 'edutainment' and visitors can learn about the spread of Islamic civilization by marvelling at the detailed replicas of 22 famous mosques and tombs from around the world.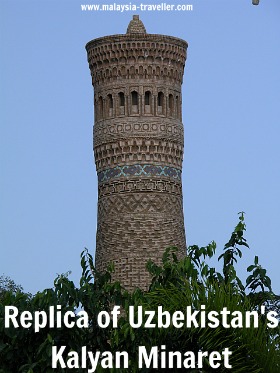 The 22 Islamic architectural wonders recreated in the park are:
- National Mosque, Malaysia
- Kudus Al Minar, Indonesia
- Pattani Mosque, Thailand
- Sultan Omar Ali Saifuddin Mosque, Brunei
- Taj Mahal, India
- Badshahi Mosque, Pakistan
- Dome of the Rock, Jerusalem
- Grand Mosque of Samara, Iraq
- Lutfallah Mosque, Iran
- Mausoleum of Abu Nasr Parsa, Afghanistan
- The Sacred Mosque, Saudi Arabia
- Aleppo Citadel, Syria
- Mohammad Ali Mosque, Egypt
- The Prophet's Mosque, Saudi Arabia
- Suleyman Mosque, Turkey
- Al Hambra Citadel, Spain
- Kalyan Minaret, Uzbekistan
- Agadez Grand Mosque, Niger
- Kul Sharif Mosque, Russia
- Minaret of Xian, China
- Sultan Mosque, Singapore
- Great Mosque of Qairawan, Tunisia
The park also contains a water wheel and a 3D cinema screening a virtual hajj.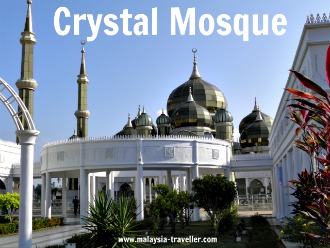 On the same island, but outside the perimeter of the Monument Park is the famous Crystal Mosque, a convention centre, a shopping arcade, food court and river cruise jetty.
There is also a lake with paddle boats.
Guest houses which can accommodate 6 - 7 guests each are available for rent at about RM400 - RM450 per night.
Opening Hours
9am - 6pm Fri*, Sat, Sun
*Closed during  Friday Prayers from 11.30am to 3.30pm.
10am - 6pm Mon, Wed, Thu

Closed on Tuesdays.
Admission Charges
Various packages are available for groups and families, some of which include a river cruise and meal options. See the park's official website for details. Or you can call their ticket counter on +609-627-8891.
Basic admission to the Monument Park only is:
Adults (RM25, RM10 discount for MyKad holders), Senior Citizens (RM15), Children age 7-12 (RM15) and free for children age 6 and below.
How to get to the Islamic Civilization Park
For drivers, the location is marked on the map on my Top Terengganu Attractions page.
Details of bus and water taxi transportation are available here.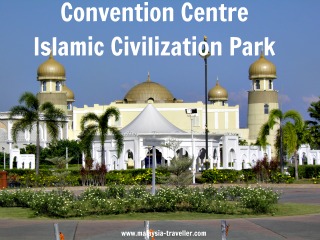 ---
Islamic Civilization Park
Share this page: