Melaka Heritage Trail
Introduction
Welcome to Malaysia-Traveller's Melaka Heritage Trail.
There are other Heritage Trails in existence. A few years back, with support from the American Express Foundation, a trail route was put together and signs were erected outside the points of interest on the route. You will pass many of the same places on your trail.
There is also a Dutch Melaka Heritage Trail which covers historic buildings from the Dutch colonial era.
Neither of these routes is very long. As you can see from this map, my Melaka Heritage Trail is much longer - over 7km (as you may have gathered from other pages on this website I like walking).
Map of Melaka Heritage Trail
I love Melaka (Malacca) because:
- The place reeks of history and oozes character.
- It is a melting pot of cultures spiced with influences from its colonial past and this is reflected in its buildings, food, culture and people.
- Melaka is a UNESCO World Heritage site which means that it is being carefully restored, maintained and improved. It also means there are a lot of visitors which is a good thing - more visitors mean more money. Twenty years ago Malacca was quite a run down and sleepy place.
- There is so much to see. In fact there is too much to cover on a one-day walking tour so feel free to stay longer and break up my Melaka Heritage Trail into bite-sized pieces.
Where to Start the Melaka Heritage Trail?
As good a place as any to start is the Tourist Information office right in the heart of the old city on what is sometimes called Dutch Square.
Pop into the tourist office and get hold of the 'Melaka Street Map' a 16 page brochure full of useful maps and information. You have to pay RM5 for it which is a bit of a cheek considering it contains so many adverts but the maps are nicely drawn so it is worth buying.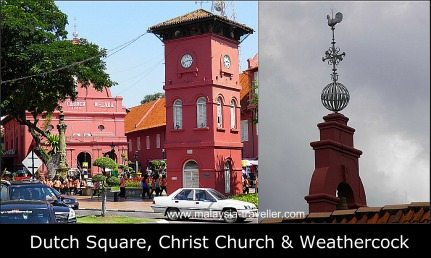 From the steps of the tourist office you will face some of Melaka's most famous maroon-painted landmarks.
Christ Church, completed in 1753, is one of the oldest Protestant churches outside of Europe. No nails were used in its construction by the Dutch. It became an Anglican Church when the British took over. Unusually for a church it is topped with a weathercock which was considered inauspicious by some and blamed for the decline of the nearby Baba community.
Take a look inside the Church. Entrance is free but you might be charged for taking photos of the interior.
Next door is the Stadthuys. This was built in the 1650's by the Dutch as Municipal Town Hall and Governor's residence on the site of an earlier Portuguese building. It has had various makeovers and alterations during its lifetime and now serves as an Ethnography Museum. You can find more details on my Malaysian Museums page. From here I suggest you continue your Melaka Heritage Trail by walking up St. Paul's Hill behind the Stadthuys to view the ruined church and lighthouse. The Portuguese built a small chapel here called Our Lady of the Hill in 1521 which was later enlarged and renamed Annunciation.
When the Dutch took over they renamed it St. Paul's Church and used it until Christ Church was completed in 1753.
The British used it as a gunpowder store and erected the lighthouse at the front.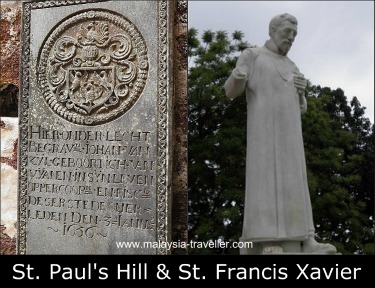 There is a statue of St. Francis Xavier here. You can see the spot where his body was buried temporarily in 1552 waiting for monsoon seas to subside prior to being exhumed and reburied in Goa. Before burial, the corpses' right arm was removed and sent to the Pope in Rome. Coincidentally (or not?) the statue was hit by a falling tree in 1954 and lost its right hand.
After you have finished here make your way down the slope that brings you out near the white former HSBC Malacca branch. Proceeding along Jalan Kota you will pass a string of heritage buildings containing museums, details of which you can find on my Malaysian Museums page.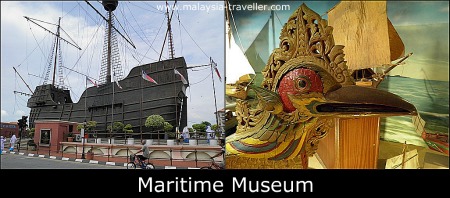 Which museums you visit will depend on your interests but as a minimum I suggest the Stadthuys and St. Paul's Hill (already covered). The Maritime Museum, which includes a replica Portuguese galleon, is also worth a quick look or at least a photo outside before proceeding to the next stop on our Melaka Heritage Trail, the Melaka Sultanate Palace.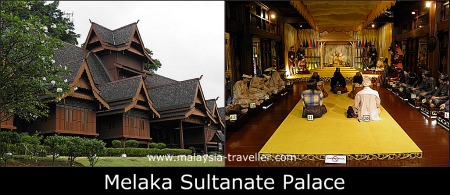 This beautiful wooden building is a replica of the 15th century palace of the Sultan of Malacca. The interior houses the Cultural Museum and is worth a short visit as is the pretty garden in front of the palace.
At the end of this street is the Dutch Graveyard. When I visited a padlocked gate barred the way and access to the graveyard required a big detour. Despite its name the graveyard contains only 5 Dutch graves from the period 1670-1682 and 33 British graves (military personnel and their wives) from the period 1818-1838. The earliest British grave belongs to Captain John Kidd who died on 16 June 1818.
From here you can make your way through the interesting shophouse-lined streets of Jalan Banda Kaba and Lorong Bukit Cina to your next stop, Sam Poh Kong Temple. This quaint temple is also known as San Bao Temple and Bao Shan Temple and is used to honour Zheng He. Construction began in 1795. It is popular for its wall paintings, attractive tiling and intricate roofline.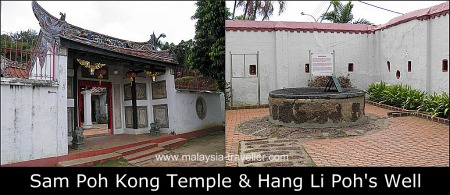 Next door is Hang Li Poh's Well or San Bao Well whose water was said to have tasted so refreshing that the Dutch built a high wall all around it for protection. Since tourists throw their coins in the well for luck I would imagine the water tastes quite metallic nowadays.
The green hill behind the temple is known as Bukit Cina and it is basically one large Chinese cemetery. Covering 25 hectares it is said to be one of the largest Chinese graveyards outside China. It has over 12,000 graves some of which date back to the Ming Dynasty in the early 1600s. Take one of paths up to the highest point for a good view of the city of Melaka and, if you are lucky, enjoy a cooling breeze blowing in off the sea. On the way down you will notice that even in death, it is the rich who grab all the best spots.
Next on the Melaka Heritage Trail, pass along Jalan Munshi Abdullah and onto Jalan Bandahara - Jalan Tun Sri Lanang. Behind the Renaissance Hotel is the Meng Seng Charitable Association which was hosting a sale of Chinese handicraft products when I visited. A lady working there told me that this building was haunted, having been used by the Japanese to execute captives during WWII.
Soon you will arrive at the banks of the River Melaka in front of the Majestic Hotel.
Cross the river using the pedestrian bridge to Kampung Morten, a village of traditional Malay houses named after the British colonial administrator responsible for resettling the villagers to this spot in the 1920s.
One of the houses, called Villa Sentosa, is open to the public and the kindly old lady of the house, Fatimah, shows visitors around. Her distinguished family has welcomed many famous guests and received numerous awards over the years including an honour from King George V to her father (or perhaps grandfather?) Abdul Ghani bin Haji Abdul Manan dated 1927 which was proudly displayed on the wall.
Entrance is free but you are encouraged to leave a donation.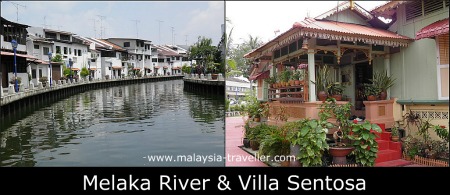 A little further down the river is Kampung Hulu Mosque which was built by Chinese Muslims in 1720. This makes it one of the oldest surviving mosques in Malaysia and accounts for its distinctive Malay/Chinese architectural style which is far removed from the typical Middle Eastern influenced design. Its features include a drum tower and a pair of old cannons. It is believed that the drum was used to summon the faithful to prayer in the days before the loud speaker.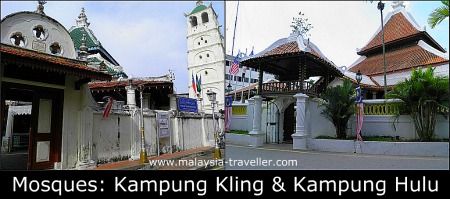 From here on the Melaka Heritage Trail you wander back into the core World Heritage City conservation zone.
It really does not matter which route you take because there is so much to see in this zone. Just make sure you explore the 3 parallel streets of Jalan Tun Tan Cheng Lock, Jalan Hang Jebat and Jalan Tokong and the little lanes and alleyways that run between them.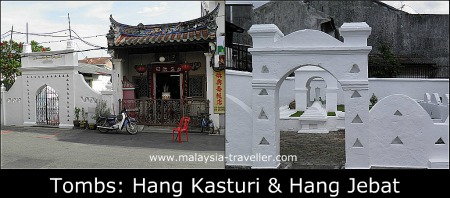 There are a couple of old tombs to visit in this area. Firstly there is Hang Jebat's mausoleum located in Jalan Kampung Kuli, a narrow street where labourers used to seek work (hence Kuli or Coolie). Hang Jebat was one of a gang of five martial artists who used to hang around the Sultan's palace doing heroic stuff in the mid 1400s. They got entangled in various palace intrigues. Hang Jebat ran amok (a Malay word), killing many of the Sultan's entourage until he himself was stabbed with a keris by his friend and the Sultan's favourite of the 5, Hang Tuah.
I am not sure why Hang Jebat merited a hero's grave but there it is. A street away is Hang Kasturi's Mausoleum located (confusingly) on Hang Jebat Street. Hang Kasturi, another of the 5 martial artist heroes apparently murdered his brother Hang Tuah before being killed by the Prime Minister of Ulu Melaka. This story would make a good soap opera!
On Lorong Hang Jebat you can find the Cheng Ho Cultural Museum. Cheng Ho (Zheng He) was the Chinese admiral who from 1405-1433 led a number of trading and military expeditions to the South China Sea and Indian Ocean in a large fleet of gigantic fighting junks in an overwhelming projection of Chinese power (the Middle Ages equivalent of the US Seventh Fleet perhaps!). Cheng Ho built a depot on the banks of the Melaka River hence his fame in the city.
Jalan Tun Tan Cheng Lock
This street, known as Heeren Street to the Dutch, was home to many wealthy families from the Peranakan community (descended from mixed Chinese and Malay ancestry, also known as Babas and Nyonyas). Their homes typically have a narrow frontage but go back as far as 100 meters in some cases with private courtyards, wells, ornate metal spiral staircases, decorative tiling and many other fine features.
You can go inside a number of these buildings which have been converted to shops, galleries, restaurants and hotels.
The Baba Nyonya Heritage Museum on this street is a good place to learn about the unique culture of this community. Entrance rates include a guided tour by a lady in traditional costume - RM10 for adult and RM5 for kids aged 5-12. This museum should not be missed on your Melaka Heritage Trail.
Further up the street you can admire (from the outside) the Dutch House, a stunning Holland-inspired home, built for a wealthy Baba, Chee Yam Chuan, by a Dutch architect. Opposite is the elaborate clan house for the Eng Choon Association.
Jalan Hang Jebat
This street, formerly known as Jonker Street, is parallel to Heeren Street and is the heart of this tourism zone. Famous for its 'Jonker Walk', it is a great place to browse antique shops, art galleries and souvenir shops or take refreshment in one of its many restaurants. From 6pm on Friday evening until Sunday evening it is closed to traffic and a street market takes over.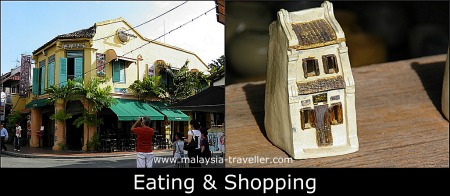 As mentioned earlier, Hang Kasturi's Mausoleum is on this street.
Jalan Tokong & Jalan Tukang Emas
The next stop on the Melaka Heritage Trail is the street behind Jonker Street - Jalan Tokong which changes into Jalan Tukang Emas half way along.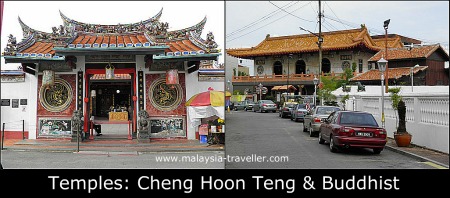 Jalan Tokong (meaning Temple Street) is where you can find the Cheng Hoon Teng Temple. It is one of the oldest and most revered Chinese temples in Malaysia having been built in 1673. Its name means 'meteoric rise' which is surely what all the early Chinese migrants to Malaya were hoping for, and many achieved.
Dedicated to the Goddess of Mercy, Kuan Yin, the temple is used by followers of Taoism, Buddhism and Confucianism.
Jalan Tukang Emas (meaning Goldsmith Street) is also nicknamed Harmony Street owing to the existence of places of worship from Malaysia's 3 main religions all within 50 meters of each other, namely Kampung Kling Mosque, Sri Poyatha Vinayagara Moorthy Hindu Temple and two Chinese temples, San Duo Temple and the Cheng Hoon Teng Temple already mentioned.
From here you can cross the bridge over the Melaka River and you are back where my Melaka Heritage Trail started.
If you still have time and energy you could take the Melaka River Cruise which departs from the riverside here. It is a 45 minute round trip with recorded commentary and costs from RM13 for adults and RM6.50 for kids. It is good to go at dusk so that you can enjoy the after-dark illuminations on your way back.
This completes your Melaka Heritage Trail. I hope you enjoy it.
---
Share this page: