Dutch Graveyard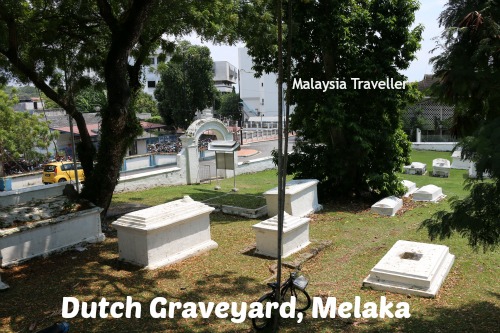 Although I have titled this page Dutch Graveyard, I am writing about all the graves found on and around  St Paul's Hill which are located in three different areas. The first area is inside the walls of the ruined St. Paul's church where a number of mostly Dutch headstones are propped up against the walls. The second area is on the hillside surrounding the ruined church.  These are a mixture of Dutch and British graves. Thirdly, there are 38 graves located in the old cemetery at the foot of the hill, known as the Dutch Graveyard.  
---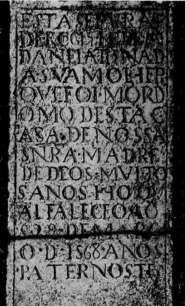 The oldest tombstone on St. Paul's Hill, Malacca goes back to 1568, during the Portuguese colonial period. The translation of this inscription reads something like:
This is the Grave of R. C(?)and of Magdalene Trindade his wife. 
He was Major-domo of this House of Our Lady the Mother of God for many years, 
and died on the 29th March, 1568. Pater Noster. 
Most of the other surviving Portuguese headstones were moved to Christ Church at Dutch Square.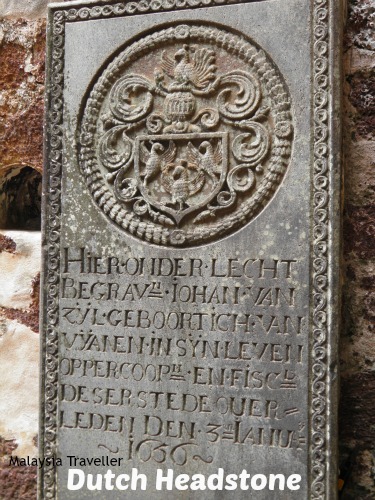 The Dutch period headstones (1640-1795) inside the ruin of St. Paul's are huge and very well preserved and decoratively carved on a type of stone which is not found locally suggesting that they may have been brought over from Holland.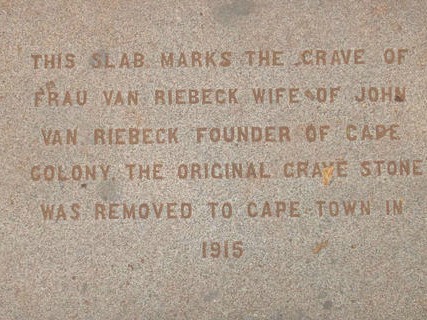 There is an inscription relating to Maria van Riebeeck, the wife of Jan van Riebeeck, the founder of Cape Town, South Africa, who died in Malacca in 1664 at age 35.
Some large graves are scattered on the hillside near the footpath linking St Paul's to A Famosa Gate: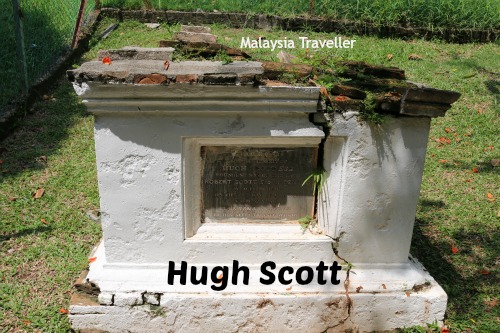 Hugh Scott, son of Robert Scott of Penang. Died 16 May 1843 aged 32.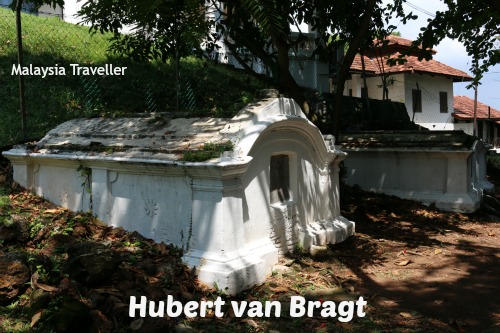 Hubert Van Bragt. Died 21 April 1861 aged 49.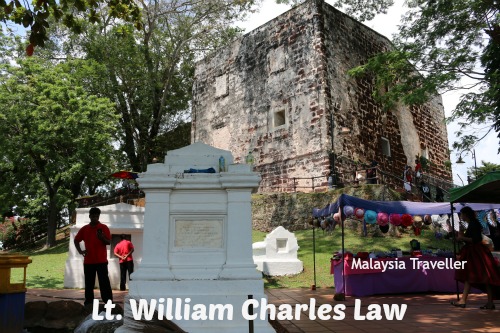 Lieut. William Charles Law, 21st Regiment M.N.I. (Madras Native Infantry?). Died 2 Feb 1847.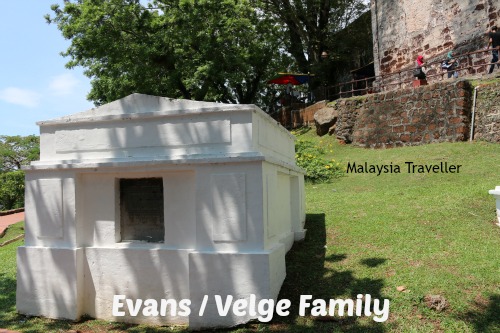 This large vault contains the remains of six family members who all died within a short period. Malaria perhaps?
Isabella Caroline Velge. Died 28 November 1853 aged 9 months.
Robert Malcolm Evans. Died 16 January 1856 aged 2 months.
Anna Maria Evans. Died 24 January 1856 aged 24.
Edward Nagel Evans. Died 24 January 1856 aged 3.
Louisa Augusta Evans. Died 2 February 1856 aged 4.
Frederick Theodore Velge. Died 8 February 1856 aged 1.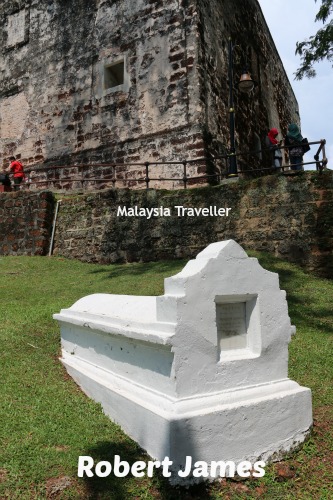 Robert James. Died 11 August 1846 aged 45.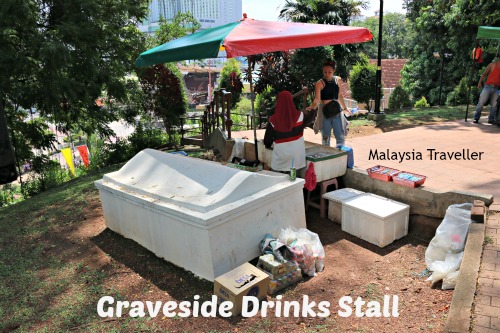 A vendor finds this grave useful for arranging her wares.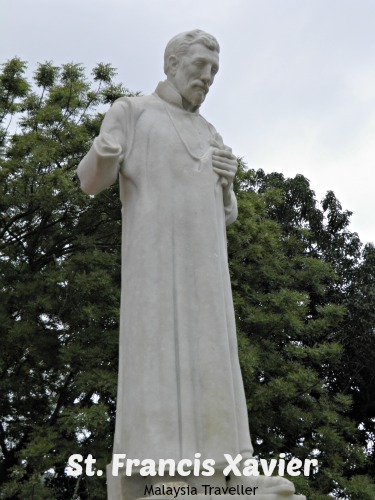 St. Francis Xavier's body was temporarily buried in St. Paul's Church, Malacca in 1553 before being shipped to Goa, his final resting place. A statue commemorates this VIP former resident.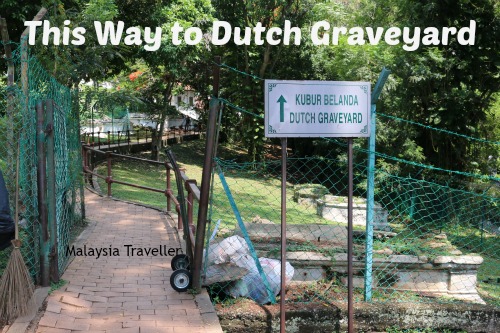 From St. Paul's, a path leads behind Melaka Sultanate Palace to the main cemetery known as Dutch Graveyard (the graveyard can also be reached from Jalan Chan Koon Cheng, on the corner with Jalan Kota). Despite its name the graveyard contains only 5 Dutch graves from the period 1670-1682 and 33 British graves (military personnel and their wives) from the period 1818-1838.
When the Dutch used this cemetery it was known as St. Anthony's Kerkhof (graveyard). The British only began to use it in 1818 starting with Naval Captain John Kidd while the last person to be buried here was the wife of a British Army Officer in 1838.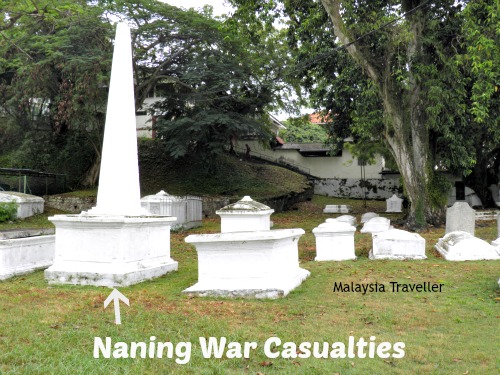 The tall column marks the grave of two army officers who were killed during the Naning War from 1831-1832. Their names were Lt James White aged 25 and Lt E V Harding aged 24.
Here is the full list of those gravestones which are still identifiable:
Henry Kraal (age 68) died 17 Oct 1826
Rachel Milne (age 35) died 20 Mar 1819
Sophia Stevenson (age 29) died 26 Nov 1838
Anna Raynierse Van Schoon-Hoven (age 27) died 28 Nov 1670
Louis Ferdinandus Van Gale (age 46) died 1 Dec 1674
Nancy Henry (age 45) died 14 Dec 1836
Jacob Francis Wiggins (age 29) died 18 Dec1833
Capt. David Kidd (age 30) died 14 Sep 1820
Capt. John Kidd (age 34) died 16 Jun 1818
Lt. J.W. Colquhuon (age 21) died 4 Jul 1826
Janette Miller (age 21) died 18 Jul 1831
Francis Ann Begbie (age 5) died 23 Aug 1832
Edward Hugh Massy Benwell (age 1) died 9 Sep 1833
R.B. Lloyd (age 57) died 6 Sep 1829
Lt. James White (age 25) killed in Naning War 20 Aug 1831
Lt. E.V. Harding (age 24) killed in Naning War 29 Mar 1832
Capt. William Hawkey (age 33) died 19 Sep 1816
Capt. William H. Reynolds (age 20) died 2 Nov 1834
David Mudie (age 17) died 12 Aug 1831
How to Get to the Dutch Graveyard
I have marked the exact location on this map.
GPS Coordinates:
2.193469, 102.250847
2°11'36.5"N 102°15'03.0"E
Address: 
Corner of Jalan Kota and Jalan Chan Koon Cheng
75000 Melaka, Malaysia
Nearby
The Dutch Graveyard is located in the heart of Melaka, a UNESCO World Heritage site, and is surrounded by places of interest. Read more on my Melaka Heritage Trail page.
---
Share this page: