Gunung Angsi
A Stroll in the Park?
Gunung Angsi is one of Malaysia's relatively minor mountains with a height of 2702ft or 824m. It ranks 241st on my list of Malaysia's highest mountains and it is the 3rd highest peak in Negeri Sembilan state, after Gunung Datuk and Bukit Bintongan which are both slightly higher. Gunung Angsi is only an hour's drive from Kuala Lumpur being located in Ulu Bendul Recreational Park, about 20 km from Seremban, the state capital of Negeri Sembilan.
The mountain's relative proximity to KL makes it a popular hiking spot. Ulu Bendul Recreational Park itself has clear streams, shady picnic and BBQ sites and gets crowded with families especially at weekends.
Climbing Gunung Angsi takes most people up to 3 hours to go up and somewhat less coming down making it a do-able half day excursion.
You need to register at the park ranger's office before starting your ascent and pay a nominal fee (RM 5 per person). Arrive early as they might not let you start the climb if you arrive after 11am.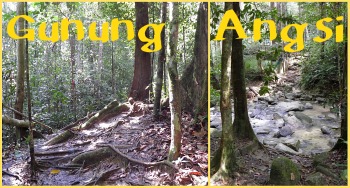 The trail starts by following alongside the stream at first. You need to cross the stream via stepping stones a couple of times which you can manage without getting your feet wet. Eventually the path moves away from the stream and there is a long, steep and tiring section along a ridge of the hill. The path is well defined most of the way. There are one or two places where you could take a wrong turn so look out for the red and white striped pieces of plastic marker tape which have been tied to trees at strategic places.
Near the summit you have to hoist yourself up some massive sandy boulders using ropes which have been left in place by the park authorities.
I found it a very hot and sweaty hike - there was very little wind - and more exhausting than I expected. Take plenty of water with you!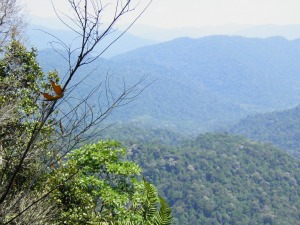 At the peak there is a plaque and marker to let you know you have arrived. The view is nothing special and partially obscured by trees and bushes but you look over the surrounding wooded hills and the nearby town of Kuala Pilah.
It is possible to descend by a different route but that would leave you with the problem of getting back to where you left your car.
Being a popular climbing spot, there was a fair amount of litter at the summit. Local climbers often travel in large groups and like to enjoy a meal or even camp at the peak. Attempts to dispose of rubbish by burning usually leave a nasty mess.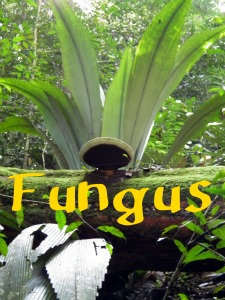 I did wonder whether the view from the top justified the effort but I consoled myself with the satisfaction of having climbed another of Malaysia's mountains, even if it is only the 241st highest! The vegetation and insect life along the trail was also interesting. This included large spiders, centipedes and exotic looking fungus. My son also had a few bites from leeches on this walk who worked their way through his socks.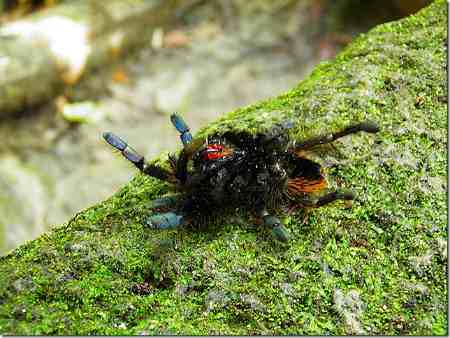 How to Get to Gunung Angsi
From Seremban take the road towards Kuala Pilah (route 51). You cannot miss Ulu Bendul Recreational Park. There is plenty of parking here. Snacks and drinks can be obtained at the park entrance.
If you have not already done so, please be sure to read my Malaysia Mountain Climbing Tips before you set off on your climb.
The Park is managed by the Negeri Sembilan Forestry Department whose contact details are:
Jabatan Perhutanan Negeri Sembilan, 
Blok C, Tingkat 4, 
Kompleks Setiausaha Kerajaan, 
70503 Seremban, 
Negeri Sembilan.
webjpnns@forestry.gov.my
Phone +06-7659849
Fax +06-7623711
---
Share this page: