Klang Walking Tour
It has to be said that a Klang Walking Tour or heritage walk would not be top of most travel guides' list of must-do activities in Malaysia.
Klang is a somewhat scruffy, sprawling town close to the mouth of the Klang River and near the industrialised shipping terminals at Port Klang.
The city cannot boast any major tourist attractions but it is called a Royal town and it was once the royal capital of Selangor, Malaysia's most populous and prosperous state.
In my opinion it is definitely worth spending a few hours walking round the compact town centre to soak up the atmosphere of its colourful, interesting and historic streets.
Map of Klang Walking Tour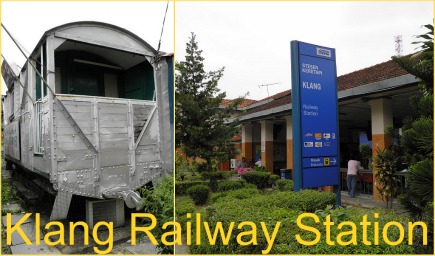 If you are coming from Kuala Lumpur it would probably make sense to travel to Klang by KLM Komuter train and we will start our Klang Walking Tour at Klang railway station (see map).
Make sure you get off at Klang station not Port Klang which is a few stops further on.
There has been a railway station on this site since 1890, being one of the first to be built in Selangor. The current building is considerably newer but is still quaint in its own way.

Opposite the station is Jalan Stesen and if you are thirsty or hungry you could try one of the kedai kopi located here.
On this street you can find what is probably Klang's top attraction, the Royal Gallery or Galeri Diraja Sultan Abdul Aziz. This is one of the better museums that I have come across in Malaysia.
It is housed in a beautifully preserved colonial building designed by AB Hubback (who also designed many of KL's famous landmarks including the railway station). This building was used as government offices for both the colonial and post-independence administrations as well as serving as a Japanese military headquarters during world War II.
It was recently converted into the Royal Gallery museum to showcase the Royal Collections of the late Sultan Salahuddin Abdul Aziz including a range of magnificent artefacts, memorabilia and gifts covering his reign. Included in the exhibition are replicas of Selangor's crown jewels.
There is no admission charge.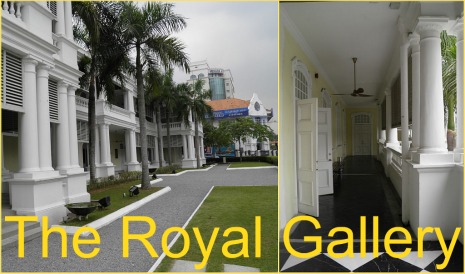 Next to the Royal Gallery is the former Chartered Bank building (just visible in the above photo - with blue signage). This neoclassical building, which dates from 1874, was the first bank to be opened in Klang.
During World War II the Japanese used the premises to interrogate and execute prisoners of war.
The building has more recently been renovated and it is now occupied by Chennai Silk, a retailer of saris, fabrics and more.
Continue your Klang Walking Tour along Jalan Istana past the Royal Klang Club until you get a good view of the imposing Istana Alam Shah (a Royal palace of the Sultan of Selangor) which sits on a 24 acre hilltop overlooking the town.
There was talk a few years ago that the Istana would be converted into a museum but it is currently still not open to the public and although I loitered outside taking photos I did not get invited in for tea.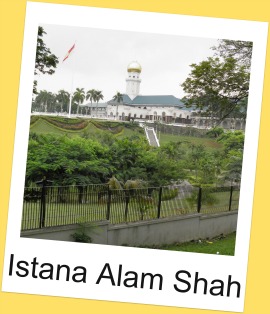 From here you can retrace your steps and make your way towards the Little India District which is centred around Jalan Tengku Kelana.
Klang has a sizeable ethnically Indian community and the Little India district is bustling and interesting, packed with colourful shops selling saris, textiles, bangles, jewellery, food items, spices, flowers etc. The pavement outside some of the shops is so clean and shiny you feel like you should take your shoes off before walking on it.

It is also a good place to take lunch if you like Indian food. Thali's and curries served on banana leaves are typical dishes.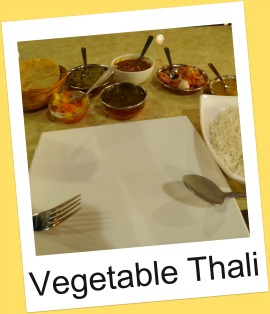 The nearby Sri Nagara Thendayuthapani Temple is said to be the oldest and richest Hindu temple in Klang. Its 20 meter entrance tower has been ornately decorated with 94 statues.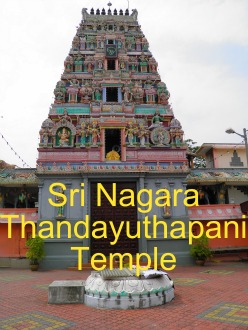 Continuing our Klang Walking Tour you will pass a colonial-era Fire Station. This fine example of a Victorian fire station dates back to the 1890s. Although it has been adapted to accommodate modern fire fighting appliances, it still retains many of its original features.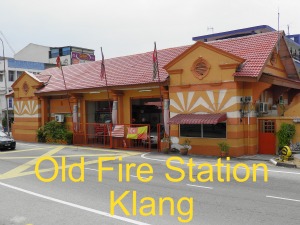 Next we reach the 150 year old Gedung Raja Abdullah, a historic warehouse building close to the banks of the Klang River.
It was converted into a tin museum and some travel websites will tell you that this is the only attraction worth seeing in Klang. Unfortunately it has been closed for several years and there is no indication when, or if, it will reopen. It seems it is being maintained in good condition however so hopefully we will be able to see inside the building again one day.

Before arriving back at the Railway Station you will pass one of Klang's famous Bak Kut Teh restaurants alongside the road bridge. This establishment has been servingBak Kut Teh (literally translated as meat bone tea) for over 60 years. It is a Hokkien dish usually made with pork ribs braised in a dark broth of herbs and spices and is highly sought after by Malaysian food fanatics (which is all Malaysians!).
Halal versions are also produced but probably not in this particular restaurant.
Hope you enjoy the Klang Walking Tour.
See my Top Klang Attractions page for a full list of 26 things to see in Klang.
---
Share this page: