Putra Mosque


Putrajaya
Wherever you go in Putrajaya you are bound to catch a glimpse of Putra Mosque, Putrajaya's famous pink mosque.
I recommend that you visit the mosque and take a look inside at the exquisitely decorated dome.
The mosque is located on the edge of Putrajaya Lake in the heart of the city next to Dataran Putra.
Construction was officially completed on 1 September 1999 at a cost of around RM250 million.
It is named after the first Prime Minister of Malaysia, Tungku Abdul Rahman Putra Al-Haj.
The main dome and smaller domes are made from pink granite and are intricately embellished.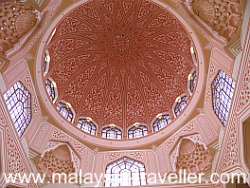 Putra Mosque combines Middle Eastern and traditional Malay design elements in its architecture.
Non-Muslims are welcome to visit the mosque but its primary role of course is not as a tourist attraction but as a working place of worship for Putrajaya's Muslim community.
Its facilities include:
- The Main Prayer Hall. With no internal partitions and only 12 giant pillars, this massive hall can spaciously accommodate up to 8000 male worshippers at the ground level while the 1st floor can hold 2000 female worshippers.
- An auditorium for an audience of up to 380 people.
- Lecture rooms.
- A dining hall for up to 230 guests. These last three facilities can be rented out for appropriate functions.
- Funeral services.
- Library.
Visiting Hours

Non-Muslims are permitted to visit outside of prayer times. There is no admission charge.
Visiting Hours are:
Saturday-Thursday: 9am-12.30pm, 2-4pm, 5.30-6pm
Friday: 3-4pm, 5.30-6pm
Dress Code and Behaviour
Visitors are requested to dress respectfully.
Female visitors will be directed to proceed to the robe counter and put on a pink robe with a hood.

As you will note from the photo, shoes may be worn in the outdoor courtyard area but must be removed at the steps to the Main Prayer Hall.
A sign at the main entrance reads as follows:
Females who are menstruating are requested not to enter the Main Prayer Hall.
Visitors are requested to respect the mosque by maintaining cleanliness and upholding its purity.
Smoking is strictly prohibited.
Free leaflets in English and other languages are available to help non-Muslims understand aspects of Islam such as dress, polygamy. prayer in congregation, Islam's view on Jesus Christ and other topics.
Friendly staff are on hand to answer any questions you might have.
Even if you do not know anything about Islam you will surely be impressed by the Putra Mosque.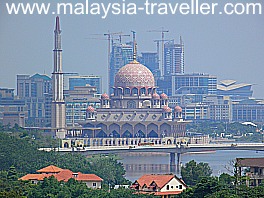 How to Get To Putra Mosque

If you are using public transport, the KLIA transit train from KL Sentral to Putrajaya is the best way to travel. From Putrajaya station you can take a taxi or bus.
If you are driving, you can find a location map on the Top Putrajaya Attractions page.
---
Share this page: