Melaka Crocodile Park
Taman Buaya & Rekreasi Melaka

I visited Melaka Crocodile Park in April 2018. Here is my review. 
I have a wary respect for crocodiles but I've never been a great fan of crocodile farms. Somehow they remind me of prisons. You know they are full of scary brutes and you are glad they are safely behind bars. Also, like prisons, they can be overcrowded. I remember seeing crocodile farms in places like Thailand and Cambodia where the poor creatures were crammed into little enclosures and poked and prodded by employees into performing stunts like allowing the keepers to put their heads inside their mouths. And those Thai farms had shops selling crocodile skin products so you know they were being farmed for their skins. It all seems a bit cruel, if it is possible to be cruel to a beast weighing 500 kilos and armed with a fearsome bite!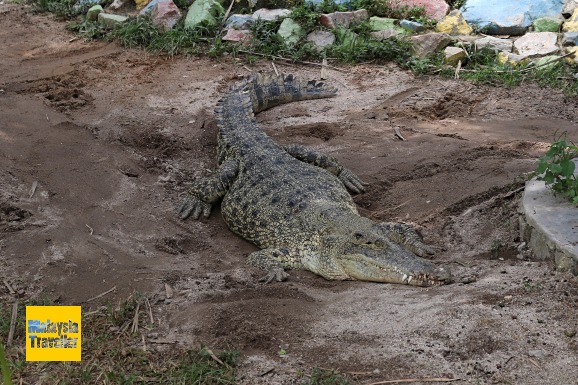 Thankfully conditions for the crocs are a lot better here at Melaka Crocodile Park. On the day I visited (a weekday) the atmosphere was peaceful and the crocodiles were relaxing in their ponds or in the sun and enjoying their chicken lunch.
The keeper told me there are about 100 crocodiles here spread over 6 spacious pond enclosures. 

The keeper was feeding the crocodiles and entered their enclosures armed with nothing but a stick and some dead chickens. He splashed the pond surface to attract the submerged crocs and threw a whole chicken to each croc which they gobbled down, feathers and all.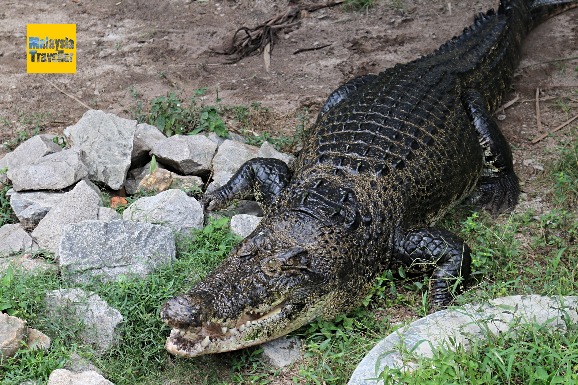 The keeper had a fairly relaxed approach to safety. He invited me to join him inside the crocodile enclosure. I gingerly stepped inside just a few feet, checking that I could still make it back to the gate of the enclosure, which he had left open.  He said 'come closer, no problem'. Famous last words! I'm afraid I wasn't brave enough (or stupid enough) to go any further. 
One of the large crocs was giving me the eyeball, probably wondering whether I would be a tasty change from his usual chicken diet. In the end he decided I was too old and boney.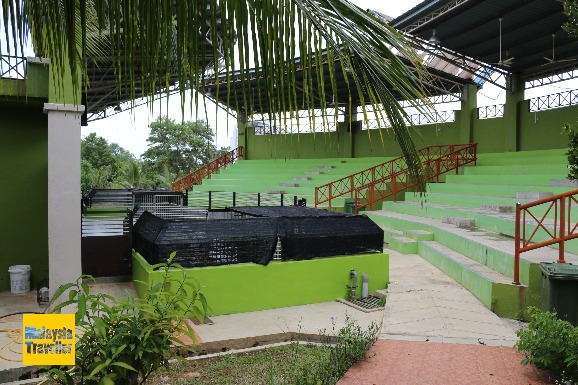 There is a performance stage here so no doubt they do some of the touristy stuff from time to time.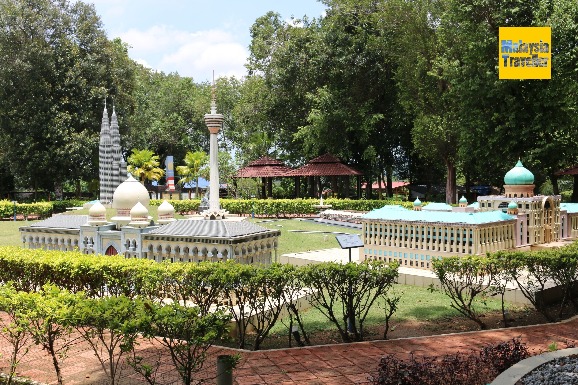 Apart from the crocodiles there are a number of other animals and attractions here. There is a Malaysia In Miniature display with models of some of the country's famous landmarks.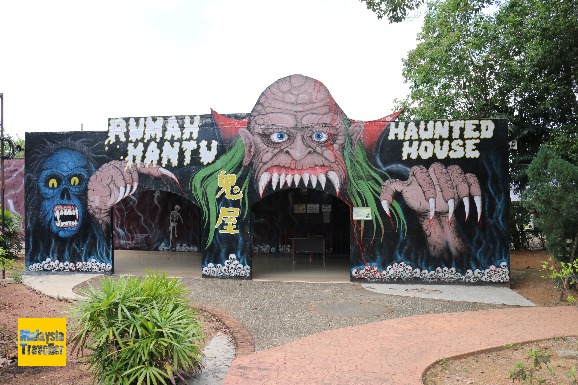 There is a haunted house (additional charge RM 2) but it was padlocked during my visit.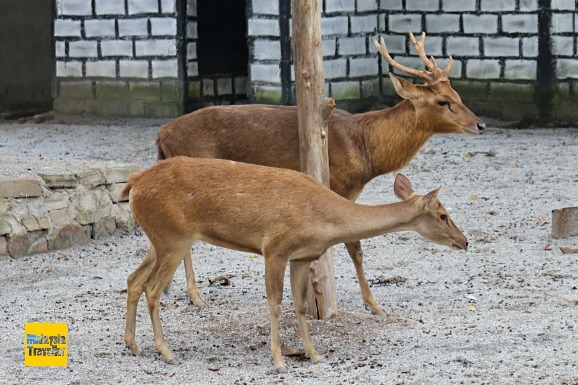 There are a pair of deer which you can feed.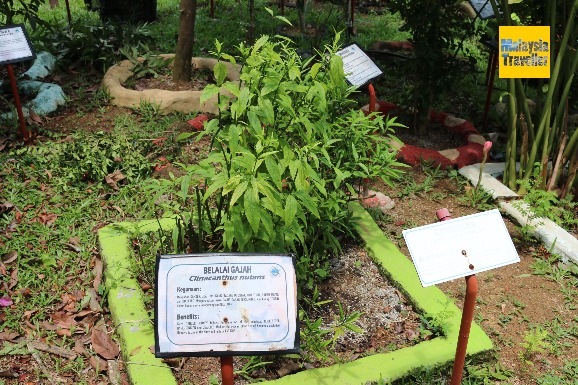 The herb garden contains a number of plants with medicinal benefits. According to the sign this Clinacanthus Nutans (Sabah Snake Grass) can cure cancer, kidney failure, enlarged prostate, high cholesterol, hypertension and diabetes. If these claims are true why is there so much illness around? I have some of this plant in my garden.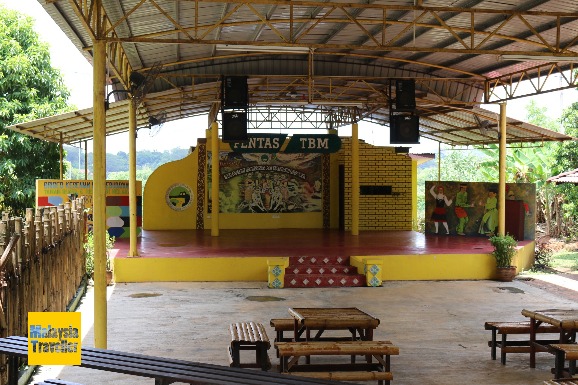 Stage for cultural performances.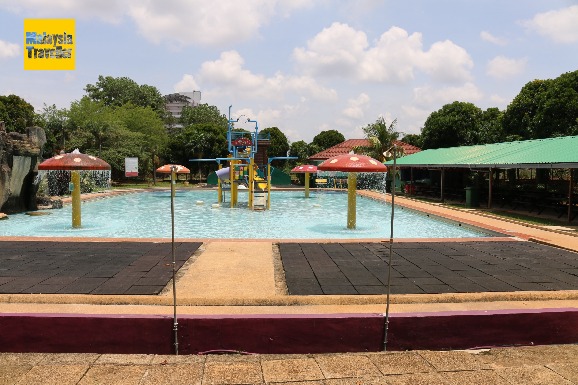 There is a very inviting swimming pool / water playground, with nobody in it. It probably gets busy at weekends and during school holidays.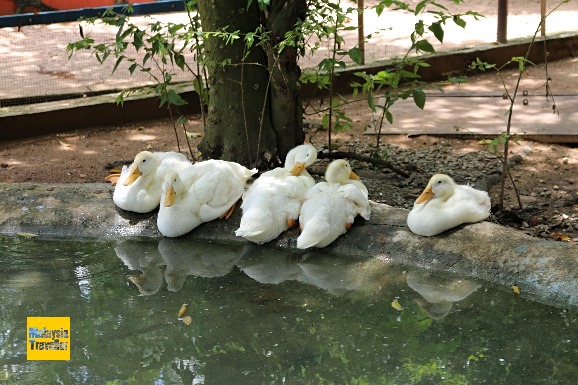 There are a lot of ducks, geese and a walk-in aviary.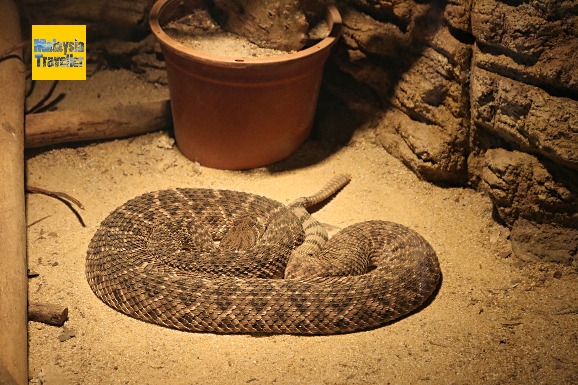 The reptile house features various snake species including this American Rattlesnake. 

 Opening Hours & Admission Charges
Weekdays*: 9 am - 6 pm. (Last entrance 5.30 pm)
Weekends*: 9 am - 7 pm. (Last entrance 6.30 pm)
Entrance Fee

Weekdays*:

Adult  RM 15
Child (ages 5-12) RM 10
Seniors (age 55 & above with MyKad) RM 8
Weekends*

Adult  RM 18
Child (ages 5-12) RM 13
Seniors (age 55 & above with MyKad) RM 10
Foreigners (Without MyKad)  RM 30

*Weekdays = Monday - Friday. Weekends = Sat, Sun, School Holidays & Public Holidays.

Free parking.

 Activities
Crocodile Interactive Session & Magic Show: 11.30 am & 3.30 pm
Crocodile Feeding Session: 12 pm & 4 pm
Cultural Performance & Melodrama Hang Tuah: 12.30 pm & 2.30 pm.
Food For Feeding Animals
Food for Emu & Rusa RM 5
Rabbit Food RM 5
Bird & Duck Food RM 5
Goose & Turkey RM 5 
Buy All Four for RM 10
Koi Fish Feeding RM 3
 How to get to Melaka Crocodile Park
You can find the location of Melaka Crocodile Park on this map:

Address:
Melaka Crocodile & Recreation Park
Lebuh Ayer Keroh
Melaka, 75450
Malaysia
Tel: 06-232 2350
GPS:
2°16'37.5"N 102°17'53.2"E
2.277079, 102.298103
You can check Melaka Crocodile Park's Facebook page for more details and news.

Nearby
Melaka Wonderland Theme Park
---
Share this page: