Skytrex Melaka

Taman Botani - Ayer Keroh

At Skytrex Melaka the adventurous can enjoy fun and challenging obstacle courses in rainforest surroundings with international safety standards.
Guests get to climb ladders, fly on zip lines, ride a bike on a tight rope, swing from ropes, crawl through net tunnels and negotiate canopy walks, all while suspended high up in the trees secured at all times by wearing harnesses hooked up to safety wires.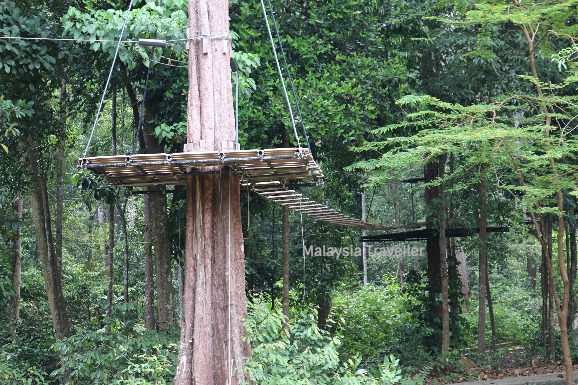 I have to admit I haven't tried it myself yet. It's not that I'm scared I just haven't got around to it. But it looks a lot of fun and nearly all the reviews are very positive.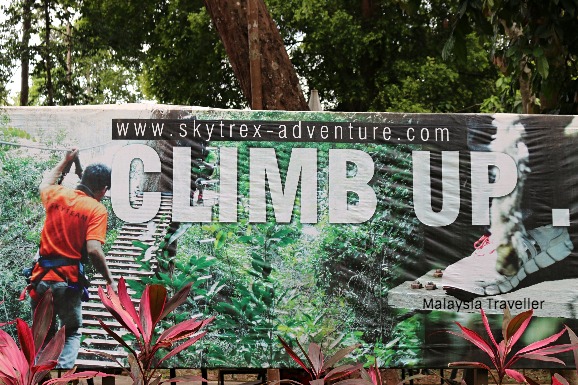 This is an extreme activity so there is a degree of fitness, stamina and strength required but with determination and courage most people will be able to complete the course. The important thing is to select the right level according to your ability and Skytrex's well trained and friendly instructors are there to guide and advise you.
There are 3 levels of difficulty:
Little Dino

Beginner
2 Hours
Min. Height 120cm
Max. Weight 100kg
Pahlawan Thrill 

Intermediate
2.5 - 3 Hours
Min. Height 150cm
Max. Weight 100kg
Extreme Warrior 
Advanced
2.5 - 3 Hours
Min. Height 150cm
Max. Weight 100kg
It's good to know that if you lose your nerve while going round the circuits there are places where you can exit called, rather unkindly, 'chicken exit' or 'ayam exit'.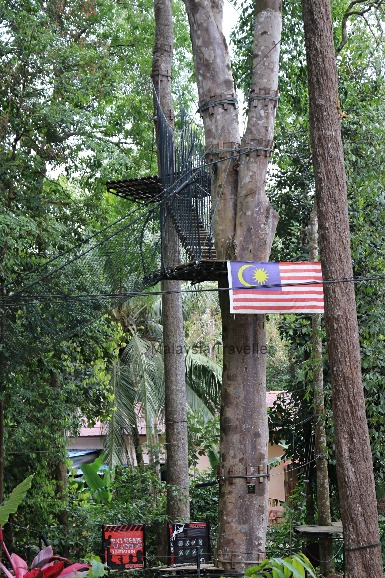 Opening Hours & Admission Charges
Open Daily with First Departure at 9 am and Last Departure at 3 pm.
Entrance Fee

Booking in advance is highly recommended to avoid disappointment since there are only a limited number of slots available to ensure safety at all times.

You can book online through Skytrex Adventure's website.

Prices are as follows:

Little Dino: Online Price RM 45 Walk-In Price* RM 50
Pahlawan Thrill: Online Price RM 55 Walk-In Price* RM 60
Extreme Warrior: Online Price RM 65 Walk-In Price* RM 70
*Subject to availability.

Free parking is available in the car park or on the roadside.
Skytrex Adventure has similar parks in three venues; Langkawi, Shah Alam and this one in Melaka.

How to get to Skytrex Melaka
It is in the Botanical Gardens at Ayer Keroh very close to Melaka Bird Park. You can find the exact location on this map:

Address:
Skytrex Melaka
75450 Durian Tunggal
Malacca
Tel: +6018 909 5679
GPS:
2°17'10.5"N 102°17'54.4"E
2.286237, 102.298450

Nearby
Melaka Wonderland Theme Park
Accommodation
The Philea Resort & Spa is a conveniently located hotel if you wish to spend time visiting all the Ayer Keroh attraction.

---
Share this page: