Thean Hou Temple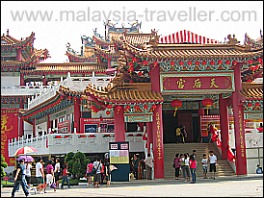 Contrary to first appearances, Thean Hou Temple is not old, having been built between 1981 and 1987. Up close, you can tell that underneath the traditional ornate decorative facade it is a modern structure.
The temple is certainly large, spreading over six tiers. It is managed by Malaysia's Hainanese community who descended from sea-faring fisherfolk from the island of Hainan, China.
Being at the mercy of the weather, these fishermen would always pray at their temples before setting out to sea. This temple is dedicated to the Goddess Thean Hou (Tian Hou - the Heavenly Mother).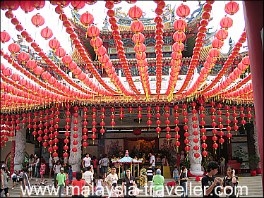 The main prayer hall contains altars to three deities. These are (L-R), Shui Wei Sheng Niang (the Goddess of the Waterfront), Tian Hou and Guan Yin(Goddess of Mercy).
Although most Hainanese in Malaysia are no longer involved in fishing they will still flock to this temple, together with other local Chinese and foreign visitors to pray for good fortune and blessings in other aspects of their lives.
The temple complex has a number of other attractions. Devotees crossing the Fortune Bridge might find themselves sprinkled with holy water by monks for good luck. There is also a Wishing Well and a Medicinal Herb Garden.

The tortoise pond is very popular, especially with children, and contains hundreds of tortoises cramped close together.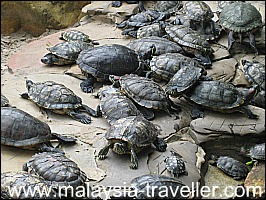 There are a number of souvenir shops and a restaurant to cater for the coach loads of tourists who come here.
In the grounds of the temple you can find statues of the 12 animals of the Chinese zodiac and descriptions of the characteristics of those born under the respective signs. 
Verdict
If you are looking for a peaceful and spiritually uplifting experience then I think there are better temples in Malaysia. Thean Hou Temple is, in my opinion, a little too commercial, too modern and too crowded. Having said that thousands of devotees do come here so it must have something and as a pure tourist attraction it is definitely worth visiting.

Opening Hours & Admission Charges
The normal opening hours are 9am - 6pm daily but the temple does stay open later sometimes especially during the major religious festivals such as Wesak Day, the Mooncake Festival and Chinese New Year. Since the temple is decorated with beautiful coloured lights I think I would like to go at night next time in order to soak up the atmosphere.
If you want to check when they are open in the evenings you could try calling them on 03 2274 7088 or take a look at this website for news of upcoming events.
There is no entrance charge but donations are always welcome.
How to Get to Thean Hou Temple
The temple location is marked on this map
---
Share this page: