LAMPU Putrajaya 2020

Festival of Light and Motion Putrajaya
LAMPU Putrajaya, or Light and Motion Putrajaya (LAMPU) Festival has become a regular year-end event for the past seven years and a highlight of Putrajaya's events calendar.
The main attraction here is the spectacular projection mapping show which, using state-of-the-art technology, brings the entire facade of the imposing Palace of Justice building to life with an exciting and colourful light imagery and sounds.

Based on previous years' events, this video shows the sort of thing you can expect:

In addition the main thoroughfare of Putrajaya's Precinct 3 district centred on the Perbadanan Corporation Complex is transformed into a fantasy of lights and fun activities with illuminated buildings, colourfully lit trees, live music, stalls, food trucks, hologram exhibition, wayang kulit show, beca (LED lit pedal-powered vehicles), street art, radio controlled showcase, maze, zumba (for ladies only) and more.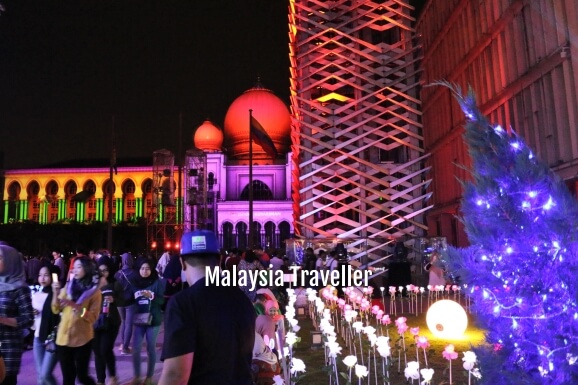 When is LAMPU Putrajaya 2020 to be held?
Event Schedule 
31 December 2020 - 3 January 2021 nightly from 7.30 pm - 12.30 am.
Grand Projection Mapping starts at 9 pm and continues intermittently throughout the evening. 

The highlight of the whole event is the Digital Fireworks display to see in the New Year at midnight on New Year's Eve.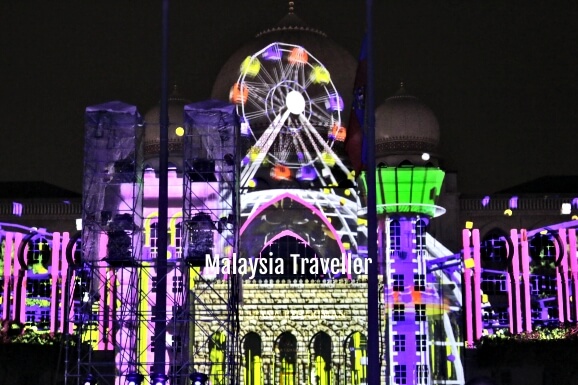 Location of LAMPU Putrajaya 2020
The heart of the event is the Perbadanan Putrajaya Complex which faces the Palace of Justice and is marked on this map:

Address:
Perbadanan Corporation Complex

24, Persiaran Perdana,
Precinct 3
62675 Putrajaya
Malaysia.
You can find more information and contact details of the organisers on their official website.
Parking
This is an extremely popular event with up to a million visitors expected over the four days. Expect traffic jams and road diversions. There are a lot of spacious carparks in Putrajaya but these will fill up, especially those close to the Palace of Justice.
TIP:
If you are planning on driving yourself it is better to arrive early to avoid the worst of the traffic congestion and to improve your chances of finding a nearby parking space. Alternatively take public transport.
Free Shuttle Buses are laid on from Putrajaya Sentral in a bid to encourage visitors to use public transport.

A map showing details of the car parks and shuttle buses is shown on the website of the organisers.

---
Share this page: