Shah Alam Lake Gardens
Walking Tour
Shah Alam, the state capital of Selangor, is a modern planned city with construction starting during the 1960s. At its centre are the Lake Gardens where a number of imposing landmarks are clustered around a couple of man-made lakes.
The attractively landscaped Lake Gardens are well suited for making another of our city walking trails lasting a few hours and covering most of the main tourist sites.
You can park your car (or get dropped by the taxi) somewhere near the Blue Mosque and take a circular route passing the places marked on this map.
Map of Shah Alam Walking Tour
The massive Sultan Salahuddin Abdul Aziz Mosque, known more simply as the Blue Mosque, dominates the skyline of the city centre. Its minarets reach 142m and were among the world's tallest when the mosque was first constructed.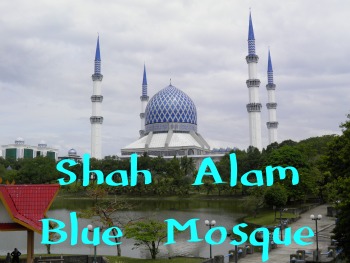 Nearby is the Sultan Alam Shah Museum which contains interesting displays on the history, natural history, culture and heritage of Selangor. Admission is free. The cool dark interior makes a refreshing break from the sweltering heat outside.
Across the street you can see the Royale Theatre building with its distinctive steeply sloping roof design. During my visit the building appeared to have never been used since it was completed in 2008. Perhaps it will be open during your visit.

There are footpaths going all the way around the lakes where you can enjoy picnics, kiddies' playground areas and boating activities.
A popular water theme park, Wet World Water Park, is also located on the lake's edge. There is a seafood restaurant nearby with a wooden deck which juts out over the water. The food was not bad.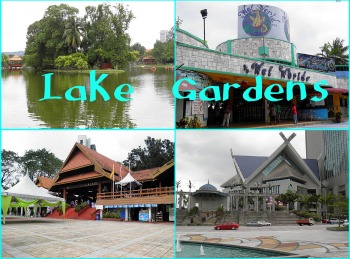 In truth, the landscaping of the Lake Gardens is inferior to the newer and better designed lakes in Putrajaya. Also some of the city's 1960s-era landmark buildings such as the Museum are in need of a makeover. But if you are in the area, or have a spare day to kill, the Lake Gardens are worth a visit.
Still in the vicinity, the Malaysia Agricultural Park has a number or facilities for families including a mini zoo, Skytrex adventure park with aerial ropeways, cycling, kayaking and jungle walks. It is too far away to be part of the Lake Gardens walking tour but you can find its location on the interactive map above.
Another famous landmark is the massive Sport Complex with its huge 69,000 capacity stadium used for football and other events (this is also marked on the map).
While in Shah Alam you might also want to take a look at i-City. Here you can experience a winter wonderland in Snowalk and admire an amazing forest of lights.
Need to see more? See my Top Shah Alam Attractions page for more details.
---
Share this page: