Peter James Begbie
&
The Malayan Peninsula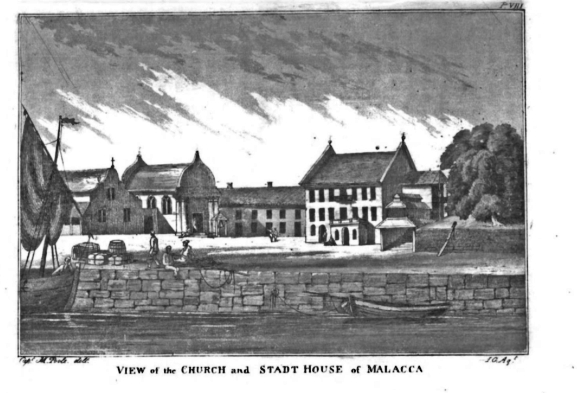 Peter James Begbie (1804-1864) was a Captain in the East India Company's Madras Artillery serving in Malacca when he published The Malayan Peninsula in 1834. The subtitle of his book is 'Its History, Manners and Customs of the Inhabitants, Politics, Natural History &c. from its earliest Records'. This was an ambitious and scholarly work, stretching to over 500 pages, and was the first attempt in the English language to provide an encyclopaedic description of Malaya. Although most of the book's contents are hopelessly out-of-date it does contain some interesting historic details for the modern reader which might otherwise have gone unrecorded.
I first became aware of Peter James Begbie when I was researching backgrounds to some of the headstones in the old Dutch Graveyard in Melaka. One of the graves belonged to Frances Ann Begbie, aged 5, who died on 23 August 1832. A quick search of the internet revealed that Frances was the eldest of Peter James Begbie's ten children. Sadly childhood deaths were all too common in those days, especially in tropical countries.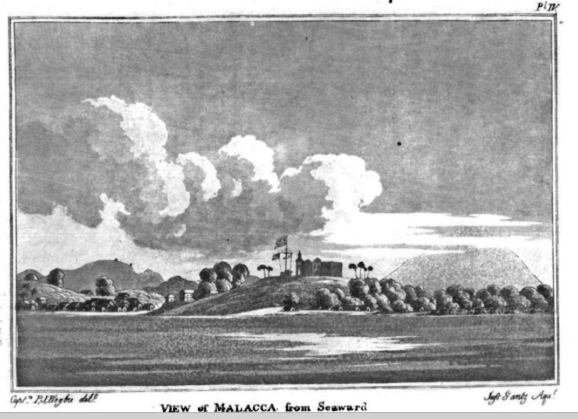 Begbie was an accomplished linguist and could translate several European languages including Dutch which enabled him to tap Dutch sources for his research. His book contained a number of illustrations which Begbie appears to have made himself and a number of these are reproduced here (copyright status: public domain).
Here are a few examples of the type of information contained in the book.

Begbie listed the principal Malayan states of the peninsula as Kedah, Perak, Salengor (Selangor), Malacca, Johol, Sungei Ujong, Rumbow,(Johol, Sungai Ujong and Rembau are now part of Negeri Sembilan) Johor, including Pahang and Packanja,(not sure where Packanja is - possibly Pekan?) Tringano (Terengganu), Callantan (Kelantan), and Patani (now part of Thailand).

Kuala Linggi
Some of the language used reflected colonialist attitudes of the day and would appear to modern audiences as patronising, racist or insulting such as his description of Semang people (orang asli) which need not be reprinted here. But on the other hand he takes the trouble to research their lifestyle and customs in considerable detail and even includes a glossary of Semang words.
He related the history of the Portuguese conquest and occupation of Malacca at some length but was dismissive about the Portuguese community he found in Malacca saying 'the descendants of the conquerors of Malacca have, with hardly any exception, sunk into a state of deep poverty and ignorance'.

Begbie's sketch of the Ruined Gate of the Old Fort, which is now more commonly called Port de Santiago or A Famosa, appears to show that there were additional sections of wall still standing in 1834, attached to the left and right of the gate. These sections have since been demolished. 
In addition to recording his own observations Begbie sought out authoritative sources such as Tuanku Putri, the stepmother of the Sultan of Johore, who provided Begbie with an in-depth genealogy of the Johore Rajahs. 

Three chapters of the book were given over to the Nanning War, a relatively minor scrap, in which he was a participant. Nanning was a district of Malacca state which was not going to accept British rule and taxes without a fight. The rebellion, led by Datuk Dol Said, was eventually quelled but not without casualties on the British side, some of whom are buried in the Dutch Graveyard and one in Alor Gajah.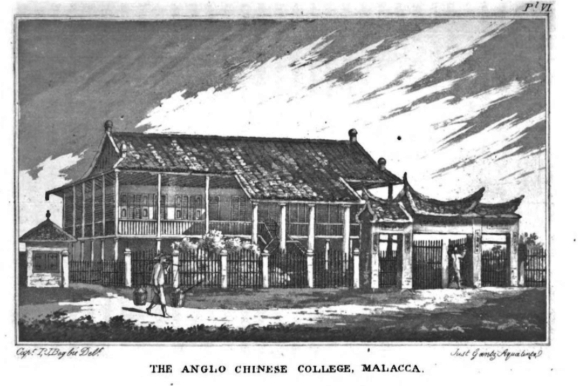 He wrote about the Anglo-Chinese College whose foundation stone was laid in 1818 by Major Farquhar. The college was established under the guidance of Protestant missionary Robert Morrison.  Begbie's fifth child was named William Morrison Begbie, perhaps in honour of the great man? 

The Mosque on the Kubu Road, Malacca. This may be the Kampung Hulu Mosque.
Begbie described the Chinese tombs at Bukit China at Malacca. He revealed that 'on the top of one of these (hills at Bukit China) are the remains of an ancient Dutch redoubt'. I wonder whether any traces of that fort remain today though possibly he was referring to the fort on St. John's Hill, about 800m away from Bukit Cina.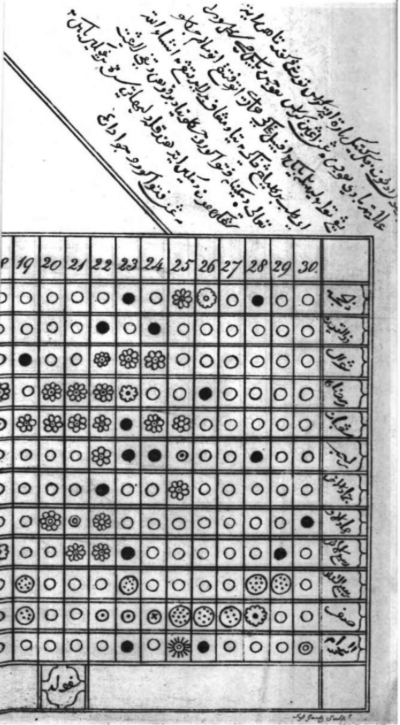 In commenting on Malay seamen's superstitious beliefs about auspicious days for nautical expeditions Begbie included a chart (from Johore) detailing days and months of the year with symbols denoting the likely weather conditions for each day.

There are a lot of statistical tables in the book such as this breakdown of Singapore's population by race for the years 1832 and 1833, showing that Chinese were the largest community even in those early days of Singapore, though overwhelmingly male. 

Other chapters describe Penang, Singapore, Junk Ceylon (modern day Phuket), tin mining, natural history and religious beliefs. The book is really most comprehensive and it is a wonder Begbie had any time for his soldiering and other work.

Peter James Begbie did not stay in Malacca long and he returned to India and continued to serve until retirement in 1857 when he was made Honorary Major General. 
Peter James Begbie Photo Source:  The Fighting Begbies
---
Share this page: