St Johns Fort Melaka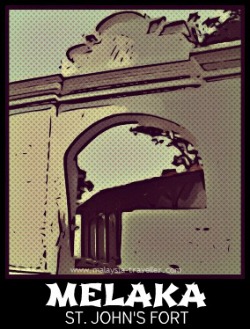 St Johns Fort Melaka is a small white 18th century fort built by the Dutch on a low hill 3 km from the centre of the city of Malacca.
The Portuguese built a chapel on this site in the 1500s named after St. John the Baptist. During the Portuguese colonial period they had to fight off attacks from the former Sultan of Malacca, Sultan Mahmud Syah, then from the Johoreans and finally the Acehnese who destroyed the chapel in 1628.
Although the Dutch took over Melaka in 1641, it was not until 120 years later that they built the fort we see today to thwart attacks from the Bugis.
The fort is made of laterite stone and bricks. There is only one entrance. The walls are 10-12 feet high with cannon emplacements facing both inland and seawards.
St John's Fort has been declared a heritage site.
A number of signboards have been erected to explain some of the history of the fort. They say that the hill was originally known as Bukit Pipi but that it was later changed to Bukit Senjuang 'to reflect its Malay characteristics'. Presumably Senjuang is the Malay spelling of St. John.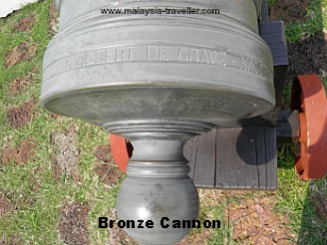 Some of the original bronze cannons are still found in a well preserved condition inside the fort, inscribed Jan Albert de Grave, Amstelodami which was how Amsterdam castings of the period were marked.
Jan Albert de Grave was the bell-maker to the city of Amsterdam during the period 1699-1729. During times of war bell-making was suspended and they turned to the manufacture of guns and cannons.
Standing on the ramparts of the fort, you can get a good view of Melaka's skyline, though the vista is partially obscured by trees and a huge water tower which has been built right next door. At sunset you can enjoy the sun setting over the Straits of Melaka.
Opening Hours and Admission Charges
The fort is open daily.
Admission is FREE.
How to Get to St Johns Fort Melaka
The location is marked on this map.
The shady lane leading up to the fort is popular with joggers and walkers.
You can drive up the base of the fort but parking spaces are limited.
---
Share this page: