Malaysian National Monument

Malaysian National Monument
Tugu Negara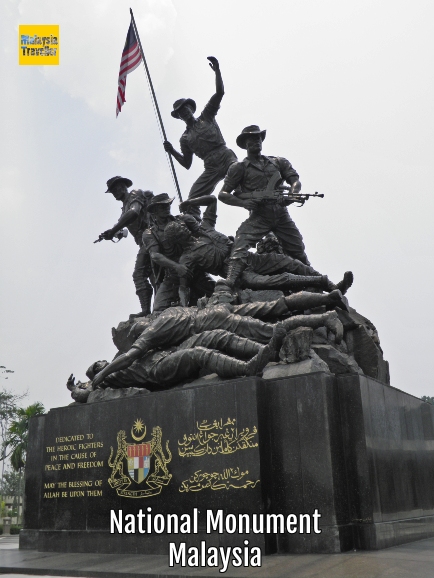 The Malaysian National Monument or Tugu Negara is an emotive 15 metre high bronze statue on a low hill overlooking the Kuala Lumpur Lake Gardens (Taman Botani Perdana).
Malaysia's first premier Tunku Abdul Rahman came up with the idea of the monument in 1963 after having seen the famous Iwo Jima Memorial in Arlington County, Virginia. The American sculptor Felix de Weldon, who created the Iwo Jima Memorial, was hired to design a Malaysian version to serve as the National Monument commemorating the thousands of warriors and civilians who died defending the sovereignty of Malaysia against the Japanese occupation during World War II (1941-45) and during the Malayan Emergency (1948-1960). The sculpture was cast at a foundry in Rome at a cost of RM600,000. De Weldon was awarded the title of 'Tan Sri' for his efforts.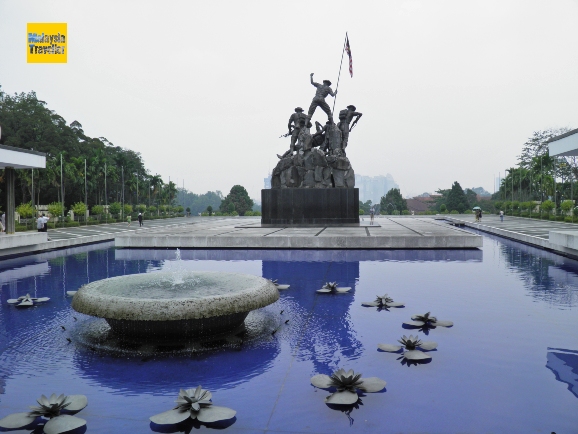 Malaysia's King (the Yang di-Pertuan Agong), the Prime Minister and the heads of the armed forces traditionally visit this site on Warriors Day every July 31 to lay wreaths at the memorial.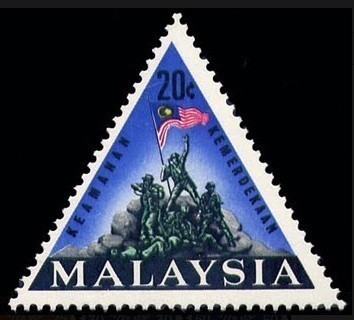 The official unveiling of the statue was commemorated with a set of postage stamps issued on 8 February 1966. The monument appears again on a joint Indonesia and Malaysia set issued in 2011.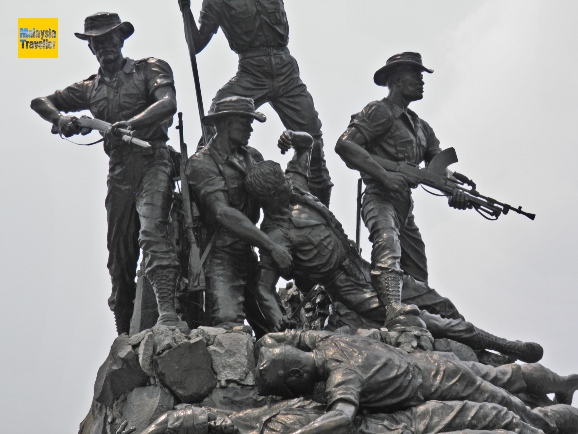 The sculpture depicts five soldiers in heroic poses while two defeated communists lie dead at their feet symbolising the victory of the forces of democracy, peace and freedom over communism. The five bronze figures also represent leadership, suffering, unity, vigilance, strength, courage and sacrifice. It is said that the face of the soldier holding the Jalur Gemilang Malaysian flag was modelled on Tunku Abdul Rahman when he was a young man. The granite base of the sculpture bears the Malaysian Coat of Arms, with the following dedication in English and Jawi script:
Dedicated to the heroic fighters in the cause of peace and freedom.
May the blessing of Allah be upon them.

In an act of spiteful revenge, communist terrorists detonated a bomb in August 1975 causing extensive damage to the monument. It was subsequently restored to its original condition and unveiled again on 11 May 1977.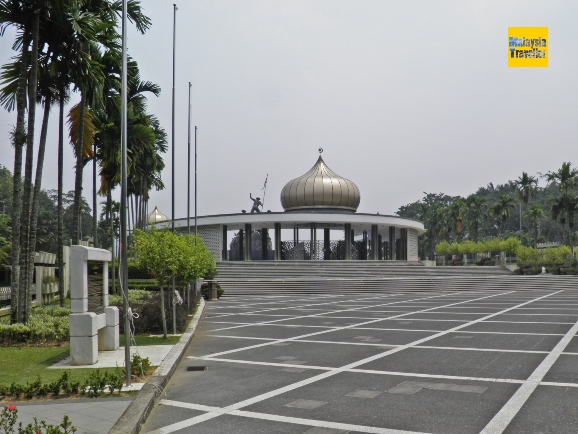 The grounds of The National Monument also include a large reflecting pool with fountains, a crescent shaped pavilion and landscaped gardens.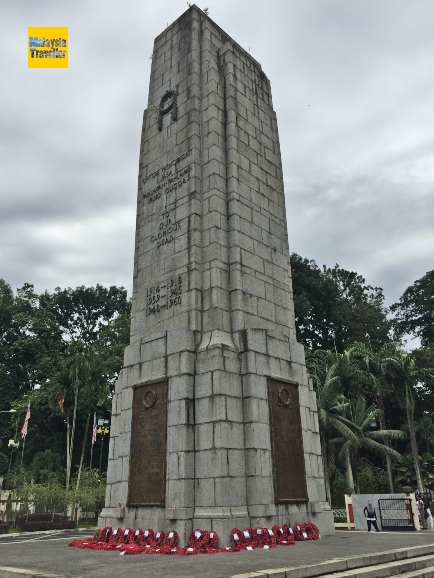 Just behind the National Monument is a much older war memorial called the Kuala Lumpur Cenotaph listing the names of (mostly British) servicemen from the Federated Malay States who were killed during World War One (1914-1918), with later additions to cover WWII (1939-1945) and the Malayan Emergency (1948-1960). You can read more about the KL Cenotaph on my blog.

Operating Hours & Ticket Price
Open daily during daylight hours (7am to 6pm).
Every day at dawn, a soldier raises the national flag and lowers it at dusk.
Entrance is free.
How to Get to the Malaysian National Monument
The location of the Malaysian National Monument is marked on this map:

Address:
Tugu Negara, Jalan Parlimen, Kuala Lumpur, 50480 Kuala Lumpur, Wilayah Persekutuan Kuala Lumpur, Malaysia
GPS Co-ordinates: 
3°08'57.7"N 101°41'01.7"E
3.149353, 101.683795
Nearby
---
Malaysian National Monument
Share this page: