Kota Bharu Walking Tour
The city of Kota Bharu has many palaces, museums, markets and historic buildings which are of interest to local and foreign tourists alike.
Fortunately many of these sights are close together in the compact city centre so it is easy cover them all in a self-guided walking tour.
I recently spent some time in KB and here is a suggested itinerary and interactive map of the major points of interest.
I was staying at the Tune Hotel on Jalan Hamzah which was my starting point for my heritage trail.
After a hearty breakfast of nasi kerabu, a fish and rice dish which is famous in this area, I set off along Jalan Sultan Ibrahim towards the city centre.
First stop was the Tourist Information Centre which is housed in a colourfully painted brick building which was once the office of the British Adviser, Mr. Tony Churchill.
The manager gave me a map and explained to me in a perfect English accent (using words like spiffing and blimey) that Kota Bharu is about the size of Exeter with a population of over 600,000.
Kota Bharu, the state capital of Kelantan, can be translated as 'new castle'. Funny how both KB and the English town of Newcastle (Upon Tyne) are located in the north-east corners of their respective countries. There is no Brown Ale in Kota Bharu though, in fact not much ale at all. Being the most Islamic-oriented of Malaysia's states, alcohol is not as widely available as elsewhere.
The State Museum is located next door in a 1930s-era former government office building. The museum provides informative historical background on the state of Kelantan.
For example, there are two theories on the origin of the name Kelantan - it either comes from the word Kilat-Kilatan meaning lightning strikes, which are very common here especially during the monsoon season. Or, it comes from the Thai words klang tang meaning middle place, referring to the area's location about half way down the Thai/Malaysian peninsula.
Did you know that from 1943 to 1945 the Japanese transferred the administration of the Malayan states of Kelantan, Terengganu, Kedah and Perlis to the Thai government as a reward for allowing the Japanese to use Thailand as an invasion route to attack Malaya in December 1941?
Apart from history the museum has displays of traditional costumes, pastimes, kites,wayang kulit (shadow puppetry) and musical instruments.
Opening hours for all the museums I visited in Kota Bharu are:
8:30am - 4:45pm daily
Closed on Fridays
Admission Charge:
Adults RM1 Child RM0.50 for Malaysians
Adults RM2 Child RM1 for foreigners.
From here I walked up Jalan Ismail past the Old Market Building which was just being boarded up, presumably to be demolished.
The New Central Market is nearby where Malay ladies sell an impressive array of fresh vegetables, tropical fruits, meat and dry goods. Reach there before noon (or earlier if you can) if you want to see the market in full swing.
Bazaar Buluh Kubu is a three storey concrete and brick building opened in 1990 aimed at selling batik, Kelantan souvenirs and handicrafts to foreign and local tourists.
It was fairly empty when I went and most of the shops were selling the colourful fabric used for Malay ladies' outfits.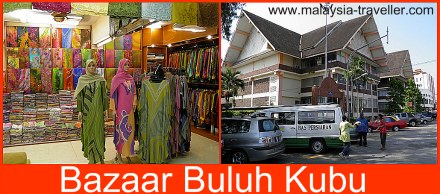 The bazaar building opens up onto an open square where a number of Kota Bharu's top attractions are located.
The first one you will come across is a small brick lock-up with a sign outside explaining that this is the Bank Pitis which was used as a storeroom for money and documents during the rule of Sultan Muhammed III from 1890-1899.
The name Pitis is derived from a tin coin with a hole in the middle (worth one fifth of a sen) which was in circulation in Kelantan for a while until 1909.
Bank Pitis ceased to function as the state treasury when Mercantile Bank of India became the first bank to open a branch in the city in 1912.
Behind Bank Pitis is the Grand Palace or Istana Balai Besar which was built in 1844 of cengal timber along Malay architectural lines by skilled local carpenters. These days the palace is used only for important occasions. It contains the throne and royal regalia. It is not open to the public and photography within the gates is prohibited.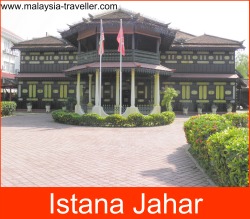 Adjacent to the Grand Place is the Kelantan Traditional Royal Ceremonies Museum (Muzium Adat Istiadat Diraja Kelantan). It is also known as Istana Jahar (named after a jahar tree growing in the palace grounds). It was built in 1887 and used as a royal residence for Raja Bandahara among others. In the grounds is a gazebo known as the Royal Platform where princes were circumcised and princesses bathed before marriage.
The Royal Maternity Rules are quite interesting. If you want to know how to get rid of flab from the stomach after childbirth, the method revealed here is to rub the stomach with a heated stone wrapped in cloth for about two hours several times daily for several days.
This museum also has some old carriages and war canoes on display. The weapons gallery was closed during my visit.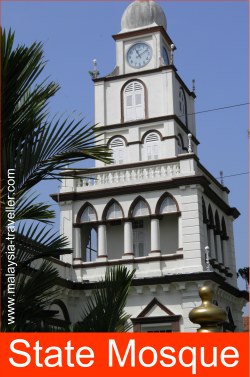 Across the street is the State Mosque or Masjid Muhammadi. Originally built from wood in 1867, the present concrete buildings date from 1922. Numerous extensions since mean that it can now accommodate 2400 devotees at a prayer session.
The design is rather unusual and includes a clock tower which is rare in a mosque.
Non-Muslims wishing to visit are directed to enquire at the nearby International Islamic Information Centre.
---
The handsome building next door is the Kelantan Islamic Museum (Syura Hall) but unfortunately it appeared to be closed at the time of my visit.
These buildings by the way are arranged around a padang or open space known as Merdeka Square. I notice that there was a cenotaph in the square but the gate was padlocked so I could not get a closer look.
---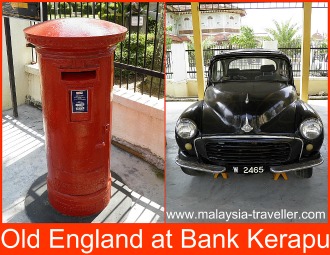 Next to the Islamic Museum is Bank Kerapu or World War II Memorial. This building was once the Kota Bharu branch of Mercantile Bank of India built in 1912. The word kerapu apparently relates to the rough textured walls of the building.
During the War, the Japanese Kempetai (military police) used the bank as a headquarters and kept prisoners in the strong rooms. The building was converted to a museum in 1994 and contains displays and artefacts relating to WWII and other wars. The garden has some old vehicles and a replica pill-box.
At the far end of Merdeka Square on the riverside is the Royal Jetty and an imposing new look-out tower which is not yet open to the public.
Retracing your steps slightly you pass by the Istana Batu. Built in 1939 as a wedding gift to Sultan Yahya Perta and his bride Raja Perempuan Zainab II, it was used as his official residence until 1960 when he ascended the throne and moved to Istana Kota Lama.
Much of the building feels more like a home than a museum (albeit a very grand home) and you can get an idea of how they must have lived. For example the dining room table is laid out with a full dinner service and the bedrooms have personal possessions on display.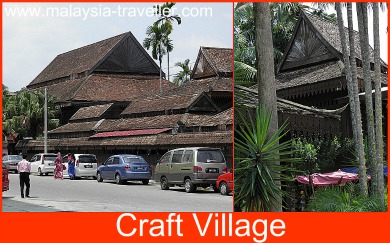 Across the street is the Craft Museum & Handicraft Centre also known as craft Village (Kampung Kraftangan).
Constructed in traditional Kelantan Malay style, it was opened in 1991 to spur the local handicraft industry. Here you can buy wooden, basket, batik, ceramic and silver souvenirs and handicrafts.
There is also a restaurant here which must be good, judging by the big crowd of local customers.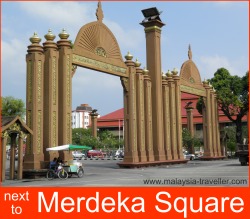 If you still have energy left you can stroll through the colourful backstreets and make your way to Kampung Cina (see map for directions), one of the earliest Chinese settlements in the city. Here there is a picturesque Chinese temple and a small outdoor market.
From here I headed back to my hotel via the town centre which has a number of classic shophouse buildings with painted bamboo roller blinds (chicks) advertising their wares. It is good to see that even global multinationals like Coca Cola advertising on bamboo chicks and thus helping to preserve this traditional craft.
I noticed that a number of the old shophouse buildings in the city centre had been converted into swiftlet farms (for harvesting the nests which are used in the prized gourmet dish of bird's nest soup). The presence of these swiftlet farms is given away by the bricked up windows, small drainpipe sized openings, barbed wire on the roof to guard the valuable contents and the screeching sound of recorded birdsong which is played through loud speakers to attract other birds. I am not sure I would want a swiftlet farm as a next door neighbour and it is surprising they are tolerated in city centre locations.
How to Get to Kota Bharu
I went on the Jungle Railway.. On an earlier visit I flew on AirAsia from Kuala Lumpur's LCCT airport.
Next time I will drive there (stopping in many places on the way) and let you know how long it takes.
Nearby to Kota Bharu
There are a number of famous beaches in close proximity to the city. The closest is probably Pantai Cahaya Bulan (Moonlight Beach). KB is also the jumping off point for a trip to the Perhentian Islands The Thai border is only half an hour's drive from Kota Bharu.
Accommodation in Kota Bharu
There is a wide selection of hotels in Kota Bharu ranging from budget to luxury.
The smartest looking hotels which I noticed were the Renaissance and the Grand Riverview.
I stayed in the Tune Hotel which I thought was very good value, clean and comfortable if somewhat lacking in character.
For other Top Kelantan Attractions click here.
---
Share this page: