The Jungle Railway
Introduction
Malaysia's Jungle Railway is known by various names - the East Coast Line, East Line or the East South Route. It runs from Tumpat, near the Thai border just north of Kota Bharu in Kelantan state down to Gemas in Negeri Sembilan where it joins up with the west coast line which runs all the way from Singapore to Bangkok via Johor Bahru, Kuala Lumpur and Penang.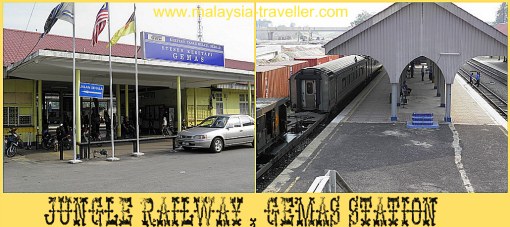 The name 'East Coast Line' is rather misleading - once the train leaves Tumpat it goes nowhere near the sea. Perhaps it is so-called because it links the east coast state of Kelantan to the rest of Malaysia's rail network. Jungle Railway is a more accurate description because it passes through the sparsely populated and heavily forested interior of Peninsula Malaysia and skirts the Taman Negara and Kenong Rimba national parks.
The jungle railway track was built in stages between 1910 and 1930. During the war long stretches of track were removed by the Japanese for use on their Thailand-Burma railway (the Death Railway).
I had heard the Jungle Railway described as one of the world's most scenic rail journeys and I wanted to see it for myself.
Recently (July 2011) I rode on the Jungle Railway from Gemas to Wakaf Bharu (the station for Kota Bharu) , a train journey of about 500km lasting 9 1/4 hours.
A couple of days later I did the same journey in reverse, taking another 10 1/2 hours so I feel I know this train quite well.
Here is a short video from the Malaysia in a Minute series which gives you an idea of what to expect.
Booking Tickets
It is possible to just turn up at a railway station and buy a ticket on the spot but the best way to book a ticket is by using KTMB (the Malaysian rail company)'s website. This is the best way because:
- KTMB changes its timetables periodically. If you are looking at an old timetable you could turn up at the station and find you have just missed the train.
- If you are not very good at reading train timetables (and the majority of people are not) the website makes things easy. Just enter your starting station, destination and travel date and the website will provide you with the choices. Currently there are 3 trains in each direction per day. One of them is a daytime train the other two are overnight sleepers.
- Once you have selected your preferred train the website will let you know what seats are available and you can choose your seat (just like going to the cinema!).
- For sleeper trains (Train numbers 26 & 28 Gemas to Wakaf Bahru and 27 & 29 in the opposite direction) there is a choice of first and second class beds or regular seats. Personally I see no point in making this journey at night since the whole point is to appreciate the view. Ok perhaps you are thinking that a sleeper will save you having to pay for a hotel room but with quality budget hotel prices in Malaysia being so reasonable there will not be a huge difference. Last time I travelled on a sleeper (in Vietnam) I didn't get a wink of sleep. At my age it is better to travel during the day, enjoy the view and get a good night's sleep in a hotel room with a private bathroom.
- The daytime train (Train number 14 Gemas to Wakaf Bahru and #15 in the opposite direction) is supposed to have 1st, 2nd and 3rd class seats but only 2nd class (superior class) seemed to be available on my trips. The carriage is comfortable enough with good legroom and air-conditioning.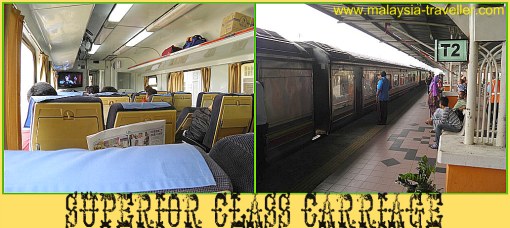 TIP When choosing your seat online bear in mind the following:
- Seat rows 1-7 face forwards and rows 8-15 face backwards when the train is headed north (towards Wakaf Bahru).
- Seat rows 1-7 face backwards and rows 8-15 face forwards when the train is headed south (towards Gemas).
- The air-conditioning works best at the ends of the carriages (rows 1-3 and 13-15). If you are a person who likes it cold sit here (it was too cold for me!). If you prefer to be warm sit towards the middle of the carriage (rows 6-9). However on my return journey the air-con was not working properly and it became uncomfortably hot after a while.
- The first and last rows in each carriage (rows 1 and 15) are bulkhead seats and there are no windows. Unless you want to stare at a wall for 10 hours it is better to avoid them.
Fortunately the jungle railway train is rarely full so if you find yourself in the wrong seat you could probably move to a better one.
Prices by the way are very reasonable. I paid RM34 one-way for my superior class ticket. Not bad for a 10 hour journey!
Practical Matters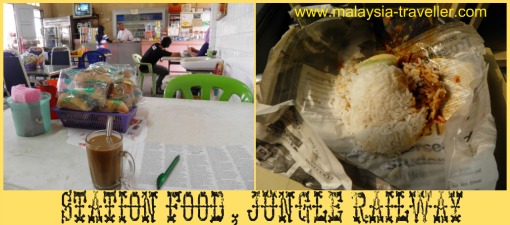 There is no restaurant car on the daytime jungle railway train (I believe there is on the sleepers). Bring some food and drink on board to keep you going. At both Gemas and Wakaf Bahru they were selling pyramid shaped portions of take-away nasi lemak wrapped in grease-proof paper and newspaper which made an excellent lunch for only RM1.20. Don't forget to ask for a plastic spoon unless you are skilled at eating with your fingers. There is a trolley service offering cold drinks, crisps and other dry snacks. On my trips there was also a vendor walking around selling sliced guava, jambu air (a type of fruit) and quails' eggs. Most of the stations along the way have shops selling food and drinks and there is ample time at each stop to hop off the train and buy what you need. Smokers get off for a fag break at these stops as smoking is not allowed on the train.
There are both sitting and squatting type toilets at the ends of each carriage. Surprisingly they provided toilet tissue, soap and paper towels and they seemed to get a cleaning at some of the station stops. When the aircon conked out however it was amazing how many cockroaches appeared in the toilets!
There were flat screen TVs at the ends of each carriage. Those that were working showed a selection of cartoons, Thai gangster films, Malaysian comedy horror flicks and KTMB information. It was quite difficult to hear much but there were subtitles in English and/or Bahasa. Better bring your own entertainment if you are planning a long journey.
In a fast moving train with dirty windows which do not open and thick vegetation at the trackside it is not easy to take good photographs. Many tourists sit or stand in the vestibule areas at the ends of each carriage with the doors open which can improve your chances of getting some good photos provided you are careful not to fall out.
Coming south from Wakaf Bharu were a group of middle aged Malay ladies with sacks full of dried fish, onions and eggplants which added to the colour and fragrance of the carriage. They got off at Jerantut which, being about as far as you can possibly get from the sea in Malaysia, is probably a good place to command a high price for dried fish. 
For up-to-date train timetables and fares please refer to KTMB's website.
Where is the Best Scenery on the Jungle Railway?
Heading north:
From Gemas to Kuala Kerau. Mile after mile of palm oil and rubber estates. The terrain is fairly flat.
From Kuala Kerau to Kuala Lipis. The jungle closes in on the railway. We cross some large muddy brown rivers and it is more hilly.
From Kuala Lipis to Kuala Krai. This is where the best scenery can be found. Huge rivers, the colour of strong English tea, and spectacular limestone hills around the town of Gua Musang.
From Kuala Krai to Wakaf Bahru. Rice fields, scenic kampungs and traditional rural life in Kelantan.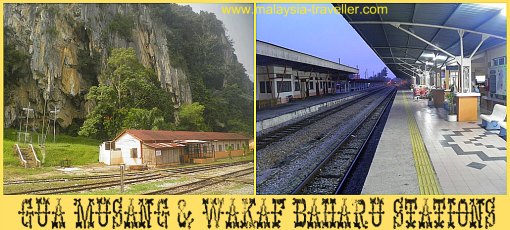 If I were to repeat the journey I would probably skip the Gemas to Kuala Lipis sections. Perhaps after spending time in Taman Negara and Kenong Rimba national parks I would start my Jungle Railway trip at Kuala Lipis and get off at Gua Musang which is worth exploring with its interesting cave and it has accommodation available. From Gua Musang I would try to travel by road to Dabong where river cruises are available. From Dabong I would get back on the train and continue the journey to Kota Bharu (Wakaf Bharu station) which is an interesting city in its own right as well as being the jumping off point for Perhentian Islands and the east coast beaches or continuing through to Thailand.
Travellers looking for something more structured could consider the combined rail and homestay packages which are organised by the Ministry of Tourism. Typical 4 day/2 night packages include rail travel from KL or Singapore and accommodation at a homestay with meals, sightseeing, cultural and traditional Malaysian kampung activities all included. Details can be found here. 
Is the Jungle Railway really one of the world's most scenic rail journeys as some claim?
Well in my opinion, I do not think it can compare with the spectacular scenery of say the Himalayan Queen train from Kalka to Shimla or even the Bandung-Jakarta journey but only because it lacks the vistas provided by altitude and because the thick jungle obscures the views for much of the way. Having said that, the jungle itself is impressive and when combined with the limestone hills of Gua Musang, the numerous river crossings and the historic importance of the jungle railway, it is certainly a journey which should be on the list for all dedicated travellers to Malaysia.
I would suggest that KTMB should consider (for the Kuala Lipis-Kuala Krai daytime sector only) adding an observation carriage with panorama windows and an open air viewing deck for (mostly foreign) tourists who I expect would be willing to pay more. With slick marketing from the Ministry of Tourism, Malaysia could create another unique attraction to draw in visitors.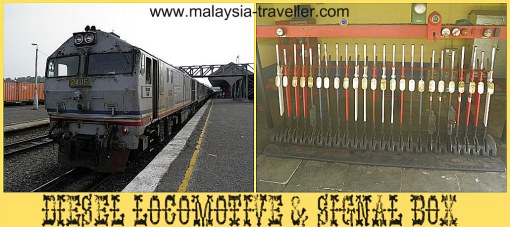 After you have experienced the Jungle Railway you should try the West Coast Line and, if you are feeling rich, what better way than to travel on the ultra luxurious Eastern & Oriental Express?  
Talking about the golden age of rail travel, take a look at another of my websites, Great Malaysian Railway Journeys, which replicates a train journey made 100 years ago from Penang to Singapore and compares the sights of modern Malaysia with the Malaya of yesteryear. There is also lots of information about the modern day stations along the route and plenty of photos of the attractions in each town.
For other Top Kelantan Attractions click here.
---
Share this page: