Istana Batu Royal Museum
Kota Bharu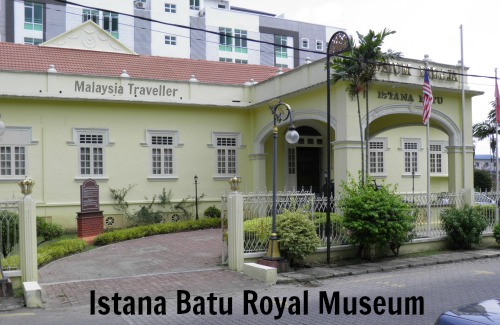 Istana Batu Royal Museum was built in 1939 as a wedding present to Sultan Yahya Petra and his bride Raja Perumpuan Zainab II. It was used as their official residence until 1960 and later used as a guest palace for a while. It was converted to a museum in 1991 but still retains the feel of a home with displays of personal possessions among other exhibits.

Istana Batu could be translated as Brick Palace and was probably so named to distinguish it from the wooden palace, Istana Jahar, just around the corner.

Visitors can view the elegantly furnished dining room with a dining table set for 16 places complete with tableware.
A bedroom has been left more or less unchanged. The furnishings such as bed and bedside cabinets would have been very luxurious when they were new but seem fairly ordinary, if somewhat dated, to modern eyes.

The red painted drawing room has display cabinets of silverware, glassware and fine china, including beautiful Benjarong Thai porcelain, appropriate considering Kelantan's strong historical links with Thailand. A tiger skin rug adorns the floor.

Another room displays souvenirs and gift items received by the Kelantan royal family in the course of their official duties. These include a model boat, a Japanese doll, some Islamic inscriptions, paintings, Chinese tea sets, a model cannon, handicraft items, plaques and trophies.

Other exhibits include photo archives, the genealogy of the Kelantan royal family, costumes and artefacts.
Opening Hours and Admission Fee
Open 8:30 am - 4:45 pm.
Closed on Friday.
Adult RM 2

Child RM 1
Review Verdict
A simple museum in a former palace which is fairly modest by royal standards but quite nicely presented. Definitely worth visiting. Half an hour should suffice.

How to Get to Istana Batu Royal Museum
I have marked the exact location on the map on my Kota Bharu Walking Tour page.
GPS Coordinates:

6°07'55.6"N 102°14'14.5"E
6.132110, 102.237350
Contact Address: 
c/o Kelantan State Museum Corporation, Jalan Hospital, 15000 Kota Bharu, Kelantan.

Tel: 09-748 7737

Fax: 09-747 3366
Email: muzium@kelantan.gov.my 

Nearby
Handicraft Village (directly opposite)
See my Kota Bharu Walking Tour for details of other attractions within walking distance such as Istana Jahar, the Kelantan Islamic Museum, the World War II Memorial (Bank Kerapu), the State Mosque, the Royal Jetty with look-out tower and Merdeka Square.
---
Share this page: