Jeram Tengkek Waterfall

Look Out For Goblins!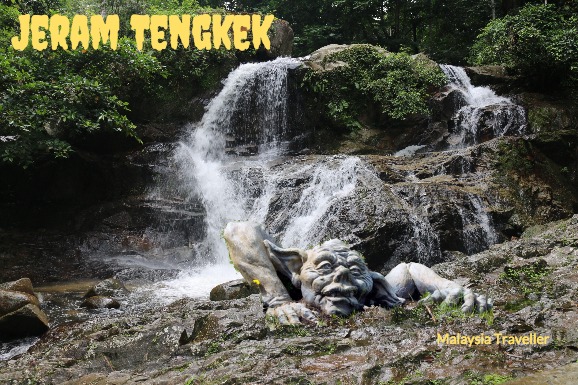 Jeram Tengkek Forest Eco-Park in Negeri Sembilan is a nice place to picnic, swim and camp amid pristine Lowland and Hill Dipterocarp rain forest. It is 350 m above sea level and dissected by the fast moving Jempol and Tanun Rivers whose natural rapids provide clean water and fresh unpolluted air, far from the closest town. This unspoilt environment is rich in bird and insect life.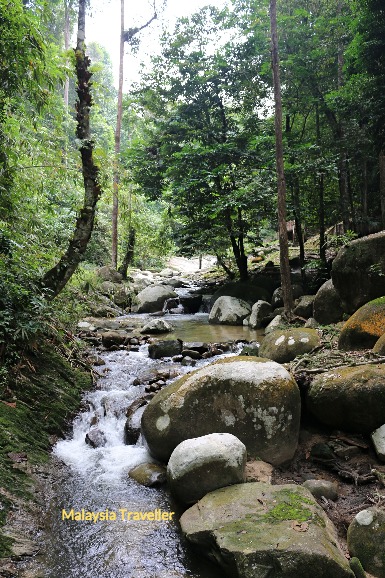 There are many species of trees here, some of which have been labelled for the information of visitors such as Durian, Mendung (elaeocarpus robustus), Merbau (intsia palembanica), Pelong Licin (pentaspadon motleyi), Petaling (ochanostachys amentacae), and Kasai Daun Besar (pometia pinnata).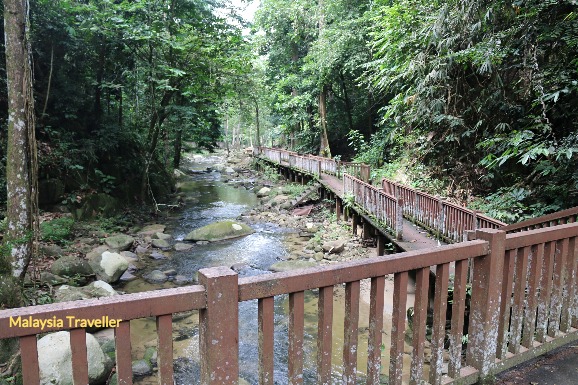 There are a number of bridges crossing the stream, some in better condition than others, and a boardwalk taking you all the way to the main waterfall. The boardwalk has been built of composite material to help ward off termite attacks but a combination of the weather, flash floods, falling branches and (hopefully not) vandalism have caused a lot of damage.
There are chalets here but a park employee told me they are not in use due to termite damage. Visitors wishing to stay overnight can use the camping site instead. 

Other facilities include toilets, prayer room, gazebos and picnic tables.

 Goblins and Hantu Bandan
The Forestry Department's brochure for the park talks about an old belief that if you write your wishes on paper and place it in the rocks and allow the current to drift it away your wishes will be granted. Not sure they should be encouraging littering!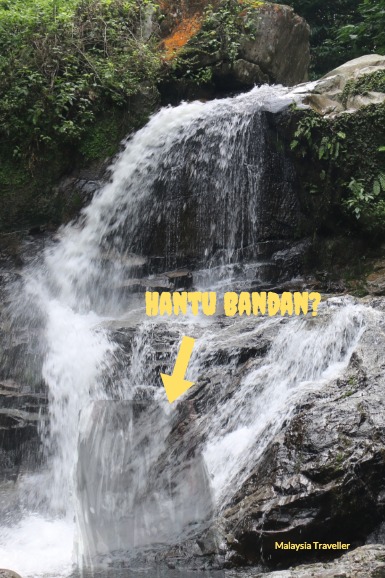 More intriguing is the folklore of a goblin village here from whom neighbouring villagers used to borrow dishes for their wedding feasts. Perhaps goblin is a translation error and they are referring instead to the hantu bandan (spirit of the waterfall) who are said to be seen in the vicinity of waterfalls. Sadly (or fortunately?) I did not see any goblins or spirits during my visit.

 Opening Hours & Admission Fees
Entrance is Free.
There is a free car park. 

For camping or chalet rates enquire with the Forestry Department, contact details below.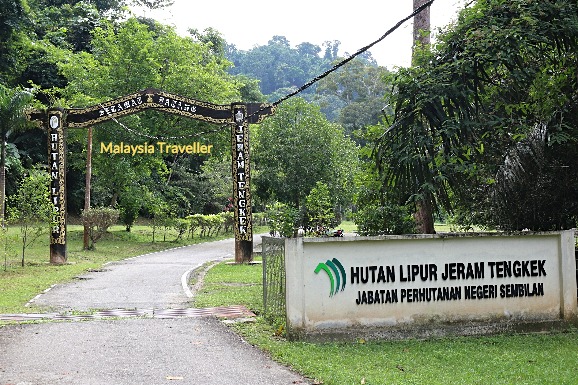 How to Get To Jeram Tengkek
Jeram Tengkek is located in a secluded part of the Serting Forest Reserve about 30 km from Bahau Town and 75 km from Seremban.
From Seremban you can go via Pantai and Kuala Klawang to Pertang where you turn right on to the very scenic N19 road which crosses a forested mountain road as far as Kampung Simpang Jelutong where you turn right to Tengkek on the N124. This last road is busy with cows and goats so take care. 

You can find the exact location of the park on this map:

GPS Co-ordinates:
2°52'12.1"N 102°11'02.4"E

2.870025, 102.183987
Address:
Kampung Pus, 72200 Batu Kikir, Negeri Sembilan, Malaysia
Contact:

Pejabat Hutan Daerah Negeri Sembilan Timur
72009 Kuala Pilah
Negeri Sembilan Darul Khusus
Tel: 06 4811036 / 06 7601321 / 06 7601345 
Negeri Sembilan Forestry Department Official Website

Nearby
---
Share this page: