Genting Highlands Hill Resort

Genting Highlands
Hill Resort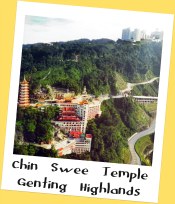 Most people who visit Genting Highlands Hill Resort head straight for the casino or the theme park and do not stop off along the way. This is a pity because there are other attractions in the area that are well worth spending some time on.
The road which winds its way up hill towards Genting Highlands first takes you past the township of Gohtong Jaya. This basically consists of a long strip of scruffy modern blocks housing seafood restaurants which is a bit odd seeing how far this place is from the ocean. The restaurants seem popular.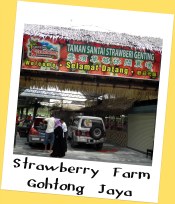 In this vicinity is a strawberry farm where you can pick your own fruit.
Nearby is the lower station of the Genting Skyway (cable car) which you can ride up to the peak if you wish. There are ample parking spaces to leave your car.
Next to the Skyway station is an equestrian centre which I am told is open to the public for riding lessons.
Continuing up on the road to Genting you will next pass the Awana Genting Golf Course which, at 3,000 feet above sea level, is popular among golfers looking for a somewhat cooler place to tee-off.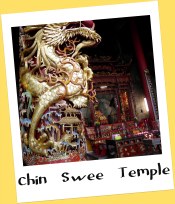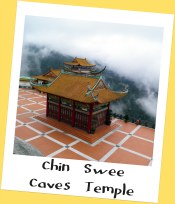 The next point of interest on the road is the Chin Swee Caves Temple which for me is the highlight of any tour in this area. This temple complex is built into the hillside on multiple levels. Its pagoda has 9 storeys and 285 steps and from the top you can get a great view of the area. (There is no lift in the pagoda).
The grounds contain pavilions, a large stone Buddha, characters depicting the Journey To The West and a fascinating series of grottos explaining the Ten Chambers of Hell. There is a restaurant serving tasty Chinese vegetarian food. The temple even has overnight accommodation at reasonable cost but this is intended for religious devotees only (not for casino gamblers looking for a cheap place to stay!).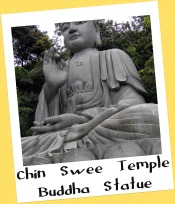 TIP #1:If you are driving yourself take the first entrance right into the temple complex (underneath an archway of boulders). Here you will find plenty of parking whereas the second entrance has fewer spaces.
TIP #2:If possible avoid visiting on the weekends, public holidays and during Malaysian school holidays when the place can get too crowded.
TIP #3:If you are interested in Chinese beliefs and want to understand what happens to one's soul after death, take a look at this very interesting website.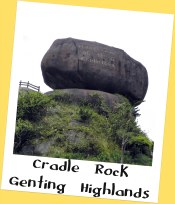 A few minutes drive after the temple you will see a large flat rock balanced on a low rise next to the road. This is known as Cradle Rock. You can pull into a small parking area if you want to take a closer look.
By now you are at an altitude of 5,500 feet and on a clear day you are supposed to be able to enjoy a spectacular view of Kuala Lumpur and even as far as the Straits of Malacca off Port Klang. On the day of my visit however the cloud was low and I could barely see across the road.
Cradle Rock's view makes it a popular spot for picnics and, judging by the types of litter left strewn around, a popular spot for burgers, donuts, smoking and drinking beer. There was also quite a bit of graffiti on the rock which is a shame.
Soon after Cradle Rock you will reach Resorts World Genting Highlands, the casino, theme park and hotel development which crowns the mountain. Click here to read my review of the theme park.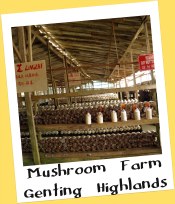 On leaving Resorts World the road's one-way system takes you to the start of the road going back down to Kuala Lumpur. Before you go down look for the signposts to Taman Cendawan (mushroom farm). You can take a look inside the sheds where they cultivate mushrooms which seem to sprout out of bottle-shaped packs of soil. Mushroom varieties include Lingzhi (an exotic looking fungus attributed with remarkable medicinal properties for complaints like asthma, high blood pressure, high cholesterol etc.), oyster mushrooms, shitake and many more.
These can be bought from the farm shop or eaten in the farm restaurant. The shop also sells home grown vegetables and daylilies which are cooked like green beans in stir fries and taste very good.
How to Get to Genting Highlands Hill Resort
Zoom out on this interactive map to see the location of Genting Highlands Hill Resort relative to Kuala Lumpur.
From Kuala Lumpur take the KL-Karak Expressway (E8) in the direction of Kuantan. Exit the highway at Junction 803 which is clearly signposted to Genting Highlands.
Genting Highlands Tour
If you are a tourist or don't have your own car it is easy to join a day tour to Genting Highlands Hill Resort. Typically these tours include transfers from KL and Skyway Cable Car tickets with a stop-off at Chin Swee Caves Temple and the strawberry farm. There will be plenty of free time for you  to visit the theme parks and casino if you wish.
TIP: You can get an 8% discount on Genting Highlands Tours by buying online through Tripcarte's secure website with instant ticketing, refundable and hassle free e-tickets.

---
Genting Highlands Hill Resort
Share this page: