Fraser's Hill - Bukit Fraser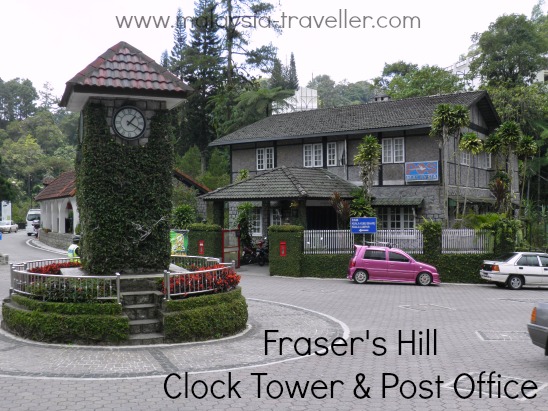 Fraser's Hill, or Bukit Fraser, is spread over seven hills straddling the Pahang/Selangor border just over 100km north of Kuala Lumpur. It is an area of unspoilt rain forests and rich biodiversity.
Thanks to its high altitude of around 1500m, it enjoys relatively mild daytime temperatures of between 18 and 25 degrees.
At nights it is cool enough to wear a sweater and light a log fire and most of the old bungalows have fireplaces.
History
Fraser's Hill is named after a Scottish adventurer, Louis James Fraser, who first penetrated these unexplored hills in search of gold in the early 1890s. He did not find any gold but instead discovered some tin deposits.
After Fraser mysteriously disappeared in 1917, a search party came across these highlands and found that they were suitable to establish a Raj-style hill station for colonial types looking for a respite from the heat.
By 1922 an access road had been hacked out of the jungle and British administrators and businessmen set about recreating a corner of England complete with mock Tudor stone cottages, pretty gardens, a clock tower and a post office.
You could be forgiven for thinking that not a great deal has changed at Bukit Fraser over the decades since.
Things To Do
The main attractions are:
Golf. There is a nine hole course (Fraser's Hill Golf Club ) which is open to non-members (there was an 18 hole course but it closed down a few years ago).
Hiking. There are eight established walking trails at Bukit Fraser which were once the only way that residents were able to get around. Nowadays they are only used by intrepid hikers and some of them are in a state of disrepair.
The trails are:
- Bishop's Trail (70 minutes) - 1500m
- Rompin Trail (15 minutes) - 500m
- Kindersley Trail (25 minutes) - 750m
- Maxwell Trail (70 minutes) - 1800m
- Hemmant Trail (30 minutes) - 1000m
- Abu Suradi Trail (20 minutes) - 500m
- Mager Trail (25 minutes) - 1000m
- Pine Tree Trail (5 - 8 hours) - 5000m
Except for the last one, the trails are short in distance but not that easy. Some are steep, slippery in the rainy season and home to a lot of leeches. I took my family on the Bishop Trail. It was muddy and there were a number of leeches trying to climb aboard. The view was very limited as the path was surrounded by thick vegetation and it was very hot. All in all, not the most enjoyable hike I have ever had.
The Pine Tree Trail is a day-long hike to the summit of Pine Tree Hill from where there are good views. You can read more about this trail here.
Bird Watching. Bukit Fraser is promoted as a first class bird watching destination with some 270 species of local and migratory birds said to inhabit or frequent this area. In June each year they hold the Fraser's Hill International Bird Race which attracts birders from near and far.
Archery and horse riding are available at The Paddock while boating and fishing are possible at Allan's Water. There is also a flower nursery located next to this former reservoir
A short distance (4km) out of town is Jeriau Waterfall, a 6 meter high waterfall with a pool suitable for bathing.
Bukit Fraser Accommodation
There is a range of accommodation available including Ye Olde Smokehouse, a mock-Tudor hotel with wooden beams, spacious rooms, some with four poster beds, British style cuisine and a cosy bar with a log fire.
Other hotels include the Pines Resort, Fraser's Silverpark Resort and Puncak Inn. 
For something different you could stay in one of bungalows and cottages which are available for rent. Some come complete with a cook and caretaker.
You can find a selection of these bungalows on the website of Highlands Resthouse Holdings.
How to Get to Bukit Fraser
From Kuala Lumpur use the North-South Expressway and head North in the direction of Ipoh. Leave the Expressway at the Kuala Kubu Bahru exit. Proceed through the toll and at the traffic light turn right, signposted towards Kuala Kubu Bahru. After 15 km turn left immediately after passing a Shell Station on your left. Proceed towards Kuala Kubu Bahru. Follow the signs to Bukit Fraser. Please note that when you reach 'The Gap', 8 km from the summit, the road becomes very steep, narrow and winding.
There are two roads. One road is for going up traffic only and a separate road is for coming down traffic only.
Allow 1.5 - 2 hours from Kuala Lumpur to complete the journey.
---
Share this page: