Cycling In Putrajaya
The Best Urban Bike Ride in Malaysia
Cycling in Putrajaya is a pleasure! There are dedicated cycle tracks which are safe and do not involve riding on busy roads. This makes them great for children.
The cycle paths are seldom busy and the air is fresh and clean.
There are plenty of shady spots to rest, take a picnic or to let the children run around on the grass.
The surroundings are green with mature parks and beautiful lakes. The city's manicured landscaping attracts plenty of exotic birds, monitor lizards and even wild otters.
There are seats and shelters, public toilets and places to buy a drink en route.
Cycling in Putrajaya
Best Urban Bike Ride in Malaysia?
Here is my favourite route which I suggest is perhaps the best urban bike ride in Malaysia. It is 10.5km long and at a leisurely pace can be completed in an hour or two. This is long enough to give kids a healthy dose of exercise without over-tiring them. The route is completely flat so no difficult hills to climb.
The route is marked in blue. Zoom in for a more detailed look.
You need to bring your own bicycles as there are no bike rental shops on this circular route. (There are bike rentals elsewhere in Putrajaya - see below).
There are plenty of free car parking spaces and I have marked 3 of these car parks on the map. Where you park your car will determine your starting point but for this guide we will start the ride at the Millennium Monument and travel in a clockwise direction keeping the lake on your left.
The Umai Café and toilets are located next to the Millennium Monument. If you want to walk up the ramp way which wraps itself around the Monument you can but no bicycles are allowed.
From here you cycle underneath the Seri Wawasan Bridge and you will soon pass a paddling pool (free of charge) if the kids want to cool off.
Next, after admiring views of the Putra Mosque and the Istana Darul Ehsan, pass underneath the Putra Bridge and you enter Taman Wawasan. The cycle path runs alongside a long pond full of lilies and a pebble 'beach' (not suitable for swimming).
The route then passes underneath the Seri Bistari Bridge, past some mock New England style houses and a children's playground and under the Seri Setia Bridge.
Soon you will see the Putrajaya International Conference Centre building on the opposite bank of the lake before cycling under the grandiose Seri Gemilang Bridge.
The Hotel Pullman Putrajaya Lakeside is the next landmark you pass before passing under the final bridge on the circuit, the Seri Saujana Bridge.
There are nice gardens and open spaces here for kicking a ball about.
Finally the route passes the Tuanku Mizan Zainal Abidin Mosque (Iron Mosque) before you arrive back at the Millennium Monument.
Cycling in Putrajaya - Bike Rental
Bicycles can be rented at Taman Wetlands, Putrajaya Botanical Gardens and Putrajaya Challenge Park but can only be ridden within the respective parks. KMX Carts are available at the Cruise Tasik Jetty.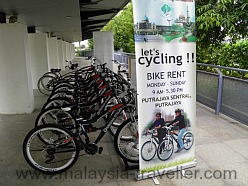 There are also bikes for hire at Putrajaya Sentral Station. The rates are:
Weekdays RM 4 per hour. Weekends/public holidays RM6.
Tandems are available at RM 7 (RM10 at weekends). A deposit of RM50 is required.
There is no dedicated cycle path from the station so riders would need to cycle on the road (which can get busy) or on the pavement.
I hope this short guide to cycling in Putrajaya is helpful.
---
Share this page: