Perdana Putra
Prime Minister's Office
Although I have included Perdana Putra on the list of top Putrajaya attractions there is actually not a lot you can do here.
Sure, you can admire the magnificent architecture of this imposing building completed in 1999 to house the offices of the Prime Minister of Malaysia, his Deputy's offices and a number of other Government departments.
But once you have posed for photos in front of the 6-storey building with green onion-dome roof that is about it because you are not allowed inside. That's fair enough - why should the PM's office be open to the public?
Apparently the Prime Minister's office is on the 5th floor from where, no doubt, he has a fine view of Putrajaya, including his own official residence, Seri Perdana, across the lake.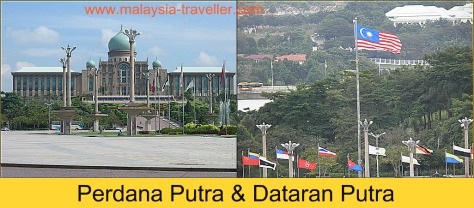 Fortunately there are other things to see in the same vicinity.
Right in front of Perdana Putra is Putrajaya's ceremonial centrepiece, Dataran Putra. Dataran Putra means 'Putra Square' but Putra Circus would be more appropriate since it is circular in shape and is used as a traffic roundabout.
Dataran Putra is where the Prime Minister welcomes visiting Heads of State complete with national anthems and inspections of guards of honour.
The Dataran has flags of all the states comprising Malaysia and is again a much-photographed landmark for visiting coach tours.
Off to one side of the Dataran is Putra Mosque and adjacent to that is a promenade next to the lake with shops, restaurants and the Cruise Tasik jetty. The shopping area is known as the Souq. It does not really live up to the souqs of the Middle East but at least it brings a bit of colour to this corner of Putrajaya.
From the promenade you can get an excellent view of the Putra Bridge and, on the other side of the lake, the Istana Darul Ehsan. This palace was built in 2000 for the Sultan of Selangor in recognition of him agreeing to give up the land that Putrajaya is built on when it became a Federal Territory. The grey coloured palace looks quite European in style. It is not open to the public.
How to Get To Perdana Putra
If you are using public transport, the KLIA transit train from KL Sentral to Putrajaya is the best way to travel. From Putrajaya station you can take a taxi or bus.
If you are driving you can find the location on this map: 
---
Share this page: