Muzium Wau Kelantan
Kite Museum at Pantai Sri Tujuh, Tumpat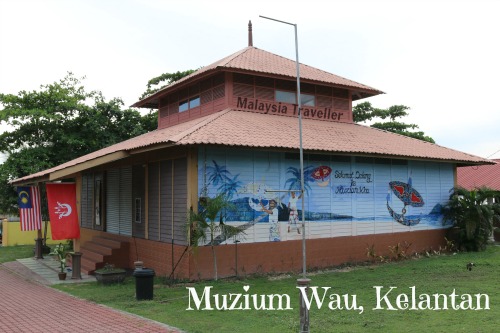 Muzium Wau Kelantan is a small kite museum showing off the types of elaborate kites which are popular in Kelantan and elsewhere in Malaysia. The museum is located close to Pantai Sri Tujuh and it is worth combining a visit to the museum with a trip to this popular beach.


Here you can find examples of the regional variations in kite design with specimens from each Malaysian State such as:
Wau Kenyalang - Sarawak
Wau Helang - Perlis and Terengganu
Wau Kangkang - Kedah
Wau Seri Bulan - Perak
Wau Kapal - Selangor
Wau Kikik - Melaka
Wau Cenderawasih - Pahang
Wau Puyuk - Kelantan
If you are lucky you may see a demonstration by a skilled craftsman of how kites are made.
Also on display are kites from other countries such as Japan, Thailand and Cambodia.
Muzium Wau is not the only kite museum in Malaysia. Muzium Layang-Layang in Pasir Gudang, Johor has another collection of kites as well as staging kite competitions on the beach at particular times of the year. The People's Museum in Melaka also incorporates a kite museum while a number of other museums, such as the Malay World Ethnology Museum in Kuala Lumpur, also have sections dedicated to the hobby and craft of kite making and flying.
The attraction of Muzium Wau is its location alongside a picturesque fishing village and adjacent to one of the best beaches in Kelantan.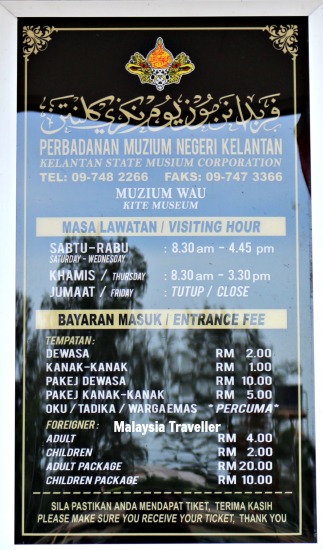 Opening Hours and Admission Fee
Visiting Hours are as follows:
Saturday - Wednesday 8:30am to 4:45pm
Thursday 8:30am to 3:30pm
Closed on Fridays.
Entrance Fee
Adult RM 2  (MyKad) RM 4 (Non-Malaysian)

Child RM 1  (MyKad) RM 2 (Non-Malaysian)
Packages are available for groups.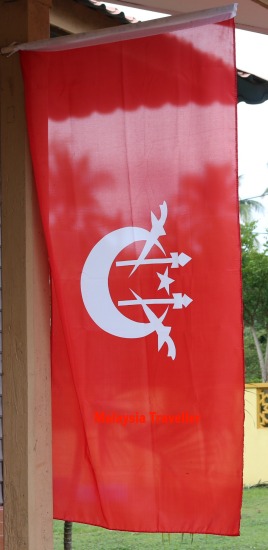 How to Get to Muzium Wau Kelantan
Address: Jalan Pantai Tujuh
Tumpat, Kelantan
Tel: 09-748 2266

Fax: 09-747 3366
Follow the signs to Pantai Sri Tujuh and you cannot avoid passing the museum on the way.

GPS:

6°12'56.4"N 102°07'36.2"E
6.215660, 102.126710
I have marked the exact location on the map on my Top Kelantan Attractions page.
---
Share this page: