Makam Sultan Ali

Sultan Ali Of Johor's Mausoleum
Visited Oct 2018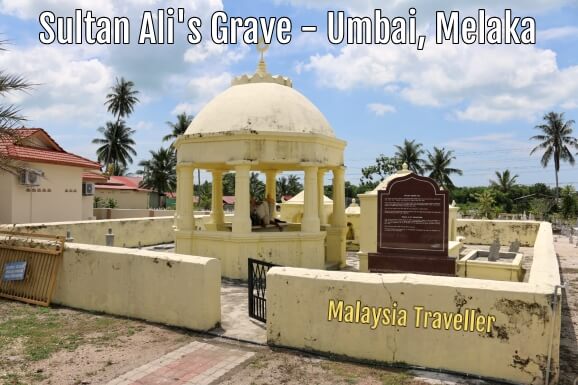 Makam Sultan Ali is the burial place of Sultan Ali Bin Hussain (1825-1877) who was for a time the Sultan of Johor (and Singapore).
When his father Sultan Hussain passed away Tengku Ali moved to Singapore where he lived in a new istana which today is the Malay Heritage Centre building in Kampong Glam. The British initially refused to acknowledge Tengku Ali as Sultan since he was only 11 years old and due to the stronger influence of Daing Ibrahim, Temenggong of Johor and de facto chief of the Malay community in Singapore.

To solve this rivalry the British governor of the Straits Settlements, William Butterworth, engineered the Johor Treaty of 1855 under which Tengku Ali was recognised as Sultan of Johor and received a lump sum and monthly allowance but ceded all sovereignty over Johor (except Muar) to Temenggong Daing Ibrahim. 

Sultan Ali spent his last years in Umbai. He passed away in 1877 and was buried here.

Like most Royal graves in Malaysia, it is painted yellow, the royal colour.

When I passed by, a local was having an afternoon siesta, lying on top of the tomb, to take advantage of the shady roof. 

The mosque next door is known as Masjid Jamek Umbai.
How To Get to Makam Sultan Ali
The exact location is marked on this map:

Address:
Makam Sultan Ali Umbai
5, Kampung Umbai, 77300 Merlimau, Melaka, Malaysia
GPS:
2.155325, 102.346959
Nearby
---
Share this page: