Entopia Penang Butterfly Farm

Entopia Penang Butterfly Farm

Entopia Penang Butterfly Farm is a giant glass-house conservatory where butterflies flutter freely amid beautifully landscaped lush tropical gardens which are also home to a selection of reptiles and other small creatures. In design it is reminiscent of Singapore's Flower Dome though somewhat smaller. The exterior is made up of a massive green wall, or vertical garden, the largest of its kind in Malaysia.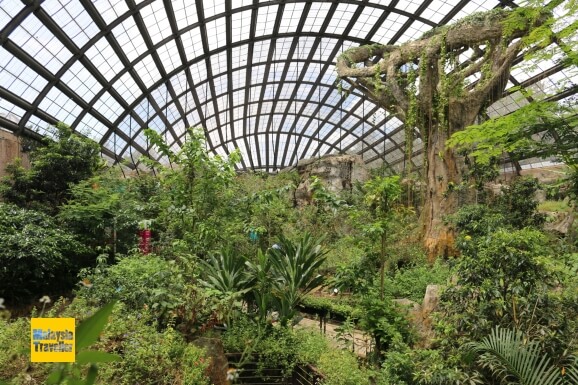 Entopia was officially opened in 2016. It replaced the old Penang Butterfly Farm which I remember visiting back in the 1980s. I enjoyed the old place but the new makeover puts it in a class above all the other butterfly farms in Malaysia and elsewhere.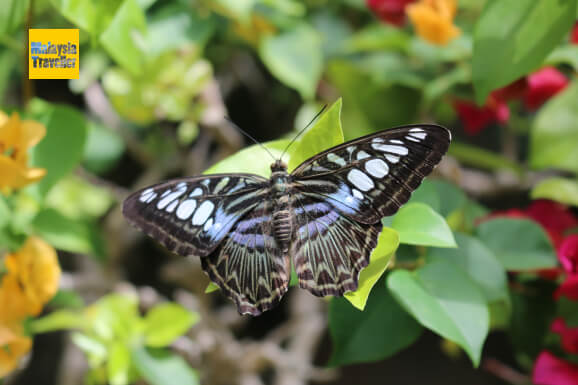 Entopia is divided into two main sections, Natureland and Cocoon:

Natureland the main 'outdoor' glasshouse area with waterfalls, artificial caves, gardens and trails where the live butterflies are free-flying and you can view the reptiles and other critters. These include frogs, spiders, snakes, koi, catfish, monitor lizards, iguanas, leaf insects, stick insects and alligator snapping turtles.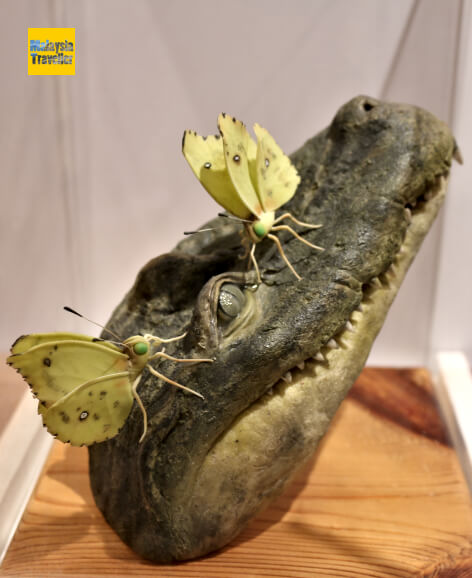 Seemingly butterflies have been known to drink the salty tears of caiman.
Butterflies you might spot here include Great Mormon, Raja Brooke's Birdwing, Chocolate Albatross, Chocolate Grass Yellow, Archduke, Autumn Leaf, Clipper Butterfly, Magpie Crow, Palm King, Plain Nawab and Striped Blue Crow. 

These pupae seem to have scary goblin faces!
Cocoon is a two story indoor 'discovery centre' targeted especially at younger visitors where you can learn about the life cycle of butterflies and the diversity of butterfly eggs, see how Entopia runs a successful butterfly breeding programme and lots more besides. Entopia exports butterfly pupae to over 50 zoos and butterfly sanctuaries around the world.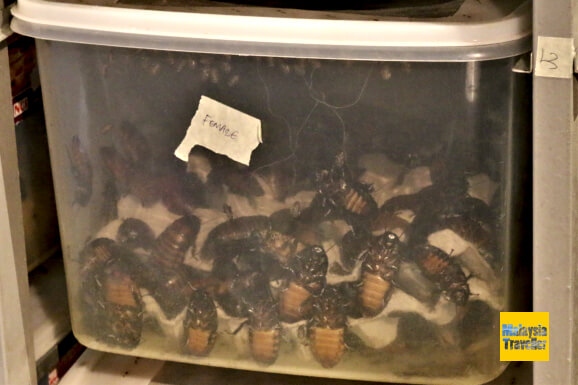 Bugs Ready for Export
Opening Hours
Open from 9am to 6pm (last entry is at 5pm).
Closed on Wednesdays.
Various activities take place at intervals during the day top enhance the visitor experience. These comprise:
Nature Talks
Vita Nova (releasing newly emerged butterflies)
Bug Exploration
Downtown Entopia is a kind of mall for bugs showing how they build their homes, the food they eat, mating habits etc. It's quite clever!
2023 Admission Fees & Packages
Standard Ticket Prices
Adult (Ages 13 to 59) RM 75 MyKad RM 59
Child (Ages 4 to 12) RM 55 MyKad RM 39 
Senior Citizen (Ages 60 and above) RM 55 MyKad RM 39
Free Entry for children aged 3 and below and individuals with disabilities (with valid OKU ID).
Deals are sometimes available on their  official website.
Family Package Deal
2 Adults + 2 Children/Seniors RM 238 MyKad RM 180
2 Adults + 3 Children/Seniors RM 282 MyKad RM 212
2 Adults + 4 Children/Seniors RM 326 MyKad RM 243
2 Adults + 5 Children/Seniors RM 370 MyKad RM 274
2 Adults + 6 Children/Seniors RM 414 MyKad RM 305
Scarab Beetle Pupa
How To Get to Entopia Penang Butterfly Farm
The exact location is marked on this map:

Address:
Entopia Penang Butterfly Farm
830 Jalan Teluk Bahang
Pulau Pinang, 11050
Malaysia
Hotline: (6013) 4252 830
GPS:

5.447621, 100.214994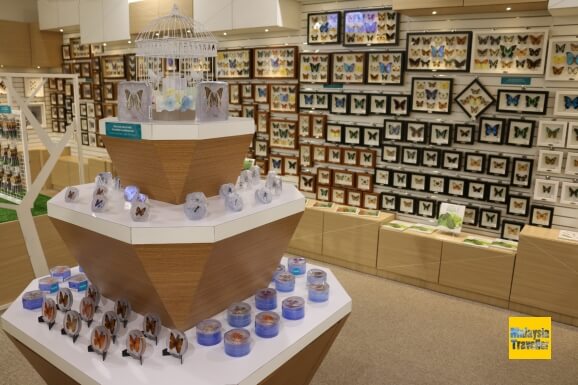 Entopia Gift Shop
Nearby
Taman Rimba Teluk Bahang
Teluk Bahang
---
Entopia Penang Butterfly Farm
Share this page: