Gua Ikan Dabong, Kelantan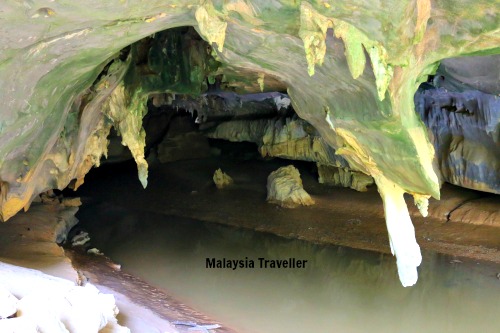 Gua Ikan is the name of a cave complex at Bukit Batu Kapur about 5 km south of Dabong.
There a number of caves here but most are not easy to access and it is recommended to engage a guide in order to appreciate the full extent of this complex. If there is no guide available at the cave complex it might be possible to hire someone from the nearby Gunung Stong State Park.
---
Gua Ikan, which means Fish Cave, is thought to be so-named because a stream flows inside, which may be home to fish. I have a different theory. When approaching on highway 66 from the direction of Dabong I noticed that the limestone hill structure containing the caves appeared to be fish-shaped.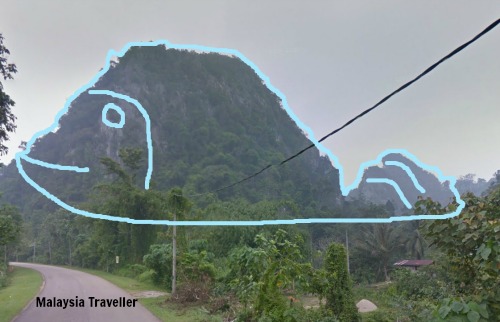 See what I mean?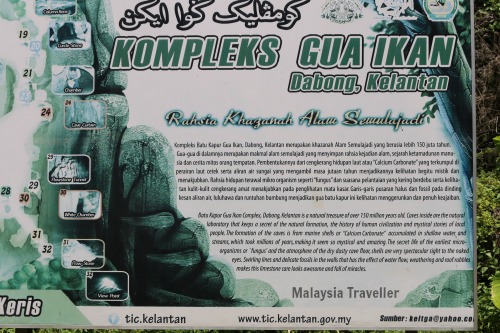 In Gua Keris there is a stalactite column resembling a Keris, the traditional Malay dagger.
The entrance to Gua Pagar is so tight that visitors have to crawl through a tunnel.
Other caves are called Gua Gelap, Gua Keris, Gua Batu Susun, Gua Tembakau, Gua Puteri and Gua Setol and contain the usual underground chambers, flow stones and cave curtains typically found in Malaysian limestone caves.
Plant and animal life includes bats (and lots of bat guano), trap door spiders, whip scorpions, fungus, some species of balsam and the one-leafed plant (Monophyllaea hirticalyx). And lots of mosquitos!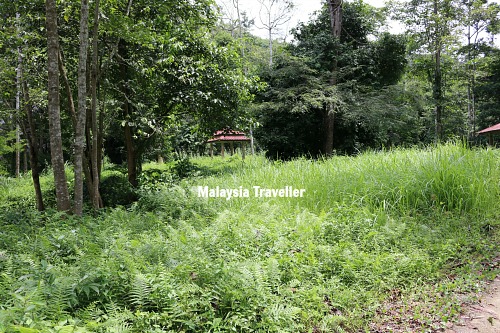 An attempt has been made to make more of a recreational facility of this cave complex by building picnic gazebos, snack shop, campsite, toilets etc but when I visited (in August 2016) the grass was badly overgrown and the area was in need of general maintenance.
How to Get to Gua Ikan
I have marked the exact location of the cave on the map on my Top Kelantan Attractions page.
GPS Co-ordinates:

5°21'15.7"N 102°01'36.8"E
5.354370, 102.026900
The caves are signposted and there is ample space for parking.
If you are relying on public transport there is the Jungle Railway station at nearby Dabong from where you could either walk (5 km) or look for a taxi.
Opening Hours & Admission Charge
Open daily. No fixed opening hours.
Entrance is free.
Contact
For more information you could try the Kelantan Tourist Information Centre  Facebook page.

Nearby
You would not want to come all this way without visiting the nearby Gunung Stong State Forest Park with its magnificent Jelawang Waterfall and hiking trails.
---
Share this page: