Gunung Stong State Park
Dabong, Kelantan
Introduction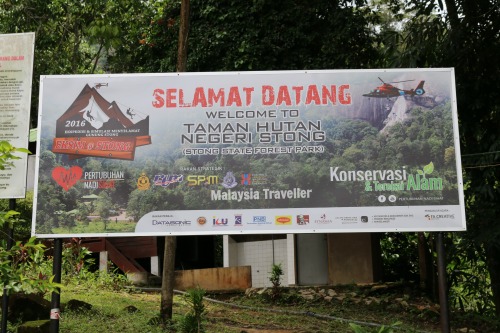 Gunung Stong State Park, or Gunung Stong State Forest Park (GSSFP) to use its full title, is a pristine forest reserve covering 21,950 hectares near the small town of Dabong in Kelantan. It was gazetted as a state park and eco-tourism site in 2007. It is managed by the Kelantan State Forestry Department.
Lovers of outdoor recreational activities will find GSSFP has much to offer, similar to the better known and much larger Taman Negara, but less commercialised due to its somewhat remote location.

There are at least seven sizeable peaks to climb, cascading waterfalls, including the easily accessible Jelawang Waterfall, caves, rare animals, birds and plants and more.

Geology & Bio-Diversity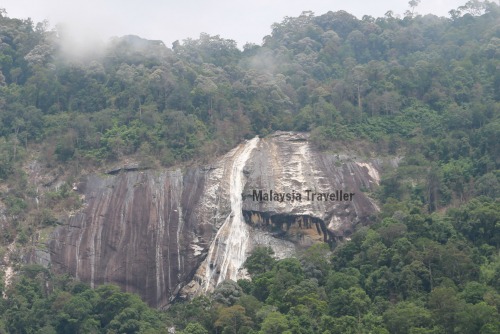 You get a good view of the Jelawang Waterfall from the road approaching Gunung Stong State Park.
Geologically GSSFP is described as migmatic, meaning a mixture of metamorphic and igneous rocks resulting in interesting rock formations, colours and textures.
The State Park is classified as high conservation value forest and is surrounded by other forest reserves, providing a natural buffer against encroaching development. However this is under threat and during my visit in August 2016 there was evidence of expensive logging activity (legal? illegal?) going on close to GSSFP.

For now, the forest is as 'virgin' as anywhere you will find in Peninsular Malaysia and one of the few remaining places where large mammals still roam in the wild. Sightings have been reported of elephants, Malayan Tiger, black panther, barking deer and tapir among others.

Surveys carried out in 2003 and 2005 counted 130 species of birds here including five types of hornbill.

Plant life is diverse too and among other endemic species there is a small bamboo (holttumochloa pubescens) and a fan palm (licuala stongensis) found here and nowhere else in the world.

Hiking Trails & Peaks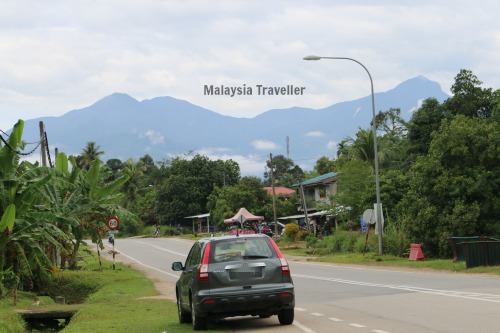 Gunung Stong, Gunung Ayam and other peaks viewed from a distance.
On entering the park it is a ten minute walk to the base of Jelawang Waterfall (see below).
From there, cemented steps and a steep trail lead to the top of the falls and on to Baha Camp which is the starting point for all the main trails.

Baha Camp, at 460 m above sea level, was named after a former local guide who died in 2002 and created most of the trails. It takes about 1-2 hours to reach Baha Camp from the entrance. Most hikers would stay the night at the Camp. Huts can be rented at RM 10 per head per night and camp sites cost RM 3 per person per night. 

Side trips to the Last Waterfall can be made in 30 minutes from Baha Camp.

Here are the main peaks which can be reached from Baha Camp:
Gunung Ayam (1500 metres above sea level)

This mountain has the best views and can be reached after 5 - 8 hours hiking from Baha Camp. The summit is flat and suitable for camping. Most would stay overnight here and return the same way the next day or detour via Gunung Stong.

Gunung Stong (1422 metres above sea level)

This is the 101st highest mountain in Malaysia according to my list of Malaysia Mountains. It is 4 - 5 hours from Baha Camp. It is separated from Gunung Ayam by a saddle.

Gunung Tera (1566 metres above sea level)

Number 77 on my Malaysia Mountains list. This is a more challenging 4 day round trip from Baha Camp.

Gunung Che Tahir (1379 metres above sea level)

Number 111 on my list. This is a continuation of the Gunung Ayam trail and takes about 3 days.

Seven Summits
For those extreme athletes, Mr. Baha came up with a 7 day circuit taking in the above 4 peaks and 3 more which he named himself and do not appear on my Malaysia Mountains list.
Jelawang Waterfall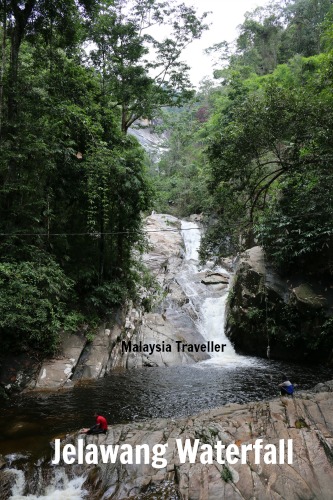 For more sane people, a short walk to the base of Jelawang Waterfall might suffice (also known as Stong Waterfall). It is a multiple tiered waterfall so the upper levels cannot be seen without hiking up the side. During my visit, the steps were slippery, overgrown and dangerous so take care. Better still, take a guide from the Park Office.
The pool at the base of the fall looks inviting but is also dangerous. There is a rickety hanging bridge crossing the river from where you can take photos of the fall.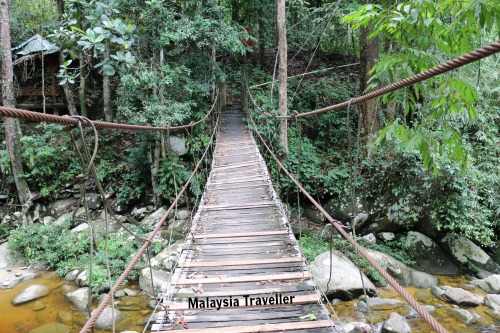 Admission Charges & Contacts
It costs RM 2 to enter the park as far as the waterfall. RM 5 to go further.
Guides are available at the Park Office and you should call in advance to book a guide or space at Baha Camp cabins or to rent a tent. The guy who runs the camp is called Ja on +6012 968 1554.

Contact for Kelantan State Forestry Department:

Phone: +609-748 2140

Click here for the Forestry Department's Official Website.

Things to Take
There were a lot of mosquitos here. Bring long sleeved shirts and trousers and plenty of good insect repellent, proper footwear, swimming costume, towels, toiletries, spare cloths, sleeping bag. 

 How to Get to Gunung Stong State Park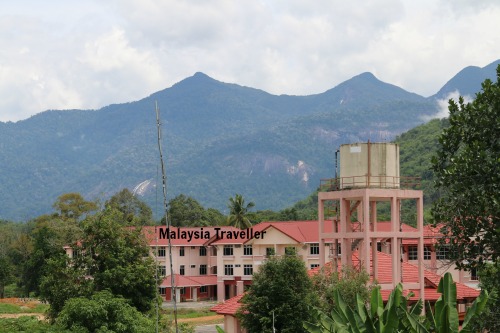 View of Gunung Stong State Park taken from Dabong. You can just make out the waterfall.
I have marked the exact location on the map on my Top Kelantan Attractions page.
GPS: 

5°20'22.4"N 101°58'28.7"E
5.339570, 101.974630
By Road:
Head for Dabong on Highway 66. (Read more about Malaysia's Route 66 on my Thrifty Traveller blog.)

Dabong is 165 km from Kota Bharu or 70 km from Gua Musang.  From Dabong it is about 5 km to the turn off towards Gunung Stong State Park on highway D29. It is well signposted and easy to find.

By Train: 
There is a station on the Jungle Railway at Dabong. Currently from Gemas there is just one train per day to Dabong. It takes about 10 hours and costs RM 46 one way. Refer to KTMB's website for details. From the station a taxi to GSSFP will cost about RM 15.
Accommodation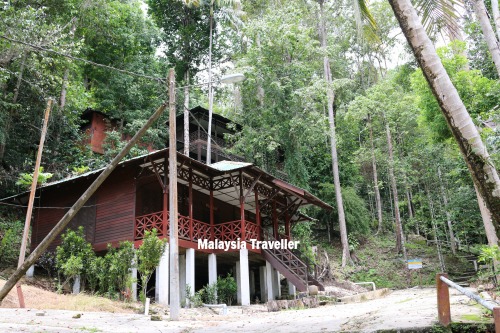 Chalet at Gunung Stong State Park Resort.
There is a hotel inside the park entrance called the Gunung Stong State Park Resort. It was opened in 1994 but has seen better days. Some of the chalets were looking extremely dilapidated and one had been completely eaten by termites . But the Resort is still operating and one of two of the chalets appear to be in working condition.

Nearby
Gua Ikan is a group of caves just 5 km south of Dabong and worth visiting.

---
Share this page: