Petaling Street Market

Kuala Lumpur
Petaling Street or Jalan Petaling is a bustling shopping district in Kuala Lumpur's Chinatown.
Chinatown is the name given to the original commercial heart of Old Kuala Lumpur. The area surrounds the Jalan Petaling market and is one of the most popular tourist destinations for any visitor to Kuala Lumpur.

Petaling Street in 1963
The majority of Petaling Street is pedestrianised and covered to keep the sun and rain off. It is lined on both sides with stalls selling souvenirs, bags, shoes, T shirts, pens, watches, fake DVDs, and imitation/pirated branded goods. Selling fake products is of course illegal in Malaysia but these vendors still seem to find ways to remain in business.
This image will give you an idea of what to expect:
Bargaining Tips
Bargaining is a must here. The vendors are professionals and regard the foreign tourist as a walking ATM machine and will try to extract the maximum possible price from you. The will make a judgement on what they can get away with based on your appearance, age, nationality, the clothes you are wearing, any jewellery and the phone you are carrying. If you look like a rich westerner they will adjust their opening price upwards accordingly. 
You will need to practice your bargaining skills to avoid being overcharged. Compare prices (all stalls are selling the same sort of stuff) and it is possible to get some very good bargains. But if you pay RM50 for a 'Rolex' watch don't expect it to work for very long! You get what you pay for.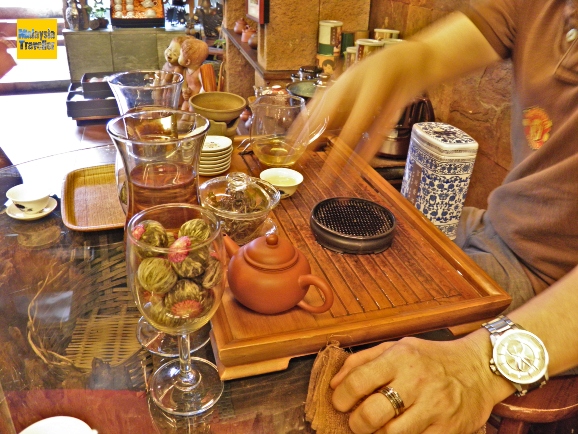 There are lots of shops selling Chinese tea in the the side streets and the staff will often demonstrate the correct method of preparing tea and let you sample some of their brews. There is no obligation to purchase anything but most people end up walking away with a tea-related souvenir.

Eating at Petaling Street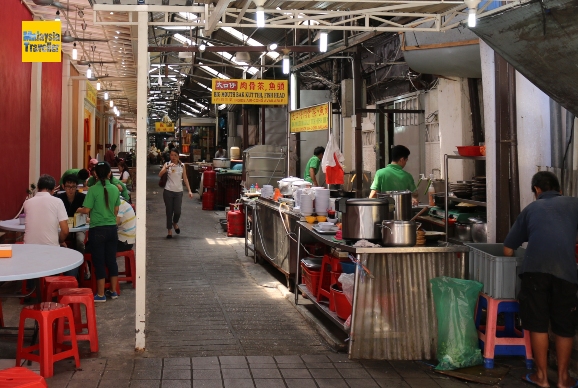 Being a Chinatown and being Malaysia there are of course lots of good eating places around. Apart from the restaurants and hotels on the street itself there is also a hawker centre in one of the alleyways leading off Petaling Street called Madras Lane. This photo was taken during a quiet lull but you can find all the usual favourites here such as bak kut teh and fish head curry, curry laksa, long tau foo, steamed rice noodles, and so on.
There is also a wet market here.

Operating Hours
Hours vary from outlet to outlet but you'll find something open between the hours of 9am to midnight. Peak period for the market stalls is 11am till late in the evening.
How to Get to Petaling Street

The location is marked on this map:

Address:
Petaling Street Market, Jalan Petaling, City Centre, 50000 Kuala Lumpur, Wilayah Persekutuan Kuala Lumpur, Malaysia
GPS Co-ordinates: 
3°08'42.5"N 101°41'50.8"E
3.145138, 101.697430
By Public Transport:
LRT to Pasar Seni
Go KL City Bus to Pasar Seni
Nearby
Sin Sze Si Ya Temple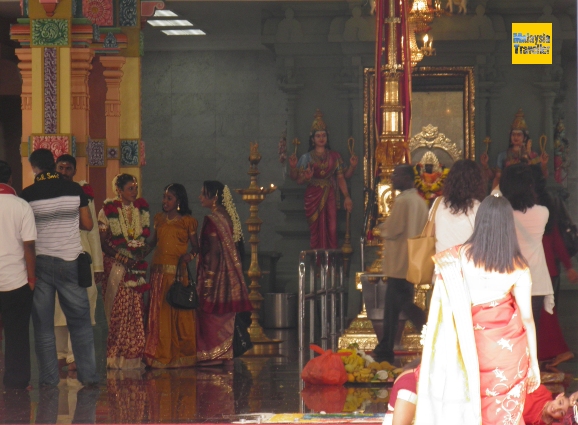 Sri Maha Mariamman Temple
Some of KL's most historic and atmospheric temples are located in this area and should not be missed.
Sin Sze Si Ya Temple
Guan Di Temple
---
Share this page: