Underwater World Langkawi

Underwater World Langkawi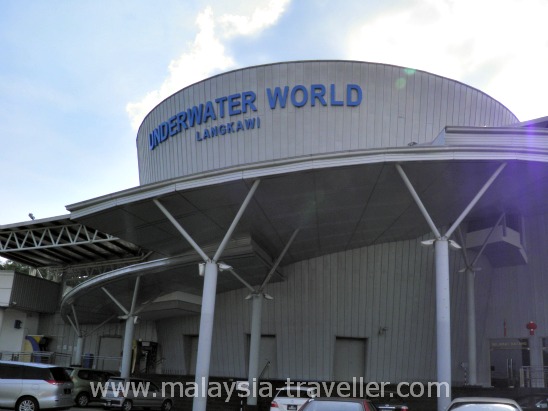 Underwater World Langkawi
Review & 2023 Ticket Prices
Underwater World Langkawi is located in a large metal building on a cliff at the far end of Pantai Cenang on the beautiful island of Langkawi.
After a morning of sunbathing on the beach you may want to visit here to enjoy the deliciously cool air-conditioning,
Is it worth visiting? Here's my opinion.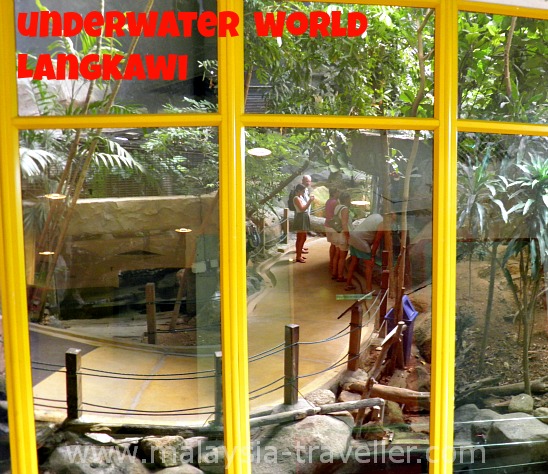 Photo: The Tropical Rainforst Section of Underwater World reflected in the cafe windows.
It is divided up into various sections. 
The first part is the Tropical Rainforest which I felt was rather disappointing. In a country which is full of real tropical rainforests, it seems a bit weird to try to create an indoor one. There were some nice parrots and pheasants here but not much else of interest apart from the scary looking snapping turtles. The bite of these turtles is more forceful than an alligator so you do not want to get too close.
The highlights for me were the marine and fresh water aquariums and the 'penguinariums' with a 'walk through tunnel'.
The large fish tanks with the sharks, groupers, rays and so on were OK but I preferred some of the smaller aquaria which had better lighting and more interesting varieties such as jelly fish, angel fish, puffer fish and various freshwater species.
There are two penguinariums, one for African Penguins and the other for Rockhopper Penguins. The seal tanks are also good but not very spacious.
Elsewhere there are coral and seashell displays and a reptilian section.
There is a café and souvenir shop area in the middle section of Underwater World and then, to exit the building, you have to go through a shopping area selling dried seafood, traditional Chinese medicines, duty-free chocolates, gifts and much more.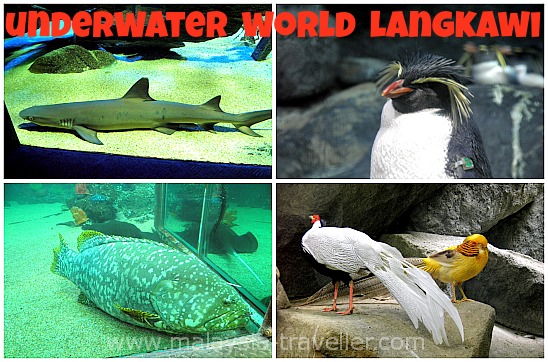 Photo: Some of the residents of Underwater World
Verdict
Is it worth visiting? In my opinion, yes. There are similar (and better) oceanariums elsewhere such as Aquaria in KL but overall I think Underwater World Langkawi is a good place to spend an hour or more. 
Besides, if nobody visits what would happen to those poor creatures?
2023 Entrance Fees
Adults: RM53 for international guests and RM43 for MyKad holders. 
Kids: (ages 3-12) RM43 / RM33 MyKad.
Seniors: RM33 (Malaysians with MyKad).
But you can get up to  14% discount on these prices by buying online through Tripcarte's secure website with instant ticketing, fully refundable and hassle free e-tickets.
Opening Hours
Operating hours are from 10am - 6pm daily (last admission is at 6pm).
On public and school holidays, opening hours are extended to 9:30am - 6:30pm.
Feeding Times:
Seals 2.30pm (Saturday - Thursday), 4pm on Fridays.
African Penguins 11am and 2:45pm
Rockhopper Penguins 11:15am and 3pm
Tunnel Tank 3:30pm
How to Get There
Address:
Underwater World Langkawi
Zon Pantai Cenang,
Mukim Kedawang,
07000 Langkawi, Kedah.
Tel : +604-955 6100
Fax : +604-955 6103
Website : www.underwaterworldlangkawi.com.my
Underwater World is located at the southern end of Pantai Cenang. The location is marked on the map on my Top Langkawi Attractions page.
---
Underwater World Langkawi
Share this page: